10 Recommended books (that you haven't heard of) #9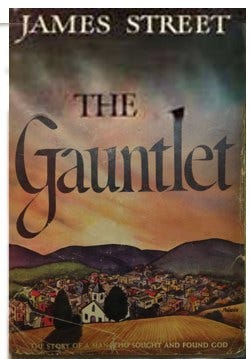 You can find anyone's "My Top 10 Most Favoritest-Meaningful-Make-Me-Float-Like-A-Butterfly" book list online today. When challenged a while back to come up with a list of books that I'd recommend, I thought I'd offer a list that I don't think you'll get elsewhere:
9. The Gauntlet by James Street
Here's one that I can almost guarantee 99.8% of you haven't heard about. When I was a youth minister in Tolar, Texas in 1991-92, I was told about this book by my pastor Milton Perry.
It was written in 1945, and though out of print, you can still get it used here on Amazonor you can look for it on other book sites.
Street was a journalist who became a Baptist minister (even attending the same seminary as I did) who apparently grew disenchanted with local church ministry and returned to journalism.
The Gauntlet is a masterful and sublime description of ministry life. If you want to know some of the things that your pastor goes through, pick up this divinely enchanting book.
The story follows seminary student London Wingo and his wife Kathie from Texas as they accept a position at the Linden Baptist Church in southern Missouri. This is London's first preaching position. He is welcomed by the retiring minister Honeycutt who sees great potential in the young man.
It's not long before unspoken expectations begin to surface and cause tension between London and his wife Kathie as well as with the young couple and various members of the church as they struggle to serve God amidst a congregation of very real and imperfect people. Street's tale is on-the-mark when it comes toinner spiritual struggles, fears, and pride that most ministers face.