10 Things I learned in Alaska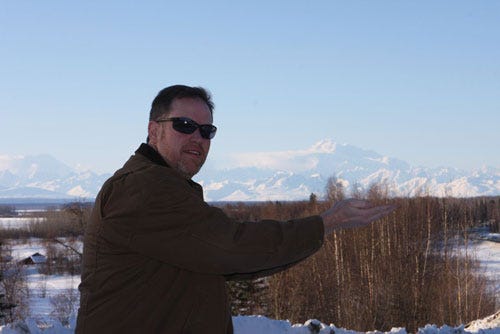 We've had several days home now after our incredible trip to Alaska. I've processed a lot about our trip, and I know that our time spent with our friends there will continue to be used by God to teach us life lessons long into the days ahead. However, here are "10 Things I Learned in Alaska:"
A volcano is more than a science project. They're real.

A 185 lb. 41 year-old moves quite fast on a sled and often emits a curious, girly-sounding scream that closely resembles sheer panic when rocketing down a long snowy slope in Hatchers Pass at rates that would pass the space shuttle.

There is a lot of yellow snow on the roadsides in Alaska, especially in Talkeetna. I'm hoping it was from animals.

One house + four kids + four adults + one bathroom + moose sausage = trouble.

If you have a small storage building and know how to make hot water, you could open up a coffee shop in Alaska. There's one on every corner and in every parking lot.

It's more difficult to become Sarah Palin's running mate for the 2012 elections than just showing up at her Wasilla church and hoping to bump into her.

Most Alaskan towns would be stumpers in any spelling bee.

There are more ways to die per square mile in Alaska than in Arkansas.

No one thinks it's funny when you respond to a question, "I don't know, but Alaska" even though you chuckle about it every time you say it.

4053 miles and two years are not enough to disrupt true friendship.