A 5M day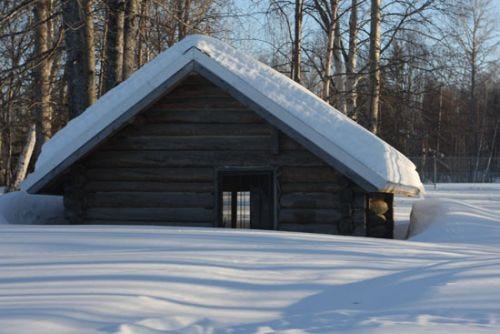 Waking up in Alaska for the first time after waking up in Arkansas for years is a stunning experience of contrasts. Breathtaking views of mountains shrouded in snow replace forest-obscured views of the landscape. The Christmas song that alliterates "walking in a winter wonderland" may have been written of Wasilla in wonder.
The kids bounded out of bed quickly and bundled up quickly to brave the 5 degree morning temps. They were sledding, building, and snow-angeling like pros. Lilly and Abby showed Sam and Adelyn all the ropes. Carolyn and Kristy transformed one room into a natural-light studio that Carolyn was delighted with because the snow outside provided reflective light through the windows. While Mike was at work, the gals watched me and the kids through the windows cavort and gradually, well, freeze to the bone.
After a while, Sam and I headed into town to enjoy a morning at Pandemonium a most excellent coffee shop and bookstore - even Bill and Ted would agree. While there, I worked on Shawn's website who is heading to Africa on Sunday on a mission trip, and Sam downed a milkshake to match my three cups of joe. We snagged a cheap external HD at Target to hold all the pictures that Caro will be taking of customers the next two days and headed to lunch.
Mike, Sam and I ate at Crazy Moose Subs and after dropping Mike back off at work, we headed back to the ponderosa. Adelyn and Abby have picked up right where they left off two years ago - as bosom buddies. They are inseparable, and now Lilly is right there with them both.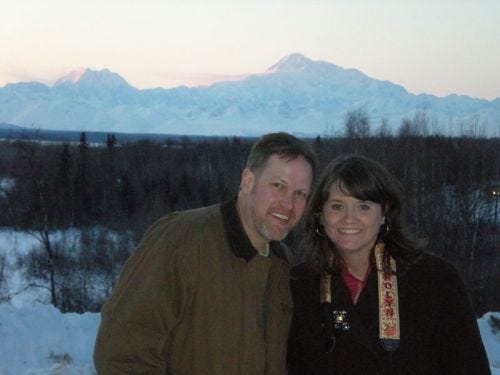 The road trip adventure began around 4:00 as we loaded up a rented minivan with bright-eyed adults and eager kids. Mike found every bump on the road between Wasilla and Talkeetna (a charming town that inspired the show Northern Exposure). I couldn't tell what we did more - laugh until we were sore or marvel at the sights along the way: two sled dog teams with mushers, snow enshrouded side roads, moose droppings, and of course, Mt. McKinley.
I was a little distracted for about an hour. Right as we were approaching vistas of Mt. McKinley, Joe Burgess called about 6 times in panic to say MonticelloLive.com was down. My cell service was intermittent (where's my bars, AT&T?!), but I was able to get it back up by filing a ticket and tweaking some settings through my iPhone Safari browser. In the shadow of Mt. McKinley.
I remember Louie Giglio sharing his story of his first in-person view of North America's tallest mountain. After months of study and expectation, his first encounter with the snow-capped peaks brought him to tears. My experience was quite a contrast as I tapped frantically code into my iPhone to fix someone else's website. I wondered who else in history was having to play the role of a webmaster in the presence of such stunning majesty.
That seems to be the way it goes in our lives so much of the time. We are caught up in a here-but-not-here mentality. We live daily in the presence of a majestic God, but so often we're distracted by duties, bills, and the regular. Our moments of the mundane can mask our experience of majesty.
As we entered Talkeetna, the site finally was back online so folks in Monticello, Arkansas could find out... who made the cheerleading squad. Yay.
With full bellies from Mountain High Pizza, we made the drive back to Wasilla and along the way we saw three moose! Up close and personal.
And so with the kids drifting off in the minivan, and our humor fading simply due to happy exhaustion, I realized it had been a 5M Day: moose, Mt. McKinley, MonticelloLive.com, mushers, and majesty.