A La Carte: Health Update, December Nights kickoff, Saving Change and The First Snow
Health update
For those of you following our ongoing journey with cancer and doctors and faith, here's the latest:
Carolyn will be having surgery on December 13 in Roanoke. It will be a double mastectomy with reconstruction. We have felt exceptionally blessed and supported by prayer, conversation and encouragement. Thank you all so much!
One of our main prayer concerns has been that Carolyn find a doctor and a surgeon here in Virginia that she likes. We were so glad to be led to the ones we have been! We also had requested your prayers about the type of reconstruction Carolyn would have. Yes, it's essentially a boob job, but everyone calls it "reconstruction." That takes some of the fun out of the discussions, however.If you know us, then you can imagine some of the conversations in the house... I promise they've all been uplifting...
Carolyn's mom is flying in for a couple of weeks, and we've been amazed at how folks from Blacksburg to Monticello, AR have already begun mobilizing to make sure we're taken care of. We've often wondered how folks who are not an active part in a church community receive care, support and help in similar situations.
As it is, we are heading into next week with full hearts and dependence on a good God who has put great people in our life to mediate His presence and comfort.
December Nights kick off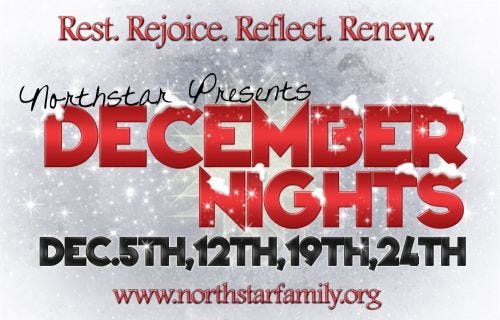 We're pretty excited about celebrating Christmas at our church. Last year, we tried something new. We moved our worship services to the evenings and didn't have morning services. When your church is meeting in a high school and has to set up every week (and for two services), you depend a ton on the love and support of a lot of volunteers.
December Nights enables us to give a month back to our volunteers, scale back, and sit at the feet of our Savior during evenings of intimate worship and teaching. Tonight, we are having the Micah Watson Band lead us for a Christmas and praise concert.
Saving change

All year I've been putting change aside, not really knowing what I'd eventually use it for. However, about a month ago, I realized that we would give it as a family to our Holiday Missions Offering. Today Adelyn and I went to Food Lion and used one of change counting machines there to add it all up.
We were bummed to discover that it would extract a 9.8% fee if we got a cash voucher. We didn't want a single cent being taken from the total. Then we realized that we could get a gift certificate coupon to Amazon.com (where we do a ton of Christmas shopping). That solved it. We dumped the change into the trough, and let the machine count. The result? $124.36! We're writing a check for that amount to missions tonight, and we're grateful for all that God will be using the money for!
The HMO will be distributed in the following ways:
We are hoping for a truly generous outpouring from God's people this month. We have so much to be thankful for! (and if you'd like to give towards it, you can do so online here.)
You might say we've been saving change because that's what Jesus offers... a saving change.
The first snow
One of our friends noted on her Facebook page that it's snowed every day in December so far. Until yesterday, it was just occasional flurries. However, after a day-long snow Saturday, we woke up this a.m. to a little more than 3 inches on the ground.
Last year, Blacksburg and the NRV gave Anchorage, Alaska a run for its money in total snowfall in an unusual winter that seemed determined to dethrone the global warming myth. With snow on the ground and week of frigid weather forecast, we're all speculating what kind of winter we're in store for this year.
As we watched a Christmas movie on TV last night, it was surreal to see the scrolling cancellation notices of many of the churches in our area today. We were thankful that we'd moved our service to evenings. However, we did have some of our staff volunteer to sit at the high school this morning to welcome anyone who still showed up with donuts and Starbucks. If you happened to go by, Emily and Lauren were huddled in the back of a SUV...