A La Carte: Movie Flops, Fixing Our Cable, Twitter Quitter and Counting Salvations
A La Carte is a new feature at Notes inspired by Tim Challies. It's a random collection of observations, experiences, fun and significance. Enjoy!
Movie Flops
I began this week by seeing a much-anticipated scifi thriller called Skyline. The preview showed alien ships sucking humans into the air with a bluish tractor beam. The first time I saw the preview, I thought, "Oh yesssss... This is first-class, quality scifi in need of my epic viewing."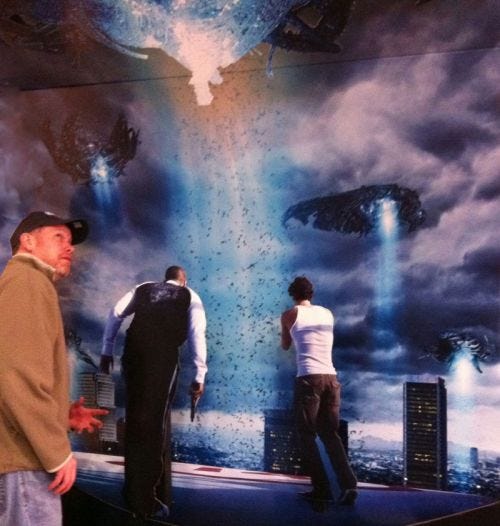 I wound up at the movie with about six other guys. We were giddy with CG delight before the movie started. The only thing we were missing were our Spock ears. Over the next two hours, we were enthralled by the movie's intensity, but toward the end, it took a startling turn toward the graphic as ... (spoiler alert!) the aliens violently removed humans' heads to use their brains for engines on their monsters. It was pretty stunning. Then we were all dismayed as the ending played out, and well, I'll spare you the final scene, but it was simply REE-DI-COO-LUS. The only word we could all say was "Really?" We were incredulous. It was the second movie flop this month (the first being Hereafter with Matt Damon, but I blame my attendance on that one to our ministry intern).
Fixing Our Cable
Our church gave us a generous love offering gift for October's Pastor Appreciation Month. We were extremely grateful, and with the money, we found an electric fireplace at Big Lots that will not only warm us during the winter, but its presence will be a constant reminder of the warm hearts of the people of Northstar. And thanks to Hallmark for continuing to create fictional holidays... (i.e., did you know that February is Pull Your Sofa Off the Wall Month?)
When we put the HD TV on it, I put the cable box that was in the bedroom under it. We had just been pulling the Comcast cable directly into it, but are now using the DVR in the living room instead of the bedroom.
But I ran into a problem... without the cable box in the bedroom, the old tube TV back there would only pull 14 channels. Darn. I had read about a digital to analog converter that would allow us to get all our channels on that TV, so off I went to Comcast.
The lady at Comcast said it would be an $8/monthly rental for such a converter. I was not happy. I knew that TVs could pull cable directly, and I wasn't about to pay more monthly to Comcast. When I asked about buying such a box, she mentioned Best Buy under her breath.
The next hour involved unsuccessful trips to Best Buy and then to Radio Shack (the salesman at Best Buy sent us to RS). At Radio Shack, after they told me that the only converter box they sold for that was for over the air signals, I said, "Surely, there's got to be a way for me to get all my channels on my analog TV from Comcast!" The salesman looked at me quizzically and said, "Did you set up your TV in the menu to "Cable" or "UHF/VHF?"
I was taken aback. It dawned on me immediately about my own idiocy. I attempted to cover with a stammering, "Uh.... sure, I think so." I could see on his smug face that I had just wasted his time.
I sheepishly went home, pushed the menu button on the TV, changed the setting and half-heartedly enjoyed all our cable channels mocking me with every push of the remote.
Twitter Quitter
A friend from college has recently blogged about deleting her tweetings. The mostly-female respondents to the entry have for the most part agreed wholeheartedly. I am appreciative of how she makes it clear in her entry that it was a personal choice, and she makes no sweeping judgements on the service. In fact, she keeps her Facebook account.
I've considered deleting my Facebook account in the past, but I've kept it and Twitter, because I have numerous examples of friendships and opportunities for influence as a result of both. I enjoy Twitter more than Facebook, and that will probably be a longer post for another day to explain that. However, I'd be interested in your thoughts about deleting one or the other?
Counting Salvations
Finally on a more significant note, we've had some great lessons in the fruitlessness of counting salvations over the past few weeks. Our church has celebrated some VT students who have given their life in faith to Jesus Christ. One senior mechanical engineering major surrendered his life in love to Jesus in my office. Others have done so through the influence of campus ministers and friends.
As much as a church (or a pastor) would like to say, "This week, we had ____ people become Christians," we just can't know that definitively. Of course, I can relate the encounters I've witnessed personally, but the joyful thing about what God is doing in Blacksburg these days is that many people are part of the process, and many are giving their lives to Jesus without making a big deal about it. It's a humble, joyful transition to faith that those of us in leadership only hear about after the fact.
God is not interested in us being able to count every single thing He does. It's impossible. He may not want us counting every salvation so that we can chalk it up as some type of ministry success story. Rather than counting every salvation, He wants simply to count on salvation.
The reality of people giving their lives to Christ happens in an environment where His people are declaring the joy of the Gospel of Christ. We are just part of the process.
I planted, Apollos watered, but God gave the growth. So neither he who plants nor he who waters is anything, but only God who gives the growth. 1 Corinthians 3.6-7