A la carte: Google Plus, iPhone birthday, jailbreakme 3.0, new blog and Tumblr app
Again, I feel like I must give a shout out to Tim Challies for my a la carte blog entries. He does them each Friday on his blog, and while I'm not that regular (perhaps my blog needs more bran?), I love the idea of short bits of interest shared with my massive readership... or at least Carolyn and my mom. Basically, I pull in entries I've starred in my Google Reader or Twitter account. I also keep track of tidbits in my SimpleNote app.
Without further ado...
Google +
If you're a net denizen, you've heard of Google's new social media service. It's been billed as a Facebook competitor, and I, for one, hope it succeeds. Facebook has so much going for it, but Zuckerburg seems intent on hacking off all 750 million of his users by cluttering it with obnoxious apps and consistently invading our privacy with its policies and ads. All Google + has to do is reject apps and games, secure our privacy and provide similar interaction for individuals and groups, and create an iPad app to succeed.
Links:
So... one question: Is it Google Plus or Google+ or Google +?
Happy 4th birthday, iPhone!
Last week, the iPhone celebrated its fourth birthday, and the Mashable blog put together a pretty amazing graphic about the iPhone. It's definitely worth looking at. Click here.
I'm still grateful to my folks for ponying up the money in June of 2007 for my first iPhone. Carolyn and Sam stood in line at the Monticello, Arkansas AT&T store with about 20 other folks. Most southeast Arkansans didn't know what an iPhone was those days. There was a boy there with them in line with a briefcase full of coins from his snow cone stand in Crossett, Arkansas to buy his first one.
Jailbreakme.com 3.0
Renowned code genius @comex released his amazing, web-based jailbreak for Apple devices this past Monday. Simply by visiting jailbreakme.com, a user can install Cydia, which allows you to install apps on your idevice that have not been approved by Apple. Basically, these apps give your device more functionality than Apple intended. My two favorites right now are qTwitter (update Facebook and Twitter with a swipe, simultaneously) and YouMail (customize voicemail messages for your callers).
If you're interesting in jailbreaking your iPad 2 or iPhone or any other idevice, now is the time. The next firmware update by Apple will most likely not allow you to do this after you update your device. (Source)
Most creative blog I've seen recently
One of our new Northstar interns, Phil Cumbia, mentioned on Facebook that he'd been memorialized in a cartoon for the first time in his life. I was intrigued and followed the link to May Contain Roaring Lion. I was delighted by what I found there. In short, a VT student blogs with cartoons. I was immediately captivated, added it to my blog list, and then forwarded it to Carolyn to see if she too would enjoy it. She also loves it! So spread the word and enjoy MCRL! I'm hoping I get to meet Taylor in person soon! (Entry about Phil)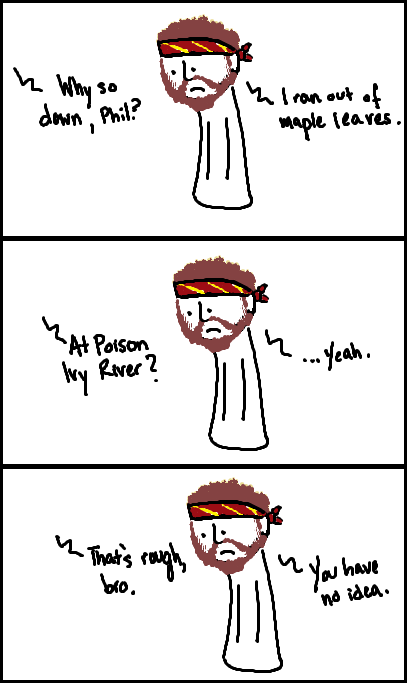 Tumblr vs Wordpress
I use Wordpress and have for many moons now. But I've experimented with Tumblr too. Adelyn uses Tumblr when she blogs as well. This story announced a major update for Tumblr's iPhone and iPad app that may lure some would-be bloggers into the net woods again. Tumblr is extremely easy to use and is Facebooky in that you can follow other friends who use Tumblr as well.
If you become a regular reader of MCRL mentioned above, you'll notice that she uses Tumblr as her platform as well.