A la carte: Preachers leaving, more beer, divorce & remarriage
Preachers leaving lately
Ed Stetzer wrote an article Should "Broader Interests" Preclude Preaching? It's in response to Rob Bell's announced departure from his Mars Hill Church. Bell started the church about 12 years ago and was the center of controversy this year with his book Love Wins which denies the biblical teaching on hell, seeking to replace it with a "God's much nicer than that" theology.
But Bell isn't the only one who has left his church recently for, well, no church. The list includes Francis Chan, N.T. Wright and Jim Belcher. While others have landed within the membership of a local church, other prominent pastors have simply opted out and pursued what looks like careers as authors, speakers and such. This has some calling "foul" (whether from theology or jealousy, I'm unsure).
The siren call is tantalizing. What would you do if you knew you could *easily* sustain your family as an author or speaker and not have to deal with the cyclical deep valleys and high peaks of church ministry?
More Beer
I wrote on John MacArthur's post Beer, Bohemianism and True Christianity. Since then there's been an outcry against his position. Most write in defense of drinking. Others have agreed wholeheartedly. One article in Relevant magazine has been forwarded to me several times. It's entitled The Pleasures and Perils of Fermentation.
As I was reading it, I noted one paragraph:
Whether we abstain for our whole life or just in certain contexts, there is good news for us. We know the Jesus who turned water into wine. Jesus is the life of the party. He does not require wine to get a party going. He can work with anything. He does work with anything, or anyone. He will make us effervescent, bubbling over with life, a sign of the best news for the world, without a bit of fermentation required.
I love this portrayal of Jesus as LIFE. He is all that. "He can work with anything." I affirm that, and I love the paragraph.Overall, the article is, well, bubbly. It's well-written. And while it does inspire us about the person of Jesus, let's not get overly intoxicated by the points it doesn't make. As much as it paints a beautiful picture of a loving. partying Jesus, it doesn't balance that portrayal with a Jesus that was crucified for our sin.
In short, the article just doesn't contain the scriptural substance to back up its flow.
Truth and lies
There's a funny series of background images for your phone here. Here's one of my favorites: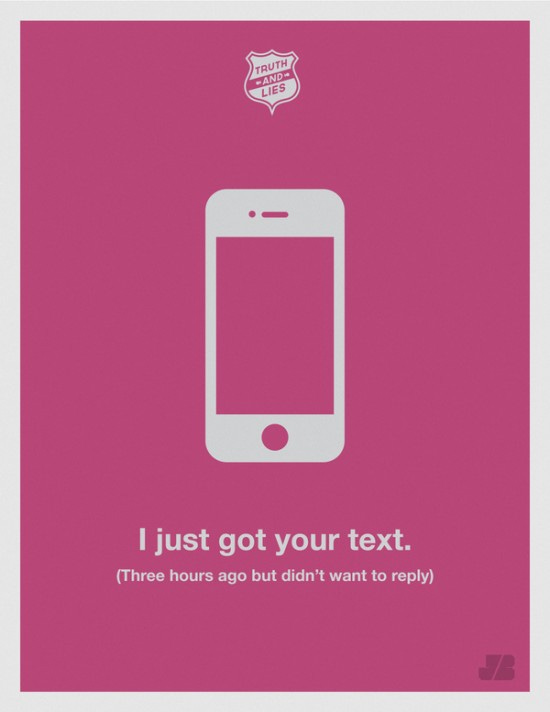 Divorce & Remarriage
Recently I preached on the topic of divorce (podcast here). We've been in a study of the gospel of Luke since January 2010, and as much as it would have been more comfortable to avoid Luke 16:18, it wouldn't have been more faithful or helpful. As I read and researched, Bethlehem Baptist Church's position paper was one of the most balanced, gracious treatments of how a local church should minister to those in divorce and remarriage. Its loving tone and emphasis is a great model for others.
One of the reasons it's significant is that BBC's pastor John Piper has stronger convictions on the issue than other leaders in his church (glance at his own position paper here). I love it when leaders can come together and write a gracious, moderating piece of excellent theology.