A pandemic thanksgiving
I traditionally write a Thanksgiving post on the blog. You can see a link of prior posts below. When I perused a few of them, I was struck by one thing: innocence.
I've written before of choosing gratitude in the midst of cancer battles and financial struggles. I've celebrated fantasy football seasons and kids' graduations. I've written about fireplaces, candy corn and how good it is to spend time with family.
Reading my throwback Thanksgiving posts is like stepping into Narnia. Things feel lighter. Both in weight and luminescence. As I ponder here at Panera, I glance over and see my Razorback mask lying on the table. It's a visual and visceral reminder of how this year of 2020 has played out.
I remember prepping for my State of the Church message in January, and cheerily and cheerily casting a "2020 Vision" for our church family. We knew this year would be a year of construction, and we wanted to prepare for moving into our first church facility (after 17 years of meeting in Blacksburg Middle School) and the expected growth of 2020 and 2021.
As the first three months of 2020 raced by, rumors of a virus began to swirl, but in my neck of the woods in southwest Virginia, things rolled forward as normal. Until they didn't.
Our church shifted (it felt seamlessly) to online services, and I learned to preach to a camera, along with every other pastor across the nation, as we all embraced "two weeks to bend the curve."
Eight months later, these United States are not so united anymore. Racial tensions, mandated masking, economic collapse, a rising mental health pandemic rivals the COVID pandemic, and an election in challenge have cratered our culture and gobsmacked our globe.
There's a scene in Horton Hears a Hoo that portrays my perspective well in these welcomed, waning days of 2020:
(I highly recommend the movie! You will get a much-needed perspective boost and discover some distinctly Christian themes in it.)
You need big ears to "hear" thanksgiving this year. However, when I get quiet and reflect, the head banging clash of 2020's disappointments falls away, and I begin to hear and remember so many things for which I'm grateful in 2020:
A wedding. My son Sam and his fiancee Sidney had big plans. They were to wed in May, but as pandemic restrictions kept dropping into place like an iron curtain, they made the difficult choice to release big plans and move their wedding up several weeks. Watching them navigate those decisions and getting to officiate their beautiful backyard ceremony was a sublime moment of sheer wonder. The ensuing reception was a car-parade, where their friends who hadn't been able to attend drove around the circle driveway, dropped off gifts and blessed and congratulated them.

A construction project. Throughout 2020, our church has been blessed, favored and even spared of delays on our first-ever church facility. We've seen God do SO very much over the past five years of this faith journey with this dear church family. We are praying earnestly for God to raise the rest before we move in sometime in early 2021! [Please consider giving to or sharing our adventure with those who are kingdom-minded!]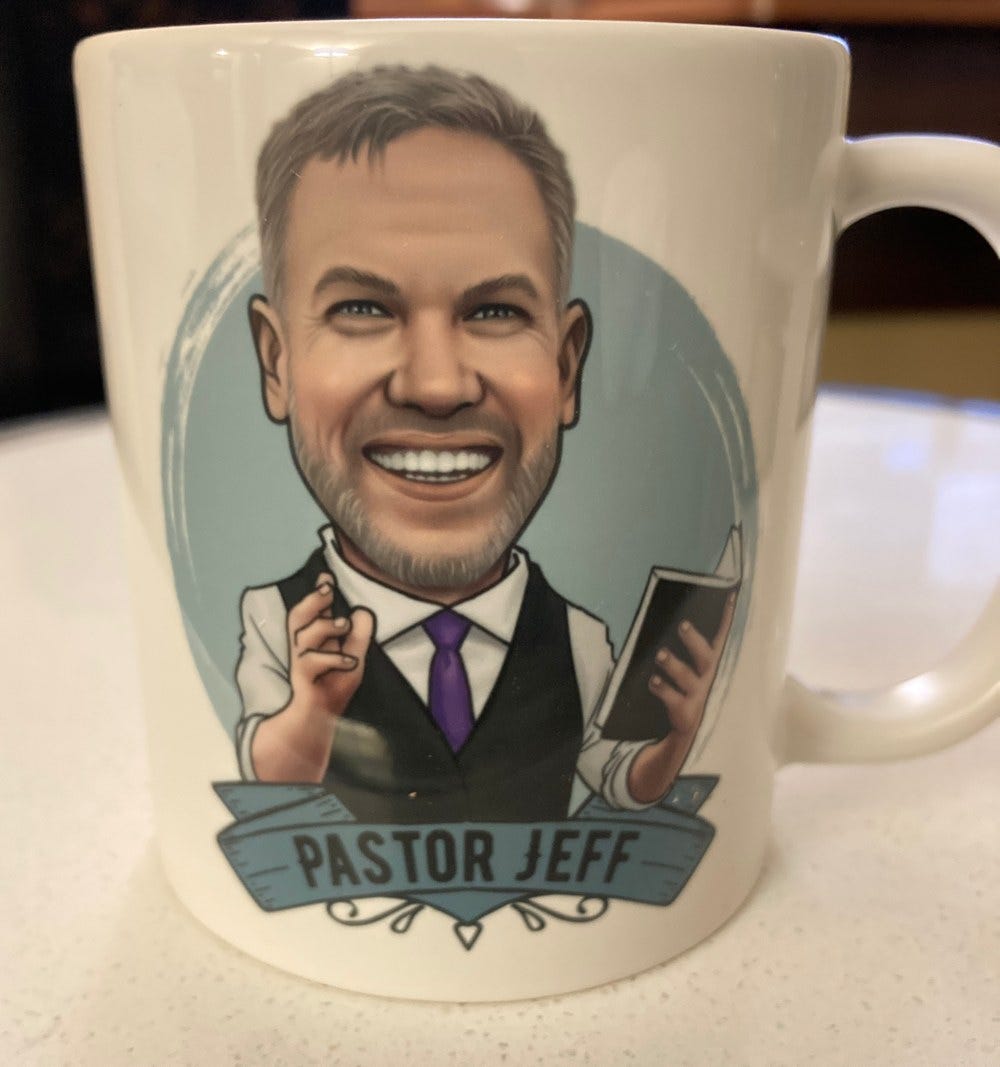 Coffee mugs. I am a coffee mug nerd and love seeing different coffee mugs that folks drink out of. One of my favorite mugs was given to me this year after doing a wedding for a couple in our church. It's my go-to. What's yours these days?

A sabbatical. Our church has a gracious sabbatical policy for its ministry staff. Every seven years, we are encouraged to take some extended time off. I was four years late, but for nine weeks this summer, I rested, read, wrote, worked on home projects, spent time with family and truly reconnected with who "Jeff" is. It gave me a deep sense of appreciation for other pastors who were not able to pause during this pandemic.

A new book. Since I wrote Super Center Savior in 2012, I had not sensed momentum in a writing direction. But over sabbatical, I made significant progress on my next book with the tentative title From Fisherman to Shepherd: Why Denial & Doubt Don't Sideline You about the life of Peter the apostle.

A respite from lymphoma. The end of May marked more than shuttered restaurants and movie theaters. It also marked a year since Carolyn's last chemo treatment after a horrific cancer battle from November 2018-May 2019. A CT scan in October also prompted praise for its confirmation of cancer's quietness.

Our daughter home. Adelyn came home in late March/early April from college after it shuttered due to COVID. She then came home at Thanksgiving and will be home throughout the rest of the year. Apart from COVID, we would have not gotten to spend so much more time with her during this, her senior year!

A podcast. I'm a reader. I've never been a big podcast listener. Apparently, however, they're a big deal. I flexed some creative muscles and started one called Ordinary Celebrity. Admittedly, my goal is to eventually get coffee with Tom Cruise, but along the way, I've already interviewed some special friends that you'll be delighted to meet and celebrate with me.

Persistent prayer. I have learned afresh what it means to pray before I pout. To pray before I criticize. To pray after getting lost in frustration over pandemic issues, cultural darkness and political upheaval. It's way too easy for me to blab about my thoughts (I think out loud) and go down social media rabbit holes tracking information. Prayer is where I cast my cares on Jesus. Prayer is where I STOP. So whether it's just 2020 junk or heart issues I'm crying out for, I know my prayer muscle is being stretched these days.
What's one thing for you that you are grateful for in 2020?
Think about it. Write it down. Leave a comment here if you like, but the important thing for gratitude to lodge in your heart and to displace discontent is for your to tell someone what you're grateful. Gratitude unexpressed evaporates. Gratitude expressed grows you and prompts others to shift from the sour to the savory of life.
Then try this…. think of one more thing you're grateful for. And tell someone! It's even better when it's a person. Sit down with another human and sincerely relate to them how and why you're grateful for them.
You've heard of "turning that frown upside down?" If a LOT of us express gratitude to others today and in days to come, we may be shocked to see that our tiny moments of gratitude are heard by someone bigger than we ever dreamed. Horton heard a Hoo, but how great is it that God hears you?!
"Therefore let us be grateful…" (Hebrews 10:28)
Prior Thanksgiving posts
(a bit surreal to journey through this year)