A personal retreat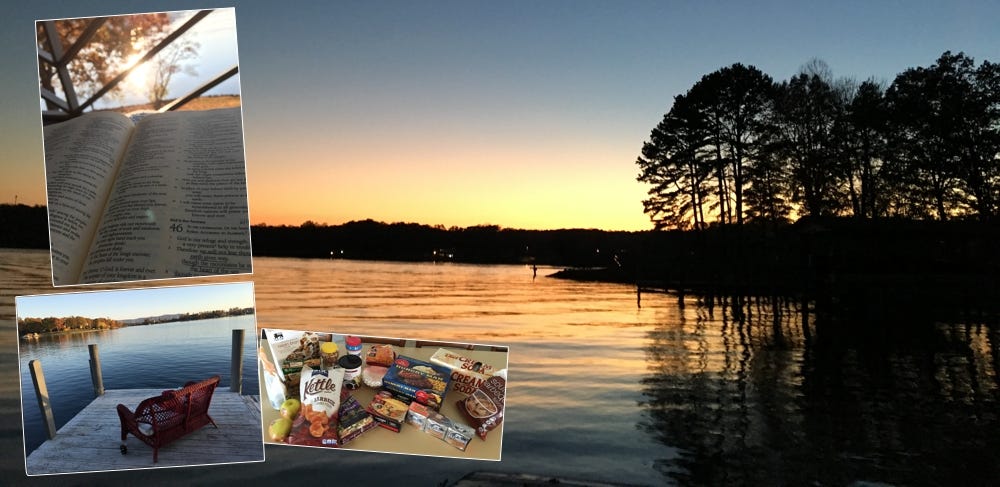 The following entry was written Thursday, November 17, 2016:
I'm sitting on the dock of Smith Mountain Lake.
The chill in the evening air set in abruptly. The waves from a passing boat rocked the dock slightly. A dog barked in the distance. I am conditioned - like one of Pavlov's dogs - to pick up my iPhone minutes after I just put it down. I "need" to check Instagram or the news or… something. A digital glance turns into several minutes wasted, every time. So I decided to be quiet. To be still. To just look at the pinkening sky and the hypnotic rippling. In the distance, a boat's motor is heard before the boat itself becomes visible. The mechanical sound is an interruption to the quietness of Smith Mountain Lake here in Virginia.
I'm on my second full day of a personal retreat. It's taken me this long to "create." After arriving on Tuesday about noon, I've spent the last two days reading.
This morning I recorded Psalm 47.4 in myjournaling Bible:
"He chose our heritage for us.."
And then I wrote:
"God picked you 'for such a time as this.' You did not choose when/where to be born. These are the days He purposed to give you to the world and to reveal Himself to the world through you."
I asked God for creativity today. And I don't "feel" it. But today has still been amazingly relaxing. I called Carolyn and asked her if I could stay one more day. She said I could. What a gift. She is so sweetly in tune to my needs and knows to give me space. I then contacted the cabin ownerto make sure it was ok with him, and he replied:
"Yes, I was thinking the same thing! You should stay! What nice weather you will have tomorrow! … and the "supermoon" as it is now closest to the earth than it has been since January 26, 1948!"
Amazing grace.
I've moved back into the cabin now. All is dark outside, and I've kindled a fire. It's popping and the low growling is a comfort. The timer on the stove shows that my pot pie will be ready in 10 more minutes. As I reflect over the day, I grin in nerdy confusion about why the blue bags have won two games of corn hole in a row. And that I have played a few games of corn hole.. by myself.
Why Take a Personal Retreat
I had never heard of the concept of a personal retreat until 1996. I had served as a campus minister in Arkansas for about a year when my boss encouraged me to take one. When I asked what he meant, he described it as simply a few days to be quiet, to rest, to pray, read and enjoy my relationship with God. I remember distinctly his encouragement to not get frustrated if I fell asleep on the first day and felt like I'd "wasted" a day. He said that sleep may be the most spiritual thing I do initially on a retreat.
Since then, I've prioritized personal retreats for myself. They are not for everyone, but anyone who is a contemplative and receives renewal from being alone could benefit from such a time. I've taken one-day retreats and multi-day retreats. This is one of the longest I've taken (three full days, two half-days, four nights).
What to bring and do
I'm a disciplined person that embraces routine and regularity. So my personal retreats are a shift for me. I genuinely just try to do what I want, rather than what I'd normally do. (I'm pretty driven by responsibility most times.) If I want to sleep in, I sleep in. This time around, I brought corn hole boards with me to break up my day. I always have books. Sometimes they are nourishing to my spiritual life. Other times, they are for equipping me in skills or leadership development. I also bring books for sheer enjoyment - fiction or nonfiction.
Since learning to play the guitar when I planted a church after my campus ministry days, I have often brought one with me. It's a refreshing opportunity for personal worship.
Where to go
I'm always on the lookout for places to retreat. This cabin at the lake was offered last year by the owner for free, and I had a significant encounter with the Lord here last year. So I have been wanting to come back. Some retreat places became "sacred spaces" for me. As soon as I began driving down the road within two miles of the cabin, I felt like I was going to experience God's grace in new ways in these days.
I've also gone to "retreat centers." The Cove in Asheville, North Carolina has been another spot for me since we've been in Virginia. One of the attractions about it is the fantastic food and getting to visit with believers from all over the world over supper. Some are there for scheduled speakers/programs, while others are there taking personal retreats as well.
Other times, I've simply found a hotel near place I wanted to visit. The important thing about place is to simply get away and get out of pocket. It's important to set up email autoresponders, to notify people that you'll be gone and out of the productivity loop.
The timing of a retreat
The last two years have been exceptionally full for me, with ministry and life. I've not taken retreats regularly as I should. Last year when I arrived here, I was spent. Other times when I take retreats, I sometimes wonder in the days preceding if I really need one at all. However, I've never regretted a retreat.
I try to take two a year - one in the spring and one in the fall, after seasons of busy ministry activity.
Here are elements of my retreat that I'd suggest for anyone:
Incorporate lots of scripture reading. Adopt a plan for what you'll read before you arrive. Don't just have one time during the day that you read. Come back to God's Word as you feel directed.

Bring a notebook or journal to record your honest thoughts. Throughout the day, as you sense God whispering, write down ideas, brainstorms, convictions, or encouragements that lodge in your heart and mind. Review what you've written before you go to bed.

Exercise. I began running two years ago, and I generally run every other day. I continue this routine while I'm on retreat. Too much sitting/reflecting can make the hours slow down. Go for a walk or whatever you might enjoy. Or bring corn hole boards.

Breathe prayer. What I mean is that my retreats are not me retreating from life. I am retreating into solitude and stillness so that I can listen better to God. I have "times of prayer," but I also seek to remain in a "spirit of prayer" throughout my time. It's what I believe the apostle Paul meant when he said, "Pray without ceasing" in 1 Thessalonians 5.17.

Preach the gospel to yourself. This year, I read the pamphlet What is the Gospel? by Bryan Chappel. It was a joyful reminder of the indescribable good news that in Jesus, I am not only saved, but made righteous. I am forgiven, made whole and sent out. Whether you read Ephesians 2 or bring along other material, make sure you refresh yourself in the basics of faith, salvation and the accompanying joy of knowing Jesus. It's foundational to gratitude to refresh your heart in the gospel.
I spent Saturday morning on the dock, watching the sun rise and the fog whispering across the surface of the lake one more time. After downing a couple of cups of coffee in the chill morning air, I began the process of cleaning up the cabin.
Leaving a retreat is always bittersweet. When I've really retreated, Ihave this sense that I'mforgetting something. That I'mleaving something behind.It's always better to leave wanting more than to stay too long on a retreat. A retreat is not your life, after all. It only helps you live it better.
Related: