A viral post: Humor, Jesus and COVID
What blogger has not wanted to write *the perfect blog post* that people read and are moved by? It gets shared first by the blogger's mom or normal readers, and then something just happens. Said post explodes across the interwebs in digital wonderdom. It goes viral.
I am claiming this as a viral post even as I'm writing it. Mainly because I'm writing about COVID-19.
Two of my life comforts and mental escapes are coffee shops and movie theaters. On Monday, March 16 at 6:40 p.m., I saw my last theater movie at the Regal Movie Theater in Christiansburg, Virginia. I had gotten whiffs that Regal might be closing its doors for the duration of the crisis, and so I went. I sat in the theater alone and saw Onward.
A couple of days later, I went to the Starbucks at First & Main in Blacksburg - my usual early a.m. reading and meeting spot. There wasn't a lick of furniture in the store. I stood outside in the cold looking through the window in sullen disbelief. The earth shifted. I was on strange grounds.
It's been almost three weeks since President Trump first said, "15 Days to Slow the Spread." It apparently didn't work because on Sunday night, March 29, he urged Americans to remain in social distancing protocols until the end of April.
Nooooooooooo
It was the "nooooooo" heard round the world, as parents of school-age kids everywhere paled and began to face a sobering, more semi-permanent adjustment to their lives and even livelihoods.
While the world is making radical changes to sequester and self-isolate, we've added new terms to our daily vocabulary. "Social distancing," "self-quarantine," "lock down," and isolation are just a few.
Two things for sanity
Humor
People are funny. Thank goodness. The amount of irreverent and snarky memes, tweets, and videos I've seen just in the past two weeks are insane. However, because people are funny, they've helped the world laugh. And laughter at times like these truly may be the best medicine.
It's a strange compulsion we humans have. We seek humor in hardship like mosquitoes seek bare skin in summer. The ability to laugh reminds us that we can rise above ruin. It is not our circumstances that define us. It is what we think about our circumstances. We are refined by how we are defined. If we dig deep, remember who we are and whose we are, we can not only laugh at irreverence, but we can even rejoice in life's ultimate meanings.
"A joyful heart is good medicine,but a broken spirit dries up the bones." (Proverbs 17:22)
Who hasn't found some silver lining in these dark clouds? More time with family. A reminder of what's truly important. Carving out new routines. Creating. Connecting. Learning how to Zoom.
Jesus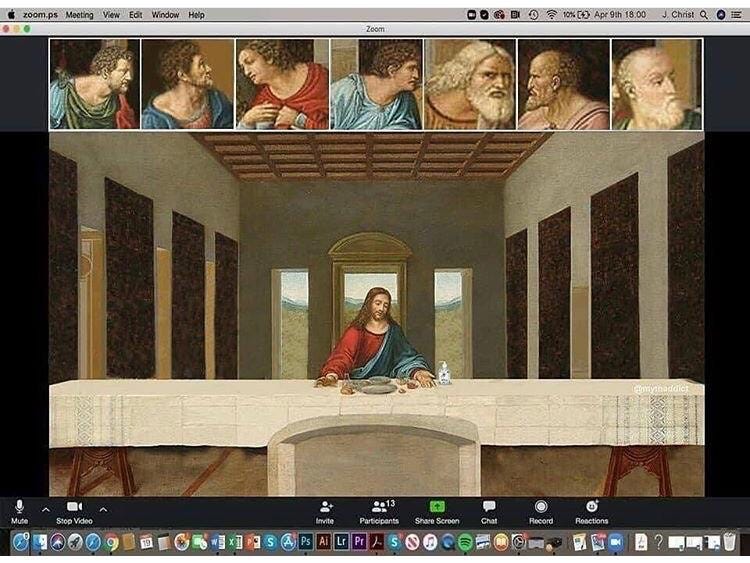 Jesus and the disciples in a Zoom meeting for the Last Supper
Of course, a pastor would bring "Jesus" into this. It might ruin my chances of this becoming a truly viral post. Stay with me for just a little longer, and give me some thought time though.
I believe Jesus is who He says He is. With all my heart. I have experienced His presence in my life. I have found joyful lightheartedness in even the darkest times. I have found a sense of forgiven-ness that is simply not earthly. When I should have been crushed by guilt and fear, I have truly (I'm not kidding) walked in humble joy and astonished awe at the promises of God revealed through Jesus and in the Bible.
You may have heard it 1000 times or maybe you're reading it for the first time, but John 3:16 says unequivocally:
"For God loved the world in this way: He gave his one and only Son, so that everyone who believes in him will not perish but have eternal life." (John 3:16)
God the Father sent/gave God the Son so that everyone. Who believes. In Jesus. Will not perish (suffer, experience eternal judgment, be separated from God, be excluded from hope and forgiveness). And have eternal (everlasting, forever, full, total) life.
Humor and Jesus. Of course, it's more complicated. We can't laugh our way out of this crisis. And we can't just simply say, "I believe in Jesus" tritely and expect the world to fix itself.
But that's where I'd suggest you begin.
The Butterfly Effect
One of my concerns as we have begun April (March 2020 was the longest month in modern history!) is that we are not (yet) considering the vast, monumental complexities of our stop-gap measures to contain the spread of this virus. Never before has there been a concerted, global (and almost manic/panic) attempt to stop a sickness.
All our decisions now will have impact later. There will be butterfly effects from the reality of our COVD-19 way of life. We are very aware of how it is impacting us in the here and now -- but what will our future hold? News will continue to trickle in, and we will later see a rising tide of what these weeks of fear, isolation, abuse, lost jobs, lost dreams and turmoil have done to us. There will both beauty and ashes from all this.
Locusts?!
Now more than ever, we need eyes that see and faith that does not falter. There is hope. I promise. In the Old Testament, the people of Israel had experienced judgment, ruin and loss. They thought they were beyond hope. They'd even quit looking for good news. And yet God spoke:
"I will restore to you the yearsthat the swarming locust has eaten.." (Joel 2:25)
Huh? What in the world do locusts have to do with COVID?! Simply this. God restored what was lost. God healed. God worked. God delivered.
What was written then was written for our encouragement and instruction. What God did then, He can and will do again. He is at work. Believe me. He's got this.
Does He have you?
That's the real question. It would be my highest joy to connect with you to answer question or point you in a direction you might find them. I don't know all your pain and heartache. I don't know your fear or frustration. I simply know Who does.
Turn to Him.
"Weeping may stay overnight,but there is joy in the morning." (Psalm 30:5)
Do two things for me:
Leave me the funniest meme, video, image or whatnot in the comments. (copy this: img src="paste your image URL here" and then place brackets < > around everything from img src to the last quotation mark)

Tell me something about how Jesus has helped you with the Virus Crisis. Your comments may encourage someone who doesn't yet know Jesus to begin to explore faith in these days.