About WBC: Don't Feed the Animals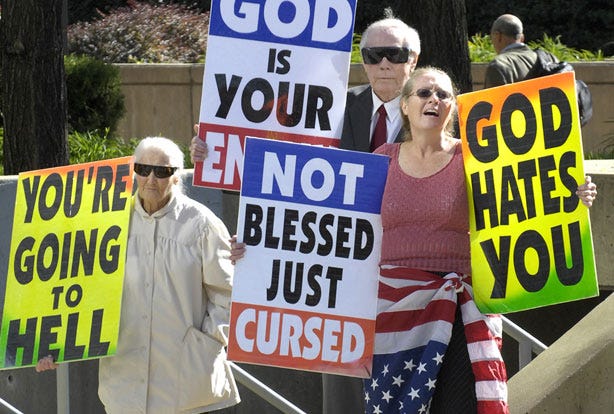 "Westboro Baptist Church" comes to Blacksburg tomorrow to spew hate in the form of picketing and insults. They have toured the U.S., making many enemies but showing no love. I put the name of their organization in quotes simply because they may be Westboro, but they are not Baptist, and they are not a Christian church. They are a cult.
On their website, you will unfortunately find a lot of scripture from the Old and New Testaments, with much of it twisted and taken out of context to serve their own use.
As a local pastor, I'm grateful that it appears that most people in our community understand this group is not representative of Christianity at all. However, I suspect that there will be some that allow WBC to nurse their antagonism toward the institutional church. I don't blame them. I can only hope that they'll look past flawed messengers (including me) and look to a perfect God who has revealed Himself in love through Jesus Christ.
Our community has offered many options for response to WBC. Mayor Ron Rordam offered:
I encourage citizens to simply stay away from this demonstration of hate. Make contributions to Tech's Center for Peace Studies and Violence Prevention or, if you need to be part of a group, go by Tech's Graduate Life Center plaza off Otey Street starting at noon.

Blacksburg is a community. We are bigger than this. We are a peaceful community and we can show that on Friday when we make a statement by leading our lives as we always do, filled with the spirit of Blacksburg, a spirit that embraces all people.
Others are planning on picketing them. Through Facebook, there are those calling for several thousand students to show up in silent protest. All are urging civil, controlled responses.
I happen to completely agree with Mayor Rordam about staying away. Everywhere this group has been, the media aids their hate rhetoric by covering them, and they are further enabled to continue their spree of travel and taunting by pressing lawsuits against those that lose their temper and act against them. The best way, in my opinion, to respond is to simply ignore them. Don't feed the animals.
When you see a sign like that on a zoo cage or in a park, you understand it's for your protection. You may think it's cute and fun to feed a furry critter, but what that critter may be eating next is you.
WBC is only composed of about 15 folks. How can such a small group continue to draw such attention? Because we keep feeding them. In our disdain for them, we enable them. We can't help but do something, we think. But perhaps the best way to respond is to treat them as we would other insignificant and ignorant movements. Don't feed them.
They plan on picketing downtown at two locations and then at the Blacksburg Middle School (where the high school is also meeting, thanks to the collapse of the gym because of snow - I guess that fuels WBC's claims that God hates us). I do wish that our local authorities had prohibited them from picketing near the school (if they could). I think it's a grave mistake to allow any external group to picket or demonstrate at our educational facilities with our children and students in attendance.
For Christ-confessing ministries and churches in our area, it's very tempting to try to offer an alternative. I am not in a position to offer a definitive solution. However, I would encourage you to be the church on every day of the year and not just seek to make an appearance tomorrow. Let us daily offer our community the love and truth of the Gospel and speak openly about sin as people who are only saints because of Jesus' life, death and resurrection. It is a great treasure to know the love of Jesus Christ,
"But we have this treasure in jars of clay to show that this all-surpassing power is from God and not from us." (2 Corinthians 4.7)
One wonderful gift that WBC does give to our community is its heightened appetite for spiritual or religious conversation right now. It is a door through which thoughtful Christians can walk with humility and grace as we share the loving truth of Jesus' words and life.
It is loving humility and self-sacrifice that makes a people remarkable to a world in doubt of God. In fact, Jesus said that we ought to be known by our love... not by our signs. (John 13.35)
Other Perspectives
Collegiate Times article Roanoke Times article
One interesting tidbit from the Roanoke Times article that supports the thesis of non-mobilization is the cost to taxpayers. In our depressed economy, it's deeply frustrating to consider that such a small group can cause the rest of us to pay dearly:
In 1991, about 30 members of the Ku Klux Klan staged a rally and march in Blacksburg that drew about 500 counterprotesters. Some 250 police officers from several jurisdictions provided security. That event cost taxpayers about $23,000, according to the Roanoke Times archive.