Alyeska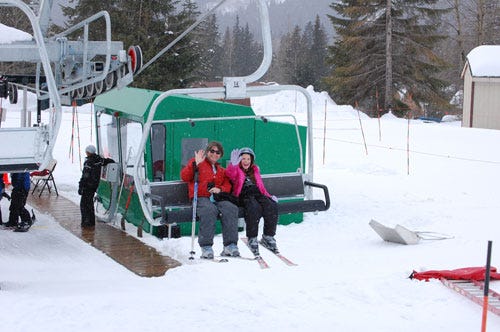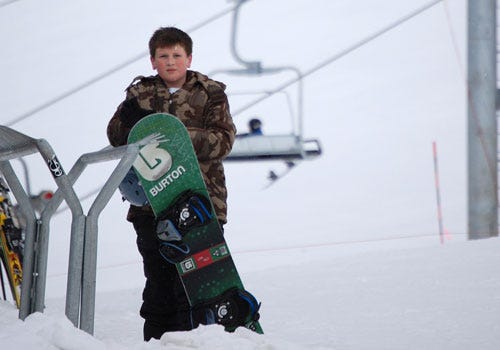 I tweeted yesterday that we were heading to Alyeska to watch the kids and Carolyn ski. I received great abuse on Facebook and Twitter about not going skiing myself. Here's the rub... I tried the skiiing thing 10+ years ago when I took a collegiate group to Canada. We went to beautiful Banff. I took lessons and the whole nine years. And the rest of the afternoon there was a long day of controlled falling.
10 years later. Jeff ski? Nope. I didn't enjoy it when I was 30. What makes you think this 41 year-old would relish falling down a mountain? That white stuff is cold, after all. I do relish, however, watching others fall down mountains.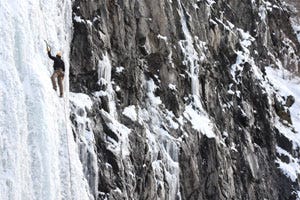 With that said, we took off for Alyeska mid-morning. As we drove along Cook Inlet, we were delighted to find a camera crew from Evergreen Films shooting an ice climber (with a camera; no need to be alarmed) right off the side of the road. We stopped to watch his ascent. Carolyn's camera was clicking so hard, it was smokin'.
We also stopped at a gas station outside of Alyeska to get some pizza because they had signs in their window that said (literally) "get your pizza here." We placed our order and also got some cookies (it was a bakery too) and sat down to wait. 20 minutes later, a girl came out of the back and said, "Are you guys in a hurry?"
After some confused looks between us all, she said that she was helping her mom (who runs the place) in the back with something (obviously not our pizza) and that it would be better if we ate somewhere else. So off we went to the lodge, where we had most excellent (Bill & Ted again) hamburgers and cokes. The kids started their lessons (Adelyn and Abby for ski; Sam for snowboard) after lunch for two hours. Caro proudly donned her gear and jumped on a lift to prove to all of us that "she still had it."
Kristy, Lilly, Mike and I hung out in the lodge. It was an surreal experience. I was catching up on some of our friends' mission trip to Poland via their Twitter feeds and Facebook pages on my Macbook. Mike was on his Powerbook. Kristy was actually reading a MacLife magazine I had brought along. It was like heaven... mission trips and Macs.
After the kids' lessons, we went to watch them strut their stuff on a nearby bunny hill. No bunnies were harmed in the making of that adventure. Abby, Adelyn and Sam all had a great time, and as it began to snow, the adults were just in awe of the beauty of God's creation again. It was such a peaceful, joyful scene. When snow is falling, sounds are muffled, and the resulting experience is like someone pushed a mute button on an otherwise busy brain.
Caro cooked some kind of pasta stuffed shells with moose meat (by the way, Tuesday was our first non-moose sighting day - except for in the meal). The kids were bushed, as were the adults. Especially Carolyn. She collapsed into bed with some kin of "I've-still-got-it" grin on her face.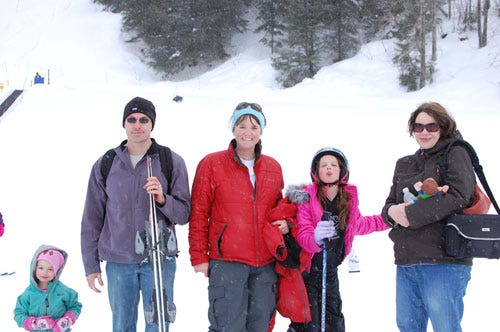 In two worlds at once
Throughout our stay here in AK, we've been eagerly following Jeremy, Clark and Michael as they traipse around Krakow, Poland. We've had a couple of prayer times for them here, and it's been a wonderful experience joining them on mission through prayer.
After having been here to see Mike and Kristy's home and ministry lives, it's much easier to pray for them. It's easy for me to pray for the guys in Poland cause I've walked the same streets they are, and I can "see" them there. But what about you? What mission efforts and missionaries are you praying for regularly? Let us not cease in joining them in this grand, joyful work of Christ. The best way we can partner and encourage them daily is through our prayers.
In addition to our prayers, perhaps you need to go. I can assure you that seeing is a huge help to interceding. Yet, Jesus said,"Because you have seen me, you have believed;blessed are thosewho have not seen and yet have believed." (John 20.29) He is rather emphatic about the joy and reward of complete investment and faith without sight. And so let us pray even when we can't see. Let us trust and walk by faith rather than sight. By doing so, we can live in two worlds at once.