Big weekend
It was one of those weekends as a leader that you anticipate/dread with equal measures of enthusiasm and uncertainty. Our church had an opportunity to host the Glory in the Highest concert tour here in Blacksburg. After deliberation and an email survey, we jumped at it.
There were more than 900 folks at the concert Friday night, and we surpassed the break-even point. While it was never a financial-only perspective for me, I knew that there might be those in our church who would look at it that way, and I was grateful that those results might assuage any concern they had.
One person told me at the concert, "Congratulations on the success of this event." The comment was made in reference, I perceived, to the amount of people in attendance. And the comment broke my heart in a way. Success at such an event is never measured in terms of numbers and attendance. Biblically, we can only view success as to whether God was glorified and honored in the context and whether we are faithful and obedient.
Jesus Christ was clearly painted as glorious, majestic and worthy of worship and honor from the stage by the artists, and because of that, I was deeply grateful to have been a part of the event. My prayer is that folks who attended, helped and prayed for the event were encouraged to discover that life's ultimate joy rests in an authentic love relationship with the Father.
Snowy Saturday
We awoke Saturday a.m. to a thickening layer of snow on the ground. It snowed steadily most of the day, finally clearing up around 4-ish. It was simply beautiful, and my kids leapt out of bed, dressed with no sense of grogginess, and were outside in a few moments. If only they treated school days like that...
It was surreal and beautiful. Most of the snows we experienced in Arkansas came after December. One of our church members related that this snow "really didn't count" as a significant snow. It was more of a dusting. (It was 3-4 inches!!). Man, are we unprepared! My toes have been icicles since last week when the temps started staying stubbornly in the 20s at night. I wore two pairs of socks to our worship service last night.
I had planned to avoid the snow play. However, after helplessly watching two different fathers on our street laboriously build Frostys, I was eventually guilted into creating our own version of a frozen snow human. Sam and I pelted one another with snowballs for a while before my one hand was frozen solid (I had on a nice mitten but couldn't find its match so on the other hand, I was wearing a cotton glove I use for subzero scooter rides).
Carolyn was out shopping for most of the day, and when I learned she was returning, I told her to look for our snow creation. When she pulled up, she said, "It's dead." It had fallen over. Bummer.
Finally... December Nights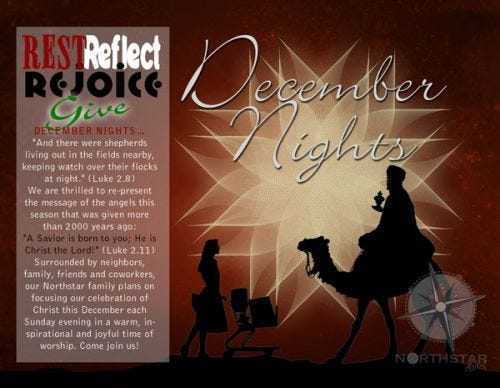 Now you see why this was a "Big Weekend." Our church moved its worship services to the evenings during the month of December. We have creatively called this "December Nights." It's...
a wonderful, warm and inviting December of worship and celebration of Christ's birth! There will be NO MORNING WORSHIP SERVICES during December; instead, we'll be meeting each Sunday at 5:00 p.m. at the BCM at VT for "December Nights." This is a superb opportunity to invite friends, neighbors and coworkers for 1 hour of contagious joy involving worship and teaching! Come celebrate Christ with us in December!
We experimented with December Nights last year at Journey Church, and our congregation there loved the break in schedule and the ambience. This past Sunday evening was our first DN here. We met at 5:00, enjoyed some hot chocolate and cookies, and then we sent out a large group into the neighborhoods around Virginia Tech to sing Christmas carols.
They returned, frozen, but cheerful, and then we enjoyed a time of worship and teaching centered around the Advent theme of Hope. As folks exited back into the frigid night air, and we cleaned up the BCM, I was thankful for all that happened in a few days.
It was a big weekend.