Review: Building a Discipling Culture
There's been a lot of buzz about Mike Breen and Steve Cockram's book Building a Discipling Culture as well as the ministry they lead, 3DM. The Baptist General Association of Virginia (one tribe to which our church belongs) helps promote the discipleship process through the training of leaders. There are several BGAV-affiliated churches who have embraced 3DM's methodology of helping make people within their church a fully devoted disciple of Christ.
Mike Breen defines 3DM as "the global home for an organic movement of biblical discipleship and missional church that is centered in the United States." Prior to locating in the US, Breen served as a pastor in England for many years in which he had the opportunity to apply the principles and methods that 3DM now promotes today.
In the summer of 2011, our church did a series called Building a Discipleship Culture before I was aware of the book's title, and we used material from Real Life Discipleship by Jim Putman, pastor of Real Life Ministries. You can view our cheesy videos from that summer of training and study here. They are bound to entertain and inform you.
With all that said, our church is a church committed to making disciples. We take Colossians 1.28 as one of the deepest aspirations of our community:
Him we proclaim, warning everyone and teaching everyone with all wisdom, that we may present everyone mature in Christ.
So, I devour books about discipleship. There's nothing better than helping someone begin to follow Christ, experience His love and become a mature believer who is able to lead others to faith and equip them in spiritual maturity. Any process or tool that can assist that journey that is biblically-centered and relevant to people's life schedules should be examined greedily.
The book is essentially the primer for the 3DM movement, and it gives an overview of how ministries and churches who want to embrace its methodologies can organize, train and develop disciples.
Let me start with the good:
The process outlined in the book is intentional.

It's structured.

There is great expectation from the working out of the process.

There has obviously been fruitfulness from the process where it's been implemented.
The actual writing style of the book is pretty dry. It seems disconnected in many points, and after a good read, my copy had some underlining from points that were made that were especially good, but those points seemed extraneous to the overall description of the process.
Let me outline what I didn't connect with:
The process described is extremely involved.

While intentional, I don't know that the training and process is realistic in every church or ministry.

I'm not confident that the process of making disciples needs to rendered in such a convoluted way that requires so much explanation of the process itself rather than the qualities desired in a disciple of Jesus.

There were a few statements in the book that without knowing Breen, I would need more elaboration on before I'd label the statement as wrong or false. Such as:
You can invite God into any part of your day. Truth is, he's there already, and it is rude to ignore his presence. He's never too busy to talk with you, he enjoys the same things you enjoy, he wants to be part of your life - he really does.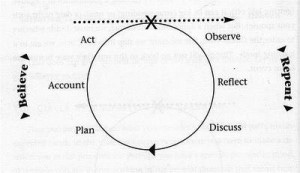 My problem with comments like that it may reveal a deeper view of God that I would fundamentally disagree with. Again, without knowing the leaders behind 3DM, I can't say, but combined with a few other statements scattered throughout the book, this produced a sense of holy caution, or a red flag, so to speak, in my mind.
God doesn't exist for our happiness, and God most definitely does not enjoy the same things I enjoy all the time. In fact, scripture is pretty clear otherwise that God wants to invite us into His life, for us to enjoy what He enjoys, and for us to discover the joy of laying down our lives and agendas for His mission.
There's literally a lot of shapes used to communicate points. I am not primarily a visual learner, but I would imagine those that are probably learn better from deeper illustrations that squares, triangles, and circles that are labelled. One illustration is shown at right.
Conclusion
There is a lot to commend in the 3DM approach to discipleship and leadership development. If your church is currently doing nothing intentional related to making disciples, it would be a massive jump to embrace 3DM methodology with a lot of planning, training and buy-in among your key leaders. Yet, if you embrace the process, you will see fruit.
I found myself constantly asking why we make discipleship so difficult in the modern church. The process of leading people to maturity must show them models, but I believe those models should be incarnational rather than geometric. In other words, we need more people who are intentional about teaching others to live in joyful, loving obedience to Jesus.
Like the authors, I agree that as a movement grows, there must be structure and processes added to it, and I'm thankful for the thinking and creativity that has resulted in the 3DM approach. I appreciated the heart of this statement because I know many pastors who aren't involved in the discipleship process at all:
We need leaders who will step out of "managing church" and make discipling others their primary objective. The time has come to humbly acknowledge before God that we have failed to train men and women to lead in the style of Jesus. Whether through ignorance or fear, we have taken the safe option, training pastors to be theologically sound and effective managers of institutions rather than equipping them with the tools they need to disciple others.
Yet to be gracious, I don't think the answer is to jettison the baby with the bath water. The answer is not to create vacuous disciple makers by abandoning theological soundness and effective leadership of organizations. It's not an either-or situation. It's a both-and. We need to increase the equipping for discipleship while continuing to do the other.
Since I know the process is bearing fruit in hundreds of places, I cannot argue against it. However, don't feel guilty for questioning whether the 3DM model is right for your ministry. There are other dynamic models of organizational discipleship. The most important model is the one that you choose and use. Leading people to maturity in Christ is not an option.
Others
For another perspective on the 3DM approach from someone who is using and embracing it, check out this post. It's excellent.