Camping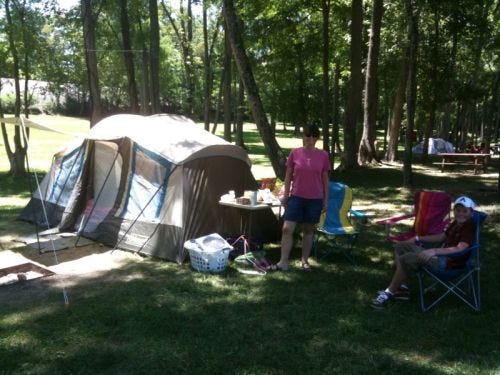 Many moons ago, my in-laws gave me a tent for Christmas. Those many moons almost surpass the birth of Adelyn. When we decided last week to "go camping," it was not with the confident declaration of a family that "camps." Rather, it was the over zealous determination to have a family outing after a softball tournament threw out our beach vacation.
As we were packing for the trip, I noticed on the tent box (still sealed) the address it had been delivered to: 162 Tanglewood, Monticello, AR. That was 4 houses ago. Many moons/4 houses/same thing.
We picked a site on the New River because it was relatively close, and with the heat wave of the last few weeks (mid 90s! Gasp!), we wanted to be able to do some tubing, swimming and fishing. We discovered quickly a lost benefit of our Sequoia - space. By the time we had finished packing, our two cars headed for New River Junction campground.
Carolyn and Adelyn made a Wal-Mart and Big Lots run on the way and ended up making the best purchase of our trip: air mattresses. Sam and I beat them to the camp and had the tent set up like we were old pros. Our only hitch was some kind of white, vomit-like gel on the ground -left by the previous campers. Sam and I almost added our own after close examination. We solved the dilemma primally by dumping ashes from the fire pit on top of the mass and then stomping it dry. Our testosterone surged.
The next 24 hours were perfect for three of us, but a Johnny Cash experience for one. I was delighted to find that the campground had WIFI. It was sketchy, but there. Actually, the portapotty had a better signal than our tent site - at least, I heard that it did. Ahem.
We roasted hot dogs, had smores and thereby branded ourselves as obeying the Great American Camping Meal Requirement. I told a ghost story around the campfire that had two profound reactions from the kids:
1) Sam said, "That was stupid."
2) Adelyn crawled into Carolyn's lawn chair with her. (It was the infamous "Drip, Drip" story for those ghost tale connoisseurs out there.
You'll have to read the Johnny-Cash-linked tale above for an idea from a tenderfoot about how the night went. There were no bumps in the night, however.. only whistles.
By waking alive, we won. We'd camped! Yeehaw! After conquering the wilds of Virginia by not losing anything or hammering a tent peg through my foot, we declared our initial camping experience a success. We packed up and returned home shortly before lunch the following day with a commitment to venture out again soon.
What was your first camping experience like? Any recommendations on must-have investments for campers?