Catalyst reflections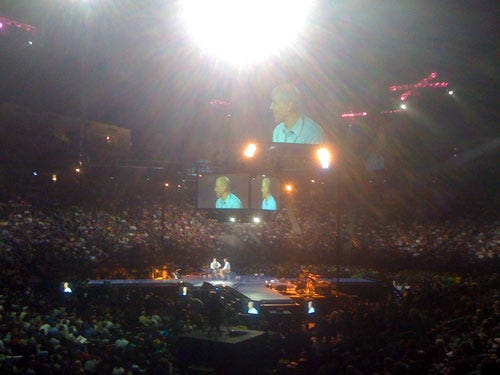 I returned from Catalyst 2009 late Friday-early Saturday with my church staff, and I wanted to post some quick reflections on the experience. I've been wanting to attend for 9 years, and finally made it this year to celebrate its 10th birthday.
I know of no other event that seeks to honor Christ and elevate joy as much as Catalyst. There were incredible moments of tear-jerking spirituality - such as when one man was brought on stage to promote Compassion International. He had been supporting kids through CI for 12 years. The Catalyst staff then surprised him by bringing up on stage a young man from Africa - one of the kids he had been supporting for years. It was the first time they'd ever met in person. The two fell to their knees in a sobbing, joyful embrace of love and overwhelming emotion.
On the other hand, another Guiness Book record was broken as Professor Splash jumped from a 35'9" platform into a foot of water in a kiddie pool.
There was a impact-laden lineup of Christ-centered speakers and ministers that included the likes of Andy Stanley, Francis Chan, Dave Ramsey, Matt Chandler, Chuck Swindoll and Priscilla Schirer. These gracious leaders urged us to turn from sin, consumerism and shallow thinking.
Then there was the 10-minute football fight that literally looked like snow as the 12,000 participants launched mini inflatable footballs at each other and a group of kids wearing football uniforms on the stage. This preceded the introduction of Tony Dungy and his clear, unequivocal and humble talk that demonstrated how one can walk with Christ and ego-addicts at the same time.
We were challenged and exposed to the depth of need for ministry and intercession as we learned about the 143 million orphans in our world (check out 143million.org) and alternatively, we laughed our heads off at the inane videos of theme interpretation of "On Your Mark." Two of the Catalyst staffers created some of the most Jackass-like videos with the tagline "That's gonna leave a mark."
Catalyst 2009 was both a circus and a sanctuary.
It was the best of times and the worst of times.
Considering that Dave Ramsey's group co-sponsored the event and then gave out 6000 free t-shirts promoting Financial Peace also left one wondering about the mixed message.
While thousands drank the Catalyst Koolaid without question, thousands also whispered in private conversations over Rwandan coffee about the confusing message of Christ, sheer entertainment, consumerism and selfless service.
One was left wondering at times, should we be more focused and less fun? Is it sinful to have a great time - especially considering the suffering of other saints? Are we magnifying the frivolous at the altar of edgy?
Yet... the moments of worship that transcended frivolity were plentiful. The humility evidenced by most of the speakers was tangible. The name of Christ was consistently magnified, and some of His most unnoticed servants - adoptive parents - were given honor and attention. Andy Stanley spoke on areas of leadership so desperately needed by the younger generation of Christian wanna-be's.
In these hours of near-reflection, I am both grateful and embarrassed that I was able to participate. I am not critical of Catalyst. Rather, I'm challenged by it. Truly, its name is appropriate.
I'll be posting some thoughts later on some of the messages I heard. Three of them deeply ministered to me. Stay tuned...