Choosing Thanksgiving
Thanksgiving. A national holiday. A mindset. A lean of the spirit into the eternal.
I love this Thursday stillness. Coffee. Macy's Parade on the TV. A house full of family.
This has been a wild ride of a year. Who knew in January that this Thanksgiving we'd be in a new house, that Virginia Tech would havea new football coach after 28 years and that Donald Trump would be electedPresident?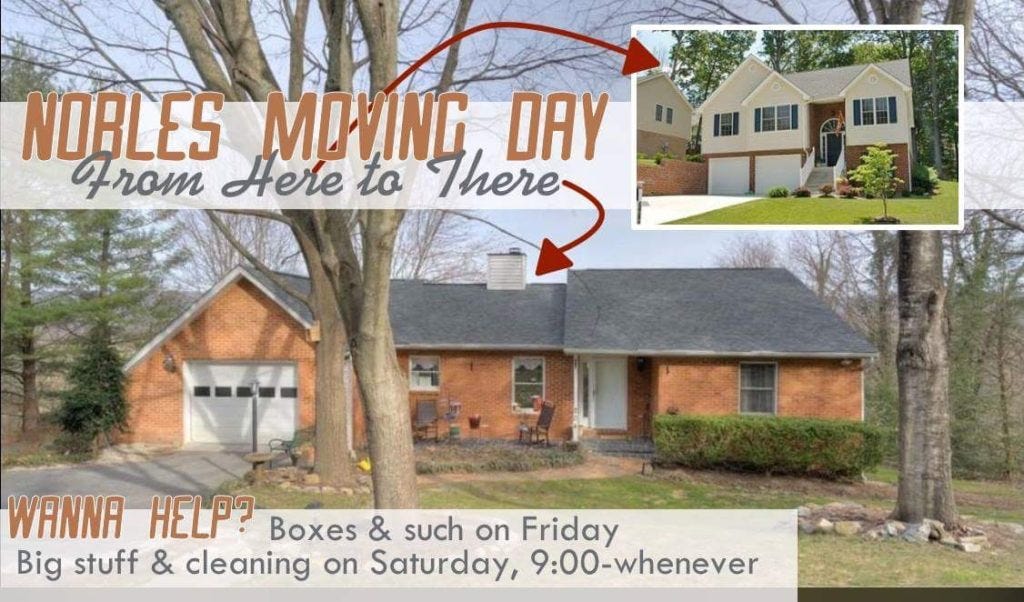 Our house. We had been wanting to find a new home for over a year. We thought we'd found one, but we just couldn't quite afford it. The home we were living in would have to sell for just the right amount. We realized that realtor fees would limit what we'd make on the sale of our home, so we finally listed it as a FSBO. That's not something that's smiled upon in Blacksburg. We showed it quite a bit, andafter almost nine months, we had a seller. That's when we realized the house we had wanted was no longer on the market!
Through a surreal series of events, we sold our home and bought a new one in two days! We are thankful for Steve Bodtke and his help in our home transition. Our new home is not only better than the one we had wanted, but it's been a perfect home for hosting our small group, the kids' friends and for simply resting. The views out the back of the house are stupendous. We are thankful.
Our church. We are so stinking blessed. Northstar Church has been our church home for over seven years as of July. We have experienced growth in every way imaginable, but the most significant, blessed gift that God has given through our church is the great privilege of hearing people's stories. It's been our theme at Northstar this year, and one thing we've learned is that everyone has a story.
Helping people tell their story and also to see how Jesus has framed their story has been a joyful celebration. Two of the ones that particularly impacted me were Katelin Petrusky's and Lori Miller's. I encourage you to watch them both, but I've embedded Lori's below:
https://www.youtube.com/watch?v=dTe4mLPBTDk
The election is over! With Donald Trump in the mix, the last 18 months has been a circus. It truly has been a reality TV show as he beat every Republican contender and then the Democratic heavyweight Hillary Clinton. I'll refrain from offering political thoughts for another post, but I suspect that thankfulness is not what 50% of America feels for the election results this year.
It's difficult to be thank-full sometimes, isn't it? However, if we wait until we feel thankful, we may not actually ever be thankful.The challenge of Thanksgiving is to choose thankfulness. Even for things that you may not be thankful for.
Rejoice always, pray without ceasing, give thanks in all circumstances; for this is the will of God in Christ Jesus for you.(1 Thessalonians 5:16-18)
Embracing gratitude, even in circumstancesyou're not pleased with, is a journey to maturity. Choosing thanksgiving shows that you see a bigger picture and believe a bigger reality.For people of faith, we see through and beyond instead of looking steadily at circumstances.
So we do not lose heart...as we look not to the things that are seen but to the things that are unseen. For the things that are seen are transient, but the things that are unseen are eternal.(2 Corinthians 4:16-18)
Family pictures. At some point today, we will be taking the annual Noble Family Photo. With Carolyn being a photographer, you'd think these experiences would be moments of flawless precision. You don't know the Nobles. The final photo is always amazing, but what it takes to get there should be a sitcom. Though we look like we're smiling and loving one another in those Christmas card shots, the kids and I are terrified. At that point, we've usually pushed Carolyn over the edge and have been threatened. Prior to that, there arerolling and crossed eyes, tongues, rabbit ears, blinking, odors, and physical violence to one another. Here's one of my favorites from 2006.
Family pictures can't capture family, can they? They display the people, but they can't display the relationships, the dynamics, the home. I'm grateful for my family. So much. Each of them has given me more than I could ever give them. Carolyn, Sam and Adelyn make everyplace we live a home that resonates with laughter, joy and refuge.
What else?
I'm simply thankful for fireplaces (We finally have one! First time in our married life!), candy corn and peanuts, Diet Cream Soda, corn hole, a college son at home, football, my parents from Little Rock, movies, books, coffee, the internet, emojis (👍🏻), unexpected blessings like free donuts, health, Xbox, Thanksgiving Parades, mopeds, and snow (can NOT wait!).
Most importantly..
All of the above are only possible because of a good, giving God.
Every good gift and every perfect gift is from above, coming down from the Father of lights, with whom there is no variation or shadow due to change.(James 1:17)
There are so many days when I needto remind myself about God's goodness. There are days that I want -different circumstances, things, change, provision, etc. It's in those days that I have to exercise patience and reflect on all the good God has already given. I choose to trust Him for what He will provide tomorrow.
I am who I am because of Jesus.
Because of Jesus, I live, love and can even approach God. Through Him, I'm thankful for salvation, love, hope, joy, life, breath, creation, beauty, forgiveness, truth, laughter, abundance, courage, grace, mercy, relationship, future, security, and serving.
I hope you too will embrace this Thanksgiving with determined gratitude and intentional thankfulness.
Thanksgivings past: