Christmas decorating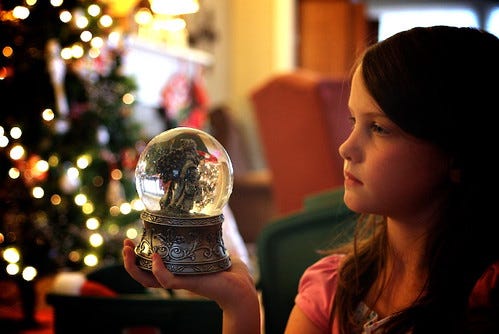 While Caro rolled out of bed early for a Black Friday trip to Wal-Mart (where she claims she bought nothing), the kids and I snoozed our lives away until mid-morning. In fact, Caro had apparently come back and left for work at the Gift Shaker to face hordes of eager shoppers from the other side of the counter before I'd ever lifted my eyelids.
I do recall her asking me if I wanted to go to Wal-Mart this a.m. at 4:30-ish. However, it is so foggy that I cannot even remember whether I gave her an intelligible response.
As soon as I'd downed a few cups of coffee and the kids had enjoyed a couple of hours of being kids, we began excavating the attic of Christmas stuff. I figured that we could have the bulk of Christmas supplies, lights, etc. down and set up when Caro got home as a surprise for her.
Sam and Adelyn were remarkably helpful the whole time the attic was involved. They never slowed down helping cart stuff up and down the rickety pull-down stairs. I think that perhaps they were hoping for a magical wardrobe to be concealed somewhere over our heads that might be their entrance to another world and an escape from this one.
As soon as the attic stuff was done, their enthusiasm cooled. Sam did get the tree assembled and helped me with the lit wreaths across the front of the house. Adelyn began sorting through/playing with Christmas ornaments. And it was then that Caro came home. Where did the time go?
We spent the rest of the afternoon decorating. I kept trying to throw away old Christmas ornaments, creating my own filter for what made a worthy, keepable ornament. Here were some of the criteria:
A worthy ornament can't be a non-Christmas-y trinket that simply has a string coming out the top to hang on the tree. Because of this definition, I attempted to throw away several clowns, miniature blue and brown buildings (Caro claimed they were "churches"), a dozen crosses (yes, I know they're spiritually significant... but how many do we need of those?), and some wooden things.

A worthy Christmas ornament can't have glitter on it. Just to let you know, this criteria was totally vetoed by Caro, but I hate having to try to vaccum up glitter from cheap ornaments.

A worthy Christmas ornament can't weigh more than 3 pounds. Serious. We have some things that you could enter into the Strongest Man Competition. You need to use 2-3 branches and some rope to keep these babies on the tree. The eyebolt screwed into the wall with the steel cable holding up the tree is pretty distracting.

A worthy Christmas ornament simply cannot have Hello Kitty on it.

On the other hand, any ornament that has Donald Duck on it is worthy. In fact, the kids and I played a game called "Most Blessed One" in which we kept score of which kid was able to hang up the most Donald Duck ornaments. And they're all very Christmas-y, so they don't violate the first criterion.

A worthy ornament can't be a piece of construction paper that it appears one of our kids drew on unconsciously in their sleep and is labelled "Preschool" on the back of it. As a caveat, I assured Caro we can keep it in the ornament box, in case forensics proves that one of our kids made it, but it does not belong on the tree.

An ornament that was worthy last year may not be worthy this year, based on whether the tree "theme" is different from last year. We had gallons of plastic icicles and dozens of prune-shaped glittery (see the second criterion) balls that may have been worthy because they fit the tree theme in years past. However, I was able to toss them this year because I convinced Caro that no 21st century Christmas tree would allow anything of the sort to adorn its branches.

An ornament, no matter how worthy, is not allowed to hang from the tree-topper angel's wings. This was instituted by Caro a few years ago, and apparently still remains firmly in effect in spite of protestations that the Mystery Van from Scooby Doo would blend very well with this year's theme if it was allowed to hang from the angel's wings.

While not exactly an ornament, Caro has decreed that all sorts of branches, berry-looking things, and dead weeds may be entwined around O Christmas Tree and be considered worthy. The overall effect with lights on is nice, but I still fight the urge to pull out the weedeater.

If it's an ornament that doubles as a picture frame that even came in a Hallmark box that says "Baby's Second Chrismtas" - but has no picture of a two year-old baby (preferably ours) in it - it is not a worthy Christmas ornament.
After the deco came the clean up, which seemed to take more time than all that came before. However, when were done, our house was festive - inside and out - our hearts were full, and our hopes were elevated far beyond Black Friday to a season that celebrates a Savior.