Christmas notes 2010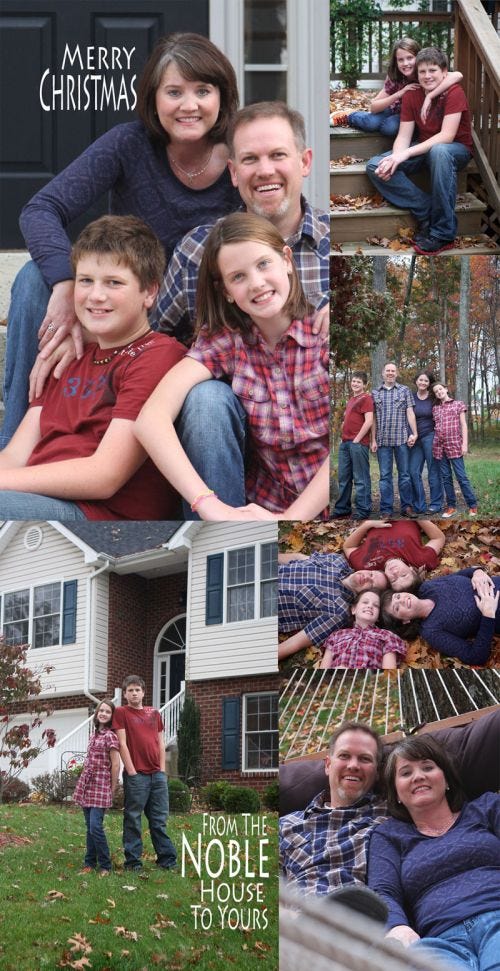 It's beginning to look a lot like Christmas here in Blacksburg, VA. The leaves that once were vibrant fall colors are now under three inches of snow. The temperatures have dropped and are much colder than we were use to in Arkansas. The beauty that comes with the bright, white snow makes theseason's change worth it. There has been changes in the Noble family as well.
Jeff is basking in all the changes that have happened this year at Northstar Church. The church moved its office location to a beautiful, historical house on the edge of the VT campus. Being on campus and having a house conducive to ministry has brought a new dynamic for Northstar. The house is full most days and nights with meetings, discipleship time and fellowship from both college students and families. We have been honored to have seen many lives changed this year through salvation and baptism. There isn't much more you can ask for when you get witness people give their life to Christ and decide to follow Him wholeheartedly. If Jeff isn't in some type of discipleship meeting you can find him at home relaxing, reading or trying to beat Sam in Fantasy Football.
Carolyn has enjoyed subbing for the schools this year. She mainly works with Special Ed children and likes that she can pick and choose when she works. She is a part of a Ladies Morning Bible Study where she has made some good friends. She is still taking photos on the side but enjoys not having to make an income from it and just enjoy it for a hobby. As a continue saga of her health, she was diagnosed with Breast Cancer this October. Fortunately, the cancer is non-invasive and does not require treatment. She will, however, have a double mastectomy and reconstruction on December 13th. Not exactly what we want for the Christmas holidays but God's timing is always best. We have learned that time and time again.
Sam has grown like wildfire and has had the biggest change. We recently bought him size 11 shoes and he is about to be as tall as Jeff. He now helps with the Technical Team at church. He assists in setting up the lights each week and is in charge of the slides for the worship songs. It's a great way to keep a teenager focused during the worship service! He played baseball this summer and is now playing basketball. He was able to go to Young Life camp this summer in Maryland and is already planning fornext summer. This past summer we were able to go camping on the New River and take the kids to Virginia Beach. This was a first for both kids. Sam still loves the outdoors. His practice deer target is in the backyard where he practices shooting his bow. Not sure how the neighbors feel about it here but it is a yard ornament for now.
Adelyn has had her fair share of change as well. She started middle school this year. She is in the band and of all the instruments, she chose TUBA! If it is not the deer in the backyard, it is the tuba practice that can be heard by all! She still takes guitar lessons and loves writing music. Our families all pitched in to buy her a beautiful blue Fender guitar for her birthday. She loves it and plays it often. She still takes ballet and tap. She is in prepoint this year and will probably get her long awaited toe ballet shoes in January. She loved playing softball this year and is now playing basketball. She still sports her converse shoesalmost every day. She even wears them to basketball practice. The other day she was complaining of her feet hurting. It might be time to purchase real basketball shoes. Not sure how she will handle practicality over style. We will see.
This Christmas we pray that you have had some good changes in your life this year as well. We pray that Christmas will be a time that we will all remember James 1.17:
"Every good and perfect gift is from above, coming down from the Father of the heavenly lights, who does not change like shifting shadows."
Merry Christmas from the Nobles!