College bound
Thanks, AJ, for sending me this.
This week, Blacksburg is crazy. The college students at Virginia Tech are moving in/back. We've seen several families already eating out together and walking downtown.
We're about to be one of those families... in Charlotte.
Last night, I sat beside the bed of my 18 year-old and told him, "I've been telling you I love you for almost every evening for 18 years. Tonight is your last night before you leave for college. I want you to know... I love you."
Yep.
Cheesy dad moment.
I know that Carolyn and I are joining the ranks of all those who have gone before us, bidding their babies bye. It doesn't make it any easier.
So many thoughts rush through mymind, and I'm sure the quiet days ahead (because Sam is loud) will spur more reveries. Thoughts like:
We still have to remind him to empty the trash. How is he going to remember to do the simplest things without our prodding/nagging?

I dated someone seriously my entire freshman year in college. The "next girl" could be his future wife. (I hope some of his gal friends read this and get cold chills.)

Will he look like Sasquatch when we see him next (he's been letting his hair grow out so he can have a "man bun")?
And more sober reflections like:
Will what we've instilled in him as far as values, beliefs and convictions remain as his?

What will be his first significant failure?

Who will become his spiritual mentors in college?

What church will step up and reach out to him in the way that our church attempts to do for college students in Blacksburg?

Will he get up for his classes the first week?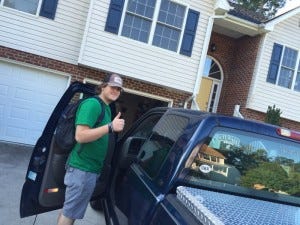 Sam left earlier this morning. The fam will be leaving for Charlotte and meeting him there this evening - after BHS gets out. We're going to eat out tonight and enjoy Charlotte and then move him into his dorm room tomorrow morning.
The ride home will be "interesting." That may be man-speak for "I wonder how many times the driver will have to pull over because something is in his eye."
Rites of passage. Family transition. Love. Faith. Hope.
We are truly grateful for these 18 years.
In an earlier blog entry, I wrote:
It was March 1997. And Carolyn was huge. With Christy Nockel's beautiful voice singing praises in the background, God graciously and kindly gave us something we had been told would probably not be possible. We were given a child, a son. Aptly, we named him "Samuel," because like the biblical mother of Samuel in the Old Testament, we had asked the Lord for him.
He and Adelyn are not "our" kids. They are gifts. We are simply stewards of their beautiful lives. It's been an honor to be blessed with parenthood. We didn't always believe we'd get to be parents due to Carolyn's health issues (link). We haven't been the best, but we've pointed our kids consistently to the One who is the best, a Father who is unfailing and steadfast.
We're not losing Sam. We're sending him out. He's an arrow that we're launching into the next generation as a weapon of joyful, exuberant, bold, status-quo up-endingfaith. We are prayerful. We are confident.
He's our son.
I hope he remembered to take the trashcan we bought him for his dorm room...