Observations from Colossians
I've been studying Colossians in much the same way I studied Mark last year. I'll keep this post running with reflections as I did Mark. I'm using several commentaries to help light my path through Paul's inspired letter. Here are the sources:
July 28, 2015
I've finished reading Colossians and have knocked out one commentary completely (Hughes). My plan is to finish reading a few other commentaries - Garland's and Woodhouse's.
Paul concludes his letter with a list of names - six of them. As he names both Jewish and Gentile coworkers in ministry with him, we see Paul's inclusiveness and the Gospel's power to transform lives. The Roman Empire was full of racial prejudice. The radical power of Christian faith to transcend relationships and culture and race is evidenced through Paul's conclusion.
The key to the quality of our earthly fellowship is the quality of our fellowship with God. (Hughes, 148)
In the past year, we've seen race be a motivating factor for cultural angst and disintegration at Ferguson, Missouri; Baltimore, Maryland, and Charleston, South Carolina.
Our society has NOTHING - nothing to offer these communities for the anger and hatred and complete dysfunction these crimes reveal. Legislation, lectures and liberalism will not together solve or address the problem that really is lodged in the human heart.
Paul writes:
Epaphras, who is one of you, a servant of Christ Jesus, greets you, always struggling on your behalf in his prayers, that you may stand mature and fully assured in all the will of God.(Colossians 4:12)
What our country needs is what Paul identified in Epaphras. A true Christian. True Christians struggle in prayer. The Greek word for "struggling" here is where we get the word agonize. Epaphras cared. So he prayed. Earlier, Paul had begun his conclusion of Colossians in this way:
Continue steadfastly in prayer, being watchful in it with thanksgiving.(Colossians 4:2)
This is not an idle suggestion. It's a command - from an apostle of Jesus Christ. Under the inspiration of the Holy Spirit, he commands Christians to continue - steadfastly - in prayer - with thanksgiving.
In days of tension and issues, we rush to "fix-it" and to condemnation. We are quick to mouth off in blog posts, social media about our opinions, but we are slow to mouth off in prayer. It reveals our complete lack of faith in the power of God to transform lives, communities and culture.
God, help us pray.
July 14, 2015
In 3.15-17, Paul shifts into some practical commands in light of theological realities. In our church right now, we're in a series called Think to Change which emphasizes the Believe-Behave-Become transformation cycle. What you believe shapes how you behave. How you behave consistently determines who you become. These verses would come in the behave part of the cycle. Now that Paul has reminded the Colossians of what to believe, he offers standards of behavior.
"And let the peace of Christ rule in your hearts...(v15)
He will follow this command with two others in these three verses:
be thankful

let the Word of Christ dwell in you richly.
The word for "rule" is a word that is often used in the 1st century Greek world for arbitrate.Synonyms would be to judge, referee, umpire or mediate. It helps us understand how to let Christ's peace affect us when we think on that.
Kent Hughes says, "Let the peace of Christ be umpire in your heart amidst the conflicts of life. Let it decide what is right. Let it be your counselor." (110)
So this isn't just a feel-good platitude. It means we should recognize that Christ is perfectly at peace. In fact, He is our peace. Therefore, we should allow the reality that Christ is unruffled, unrushed, calm, confident, and at rest shape our perspective and experience. Even we feel another way, Paul says this as an ongoing command. We should keep on allowing the peace of Christ to mediate our life experiences.
I pulled this quote from REO White from Hughes' chapter. He adds:
"When our lives are full, they will overflow."
When you carry a full bucket of water, you'll splash everywhere. In just such a way should we allow the fullness of Christ's peace to overflow into our lives and the lives of others.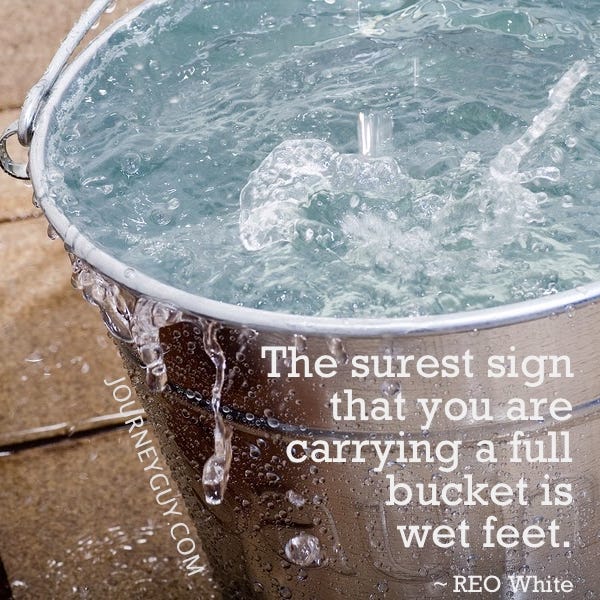 June 9, 2015
There are three distinct "warnings" given to the Colossian church. You can see them in 2.8, 2.16 and 2.18. It is the warning in 2.16 that caused a lot of reflection for me.
Therefore let no one pass judgment on you in questions of food and drink, or with regard to a festival or a new moon or a Sabbath.These are a shadow of the things to come, but the substance belongs to Christ.(Colossians 2:16-17 ESV)
While the specifics of the warning relate mainly to external religious observances, the gist of the warning is simply this: the Christian should focus on seeking Christ alone and not let the opinions of others about what they should be doing religiously to impede their simple pursuit of Jesus.
This is a much-needed message in American Christianity, I think. There are many who are supra-spiritual, embracing different means or sensational worship as a way to be closer to God. The temptation for some is to think that because we do not experience what so-and-so does in our worship or prayer life, then we must be inferior spiritually to them. We wonder if we lack something.
This is not an excuse for spiritual apathy. We are counseled "to examine ourselves" - so let's not embrace a false confidence in our spiritual lives either. Woodhouse says it best:
There is a general danger in allowing the judgements of other people to push you around or unsettle you, to be the shaping force on your life, the motivation behind your decisions and behavior, how hard you work, what you choose to work hard at. (149)
What matters is not thatyou practice like others but Who you seek. Over and over in Colossians, Paul uses the expression "in Christ." That is the litmus. It's not whether you please others and pursue Him as they do. What matters is whether you are in Christ. Are you in love with Jesus? Are you walking with Him? Are you daily seeking to submit your life to Him in thankfulness (1.3, 12; 2.7, 3.15, 16, 17; 4.2) and joy?
May 15, 2015
I'm still plugging away at Colossians.
A quick comment on the commentaries:
I've settled on the commentaries by Woodhouse, Garland, Hughes and Melick as my favorites. Of those, Garland's is the most thorough. Woodhouse offers much in the form of staying true to the text in his thoughts while offering pastoral counsel as well as academic insight. I also agree with his assessment that Paul is not responding to any particular group or person in Colossians as he writes words of warning to the church there.
I've found the commentaryby Bruce just too stale and almost rote to be of use to me. O'Brien's is a wealth of scholarshipbut dense. I know most folks love Bruce's commentary and consider it one of the top, but I just don't see it that way. He offers little in true insight to the passage, choosing instead to focus on an academic brevity which is simply not inspiring.
April 13, 2015
John Woodhouse in his commentary points out that 1:24 is written to a specific gathering of Christians in Colossae, in a specific home, and how important it is to remember that Colossians as a letter would have been read aloud to those gathered.
So imagine Epaphras, as the Colossians' friend (he was the one through whom they had first heard the message of Jesus, 1:6) brings this letter written for them... from none other than the Apostle Paul. They must have gathered in eager anticipation of Paul's words, believingthat they were written under the leadership of the Holy Spirit.
They may have also been concerned. Their newfound faith in Jesus, in His "gospel," was supposed to be the most profound power in the world (1:7). Yet, Christianity's most visible international leader and missionary... was in prison. They were gathered to hear what Paul's words were and how they should respond when a world-conquering movement's leader seems to be a victim of world powers.
Now I rejoice in my sufferings for your sake, and in my flesh I am filling up what is lacking in Christ's afflictions for the sake of his body, that is, the church..(1:24)
Essentially, Paul reminds them that he wasn't the movement's leader, and in fact, Jesus Christ Himself suffered so that others might have life. Setbacks should not sidetrack, in other words. All is as it is ordained, for this world-conquering gospel will not do so with might but with loving sacrifice. After all, one doesn't gain thrones by loving your enemies.
The Colossian believers are not so different from us. They needed to be reminded about the nature of the gospel so that they would not lose heart when things didn't appear to be going well.
"It may be instructive to reflect on threatens to unnerve you about the supreme importance and power of the gospel of Jesus Christ. Is it the discouragements, the setbacks, the unimpressiveness, the unpopularity? It is important for us to see that such things are actually the character of this movement. The servant of this gospel suffers." (Woodhouse)
March 23, 2015
""When we love Jesus and love the Scriptures and love the Church... the mystery unfolds and we are in touch with 'all the treasures of wisdom and knowledge.'" (Hughes, 55)
This observation bears simplifying even more - there are three loves that must flow into one central river. Think of them as tributaries:
Love for Christ

Love for God's Word (which reveals Christ)

Love for God's People (which embodies Christ)
When these loves are united, they become an unconquerable force of unifying love that is a demonstration of the reality of Jesus to a watching world. When we love these, everything else about life and faith is unlocked and becomes plain.
Hughes gets this from Colossians 2.2-3:
"...that their hearts may be encouraged, being knit together in love, to reach all the riches of full assurance of understanding and the knowledge of God's mystery, which is Christ,in whom are hidden all the treasures of wisdom and knowledge."
The question is, how are you prioritizing these three loves as one love? You say you love Jesus and not love His people. You can't claim love for the Bible and not love Jesus...
March 16, 2015
Agon. That's the Greek word we find in in Colossians 2.1:
"For I want you to know how great a struggle I have for you and for those at Laodicea and for all who have not seen me face to face.."
Think about that for a moment, for the level of struggle that Paul describes here is the root of the word from which we get agony or agonize. The nature of Paul's inner turmoil, for it was certainly emotional and spiritual, is that these Christians - whom he had never met - would know, understand, grasp, and become more and more like Jesus.
This is evident from the verses which immediately precede this. Consider:
"Him [Jesus] we proclaim, warning everyone and teaching everyone with all wisdom, that we may present everyone mature in Christ. For this I toil, struggling with all his energy that he powerfully works within me."(1.28-29)
He uses a form of agon there as well. We see it again in 4.12, where Paul tells us that Epaphras (from whom the Colossian Christians first heard about Jesus) also struggled for them:
"Epaphras, who is one of you, a servant of Christ Jesus, greets you, always struggling on your behalf in his prayers, that you may stand mature and fully assured in all the will of God."
Here, we see agon in the context of prayer. I think that's how Paul related primarily with the churches. His heart was more bent than his knees... in prayer. That's how he began his letter to to the Colossians:
We always thank God, the Father of our Lord Jesus Christ, when we pray for you (1.3)
Prayer is the labor of the caring heart, and many times"It hurts to care," says Kent Hughes. That's where agon comes in. I like how he puts it in his commentary:
Enlarged hearts always know the agon. They have sleepless nights; they emphasize; they struggle in prayer. But these big hearts know the most joy. It is this kind of heart to which all of us are called, whether we are missionaries or merchants: a heart that is willing to agonize not only over our own little circle, but the Church Universal. (53)
Today, I'm re-forming a Google group for pastors and missionaries I know. It may not "take," but I want to enlarge my prayer life and begin praying diligently for my friends in ministry by interacting with them at least once a month so I can intercede for them with more wisdom and hopefully join them in agon for specific needs. Others have done so for my family, even recently.
How will you intentionally enlarge your prayer life?
February 23, 2015
In light of 1:22-23 which encourages the Christian that the Father initiated our reconciliation through Jesus' death, Hughes says:
Fellow-believers, in light of our reconciliation we ought to do everything in our power to be practically blameless and holy in this life. We must become what we are in the Lord. We must submit ourselves ever more completely to the "God who works in you" (Philippians 2.13) Practical holiness should be our life's business. (italics, bold mine)
The beautiful reality is that because of what the Father initiatedthrough Jesus, Christians are, at this very moment, "holy and blameless and above reproach before Him" (v22). But we most often don't feel that way. Hughes words are instructive... let us be what we are. Let us grow in practical holiness, becoming what God has already made us.