Congratulations, Kris: a missed opportunity?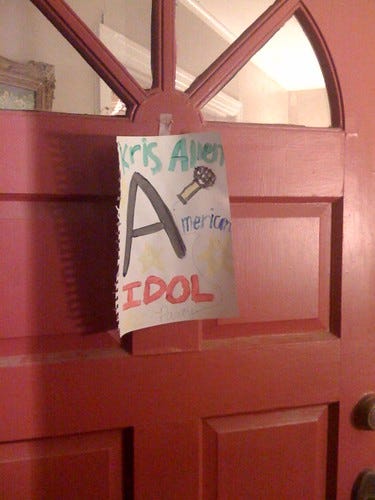 Kris Allen was named the 2009 American Idol winner tonight on Fox. Every female at our watch party went into immediate hysterics. The men's responses (mine, Jeff Longing, Karl, and Taylor) were, of course, manly and subdued. Yet, we were all amazed that the Conway Kid had slipped underneath Simon's radar to snatch the title and well-deserved honors.
Amid the lights, celebrities and general craziness, Kris looked, well, surprised. His first words? "Adam deserves this..."
What?!
Perhaps it's time to agree with Simon (which I often do) and say that Kris' humility at this point is not really humility. Rather, it was just, well, weird. I was honestly disappointed with a rather large missed opportunity.
American Idol this year contained no overt Christian messages. There were no outbreaks of worship as in prior years. Yet, in the top three, there were two evangelical worship leaders. Danny Gokey and Kris Allen.
At the apex of Kris' career, when more people will be watching him than at any time, and when he certainly had the freedom and privilege of saying whatever he wanted to... Adam.
My main question is: Why not bring glory to the One who brought you and your family this far?
Was it stage fright? I mean, you're one of two. Even if you didn't think you had a chance, surely you would have considered preparing a statement more meaningful and authentic than "Adam deserves this." I'll give him the benefit of the doubt and simply say it was a less than inspiring moment. But that's just my personal opinion.
I like Kris Allen, from what I've seen of him. He has a wonderfully bright future, and I'm glad he's an Arkie. I'm excited for his church and friends back home. And I'm hopeful that he will reach far more people with the message of His Savior with his music in the future than he was able to do on AI. However, for now, I just must say, "Congratulations, Kris." Sincerely.
Other Items of Interest:
Fox News 16 in Little Rock reported minutes after the show that AT&T had recorded 38 million votes coming out of Arkansas! With almost 100 million votes cast total, that means that Arkansas carried almost 40% of the vote! We assume that most of those were for Kris.

My wifey won the t-shirt design for Kris Allen's fan club!
My Tweets during AI: