COVID Chronicles: Three commitments
I haven't lived through a cultural crisis of this nature before. "Back in the day" when we disagreed about issues, politics, sports or raising kids, we'd do something pretty novel – we'd argue. Point and counterpoint. Debating anything was just that – a debate. We didn't have Google in our pocket to disprove a point. Often we'd walk away from a disagreement frustrated, because we may have felt that our point of view was right, but we had no way of proving it at that time.
These days, we search the internet. Answers are found in milliseconds. Wrong statements are corrected in an instant. We may be "righter" quicker, but we've lost the relational capacity to hear and listen to one another. You can be right in the wrong way, in other words. Truth is not meant to be used as a weapon to belittle or bash. That's why in the last post in COVID Chronicles, I said:
A wonderful approach to dialogue is revealed in Paul's writing in Ephesians 4. It's one of my guides. In the context of God giving the church leaders to equip the church to serve and grow, he says that the resulting spiritual maturity and intimacy with Jesus has a benefit:
"Then we will no longer be little children, tossed by the waves and blown around by every wind of teaching, by human cunning with cleverness in the techniques of deceit."
It's his next admonition that applies to Christian conversation wherever we have it:
"But speaking the truth in love…"
We must speak truth… in love.
What is truth?
That's a big problem these days. Back in simpler days, we talked about postmodernism and how as a worldview it rejected the notion that you could have objective, external truth that applied to everyone everywhere. Postmodernism was inherently full of contradictions, but debating with someone steeped in postmodernism was like trying to nail Jello to a wall.
Consider the source
"Consider the source." It used to be a well-known tidbit of wisdom. It's even biblical. Jesus said, "A good tree can't produce bad fruit; neither can a bad tree produce good fruit." (Matthew 7:18)
During these monumentally long days of pandemic, I would ask you, "Where do you get your information?"
If it's main stream media (MSM), I tend to scoff. They have been supremely divisive and unhelpful during 2020. They have stoked fear, almost seeming to revel in publishing panic porn in an attempt to keep viewers addicted. In my interactions with people about COVID, I get an incredulous look when I make points that are counter to the narrative that is being foisted upon us by MSM.
It's disturbing to be be marginalized by others when I hold views that disagree with what we're being told. In the past, we'd be able to argue. These days, we don't do that. We get canceled or censored. Opposing viewpoints – based in data, science, research – are literally deleted. On a personal level, I feel discredited, discounted and disrespected. On a societal level, we are in great danger of losing the ability to think for ourselves.
"Whoever would overthrow the liberty of a nation must begin by subduing the freeness of speech." ~ Benjamin Franklin
THINK. People. For yourself.
Let's reason together. In Isaiah 1:18, God speaks and says, ""Come now, let us reason together." There's a beautiful reality to His invitation. First, He doesn't have to invite us to "reason" with Him. He could just rule. Yet, the God of the universe invites us to think. And not in isolation from Him. He says "together." This divine invitation to see what He sees and to mentally dwell on what He offers is amazing. It's relationally refreshing to realize that our God wants us to exercise our mental faculties in relationship – together.
On a human level, it's also what we deeply need in these days. We need to be able to reason… together. Let's stay engaged with one another. Let's not turn people off or post warnings on their social media. Let's not "cancel." Let's listen.
What is the deal with all the positive COVID tests? Are they really indicating that that many people are contagious?

Why is there so much conflicting data about the efficacy of masking? (and did you know that there is a TON of data that shows that universal masking does not reduce the spread of COVID?)

Why are schools closed when over and over studies show that children are not at risk, and that even the CDC recommends in-person, full schooling?

Why are leaders still resorting to lockdowns when they have been proven to not only be ineffective but deeply harmful?

Why are we not adjusting our mitigation strategies in light of new data?

Why is the Great Barrington Declaration not being pursued in light of its support by over 100,000 scientist and medical practitioners globally?

Why are we tolerating the horrible ruin being done in areas of health, mental health, financial by pandemic overreaction?

Why are doctors, virologists, epidemiologists, scientists and other thinkers being silenced and censored when they offer different views?

Why are people being ridiculed who ask questions?
Our MSM and governmental leaders have served up news and information that seems to have more of a "Ready-Fire-Aim" approach than a measured, data-driven and an optimistic responsiveness that is able to course-correct as new information becomes available. What we have seen since the second week of March is decisions made and then double-downed on in spite of new discovery, experience and awareness.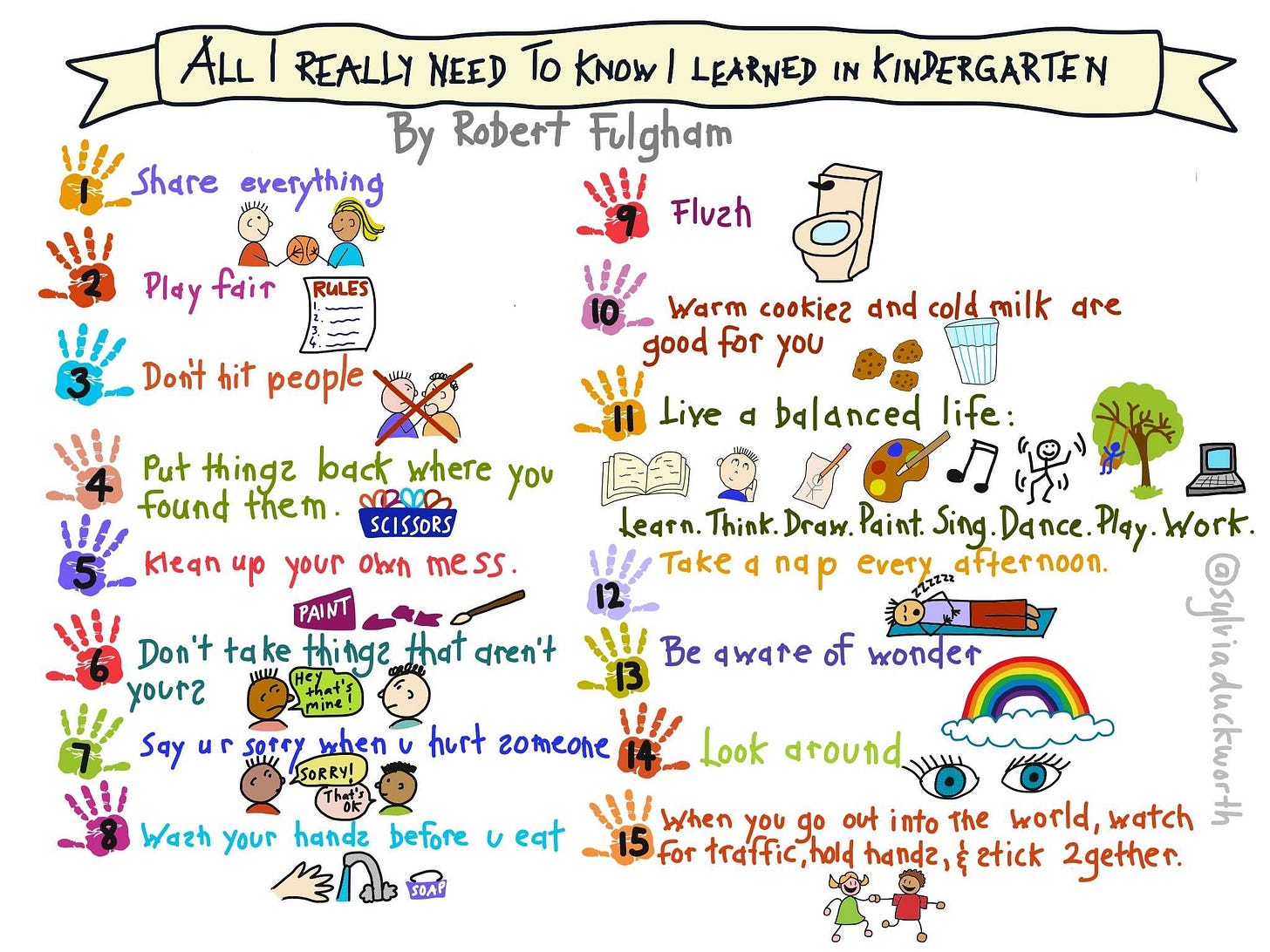 Three commitments
It's beyond time to remind ourselves that we are all human, finite, and in great need of togetherness again. The way to foster relational health is through three commitments, in my book:
A commitment to one another Staying in relationship with one another is key. When things devolve to an us vs. them, we've lost. We must work together and find common ground.

A commitment to a reduction of volume We're shouting too much – mainly over social media. We need to go back to manners school or something. Maybe reading All I Really Need to Know I Learned in Kindergarten by Robert Fulgham would help?

A commitment to thinking Too many of us are drinking instead of thinking when it comes to information. You can't drink at the well of the MSM and become a positive, well-informed, optimistic person. These days, you need to do more work – read widely, and research well (don't just look at the first three pages of a Google search which is served up to you and think they are more legit than what's buried on the fifth page). Ask questions and dialogue. If it doesn't make sense to you, that may be a good indication it doesn't pass the "sniff" test, and someone is simply hoping you won't think.
There's hope
Whether it's another Trump term or the first Biden term, someone will claim credit for defeating this pandemic. In the meantime, we need to be people again. Let's discuss, not shout and reason, not ridicule. That person you vehemently disagree with today may just be exactly who you need to encourage you tomorrow.