Krakow Day 5 - Free time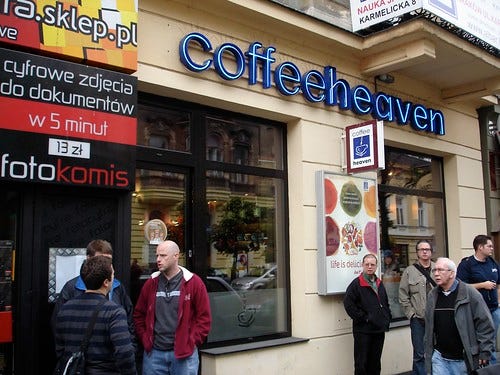 Wednesday in Krakow was a misty morning. Workers from the Czech Republic, Krakow, and Hungary all converged on the hostel at 10 a.m. to make some more informational and vision videos for help in connecting churches with the great need in Central and Eastern Europe. As we've all gotten to know each other over the past few days, it's become quite the humor contest at times. It's hard to stay with these guys and gals over here - they're extremely fun, sharp, and connected. Not your father's missionaries.
In addition, I've really enjoyed getting to know my team that came from the U.S. - Ed Stetzer, Rick White and Jeremy Dane. Ed flew out today for another mission-vision meeting in Italy, but the crew from City View Church are still here, and we spent the rest of the day enjoying some relaxing downtime.
Steve Brown,Ron Brown (both in the Czech Republic) andTrey Shaw (Hungary) joined us for our first real coffee experience at a java center aptly named "Coffee Heaven." Goodbye instant coffee. Hello steaming hot joe. Whew. Rick was down to one Starbucks 6 oz double shot, and he's trying to save that for the last day. We sat around and laughed, visited and people watched before heading to the Krakow Square (Rynek).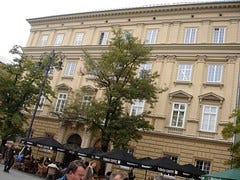 We watched the beer guy walk around and dreamed about picture opps with him some more. It's a mascot-like beer costume that walks all over downtown Krakow with a "free beer" sign, handing out free beer coupons. This was intriguing to us, for different reasons. I mused about how it might draw crowds to a church event, especially in a dry county. Rick, I think, was interested in knowing if the coupon limit was one per person. Steve, Ron, and Trey related the different cultural attitudes toward "alkahole" (as translated in Polish) in Europe, and it became a cultural study and discussion. All because of the beer guy.
While eating lunch in an outdoor cafe that sat on the edge of the square, the contrast between modern and ancient blurs into the mind's background. I had to keep reminding myself that 10-acre Rynek Square dates as far back as the 13th century. It's the largest of all of Europe's medieval cities, and its austere beauty and worn cobblestones lead one to embrace the slower, relational life of Europe.
We simply were...at lunch. No agenda other than each other. The conversation traveled between subjects with intermittent laughter faster than a shuttlecock at the Olympics. The elections in the States. Mission strategy. Family. An insanely absurd but appropriate comment from Jeremy (who has a gift for insight and humor at the same time). It was a relational buffet.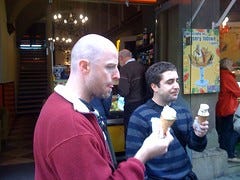 After a long lunch, we began walking down one of the many side streets, dodging horse-drawn carriages and trams - again a contrast in modern and ancient. We grabbed some ice cream from a vendor off the square and wound up in front of St. Paul's Church in the shadow of the 12 stone apostles. It was there we sighted our golf cart tour guide from yesterday - Artur. He greeted us cheerfully, and so began the next hour or so of simply being. The joy of it all was that as Rick, Jeremy and Ron engaged Artur, they were also planting seeds and leading, coaxing, and cultivating the soil of spiritual curiosity in his life. Jeremy had planted seed yesterday as we careened through the Jewish section of Krakow. That seed was watered today as they invited Artur to the coffee house that Team Krakow is hosting Friday night.
Before all was said and done, Artur had invited us to watch football (soccer) in a pub with him tonight. As tempting as that was (after all, wouldn't that be the ultimate European male experience - watching soccer in a pub together?), we had to rendez-vous back at the hostel (or so we thought). Steve and Trey were taking a train back to the Czech Republic tonight, and it was dinner time, after all that.
We've somewhat mastered the tram now, and as we rolled through the streets of old Krakow, Steve and Trey and I shared about our families, our joys, hurts and struggles. It was humbling to hear of the depth of pain - physical and emotional - their families have faced. I shared about Carolyn's three-time bout with cancer, and we exchanged heartbeats, knowing that suffering and uncertainty are oftentimes what God uses as soul fertilizer for His people.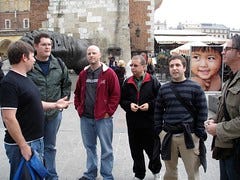 As we mounted the stairs to the hostel, we were continuing the conversation when Trey shared some warnings about spiritual warfare as it relates to the families of those who serve God in ministry. It left us speechless. We mounted the stairs in silence, and each was left to his own recollections and current prayers for his family. It was blatantly obvious that both of these servants of the living God had faced the painful reality of helplessness as fathers and husbands through difficult moments of illness and hurt. And this, far from family. And this, because they and others here have laid down their lives for the King and His Gospel.
Jesus said, "Truly I say to you, there is no one who has left house or brothers or sisters or mother or father or children or farms, for My sake and for the gospel's sake, but that he will receive a hundred times as much now in the present age, houses and brothers and sisters and mothers and children and farms, along with persecutions; and in the age to come, eternal life. (Mark 10.29-30)
Upon looking at our schedule, we found we were free for the night too - until the Czech team left. So we freshened up - which for guys is basically using the bathroom - and headed back out for supper. Destination: Chinese food. Another meal. Another long visit. We learned that the waitress doesn't bring you your bill until you signal for it, because they are perfectly fine (and expect you to) with long, lingering meal times. It's the European way; it's not just the meal. It's each other.
We made a quick visit to a local grocery store - almost like a 7-11 - and meandered back to the hostel. The topic of discussion was thoroughly masculine and most unmissionary-like - how to throw a fart. Now that's my kind of missionary... Steve and Trey's ride to the train station arrived soon after, and we bid them farewell. We have two more full days here in Krakow, but with their departure, I really sensed that our journey with them - and our churches' - had just begun.
I know this has been an unusually long entry, but especially after the transparency of the day, and in an attempt to encourage new-found friends and Christ-centered workers the world over, I offer these thoughts from a sermon by George Whitfield on "Satan's Schemes" and how to identify them:
Satan's Scheme #1 - Drive us to despair.

Satan's Scheme #2 - Tempt us to be proud, or to think more highly of ourselves then we should.

Satan's Scheme #3 - Tempt us to feel perplexed, and to begin to doubt God when our prayers seem to go unanswered.

Satan's Scheme #4 - Troubling the believer with blasphemous, impure, unbelieving thoughts.

Satan's Scheme #5 - Tempting us by our carnal friends and relatives.

Satan's Scheme #6 - Not tempting us at all, in order to "surprise" us when we least expect it.
Whitfield said in his conclusion:
"In the meanwhile, let me exhort my young fellow-soldiers, who, like myself, are just entering the field, and for whose sake this was written, not to be discouraged at the fiery trials that are to sure come their way, if they seek to be found faithful servants of Jesus Christ.

You see, my dearly beloved brethren, by what has been revealed to us, we know that our way through the wilderness of this world to heaven, is beset with thorns, and that there are enemies of the cross to be grappled with, on your way to the promised land. But do not let these, like so many false spies, discourage you from going up to fight the Lord's battles, but say with Caleb and Joshua, "No, we will go up and fight, for we are able to conquer them."

Jesus Christ, that great captain of our salvation, has in our place, and as our representative, confused the grand enemy of mankind, and we have nothing to do, but to fight under the banner of the Lord, and to go on from conquering to conquer. Our glory does not consist in being exempted from, but in enduring temptations.

"Blessed is the man, (says the apostle) who perseveres under trial, because when he has stood the test, he will receive the crown of life that God has promised to those who love him;" and again, "Consider it pure joy, my brothers, whenever you face trials of many kinds." And in that perfect example of a prayer that our blessed Lord has prescribed to us, we are taught to pray, not so much to be delivered from all temptation, as "from the evil one."