December Doings
What a great December it's been around the Noble house and Blacksburg! During this twelfth month, we celebrate the greatest act of divine generosity the world has ever seen or received. Our family slows down, dons hoodies, decks the halls and digs in for our favorite time of year.
Our kids pen their Christmas lists on magnetized memo pads, and they announce daily from the fridge their wants.Christmas parties adorn our calendar, and since most are Dirty Santa exchanges, it gives us another excuse to "bless" someone else with something tacky, which is not hard to find on a shelf or in our garage.
Coin jars that have collected change over the year are dumped and taken it to the coin machine at Food Lion. That amount goes to our church's Holiday Mission Offering.
Speaking of church, we love our annual emphasis called December Nights. This is our fourth year to celebrate the birth of Christ with special evening services. Our volunteers particularly love it, since we cancel our morning services and rent facilities for the month. Without having to set up and tear down at the high school, these amazing people have a better opportunity during this month to rest, reflect, rejoice and renew.
This year, we've been blessed to meet at the old Main Street Baptist Church facility in downtown Christiansburg. The fellowship that met there built a new facility, and they kindly agreed to rent the sanctuary to us during the holidays. The pictures below tell part of the joyful story of the holidays so far.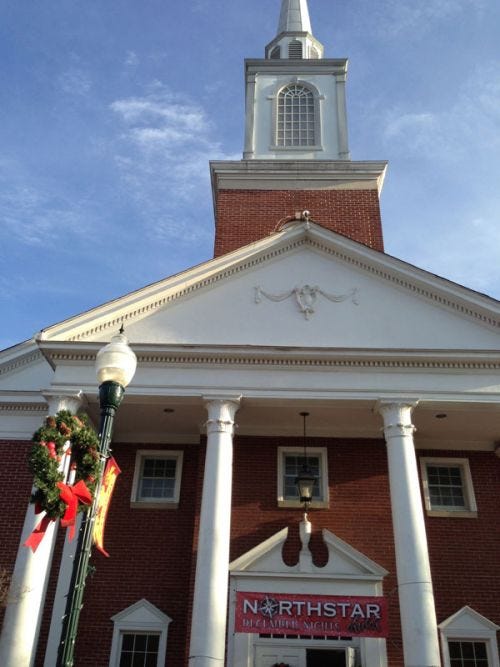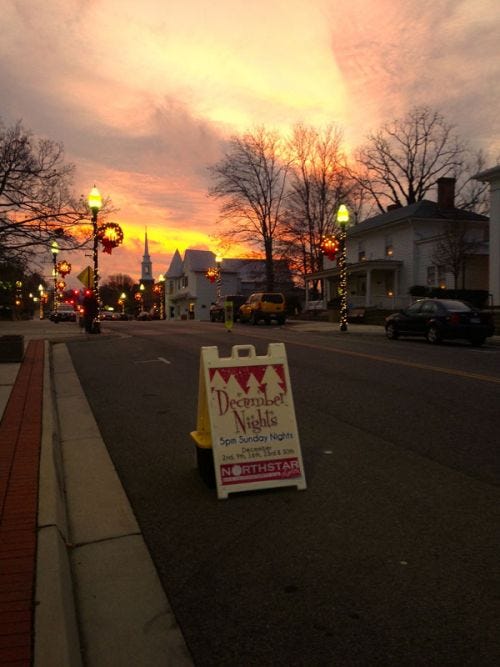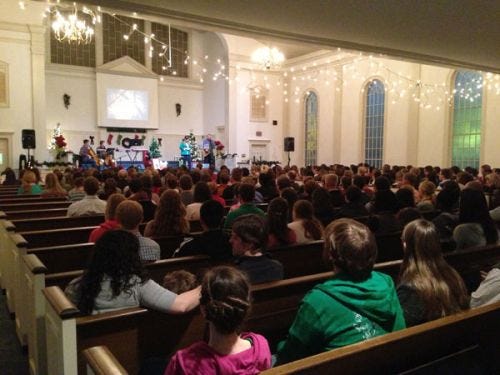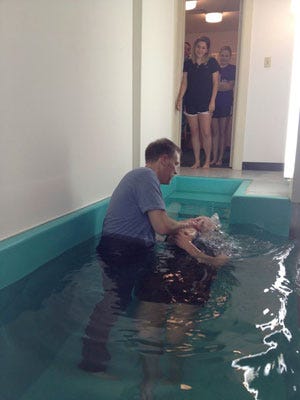 One of my singular joys this season was the privilege of baptizing four Virginia Tech co-eds in the baptistry during December Nights. Normally when we baptize people, we use a portable tank that is placed outside the high school building. It works well, but only a fraction of those attending are able to view it since we do it before or after a service.
When we used the baptistry this month, everyone witnessed the faith and obedience of these students, and the applause and cheering after each girl was baptized was heart-warming. Having grown up in traditional churches with baptistries, neither Carolyn nor I were prepared for all the comments we've heard since. Everyone loved it, and many of church fellowship said that they'd never seen a baptism in a baptistry before!
Also this month, I have sent in the final edits to my book, Super Center Savior, and it's slated to come out soon! I'll let you know when it will be available on Amazon.com, and I'd appreciate it if you'd spread the word when it does! I'll tell you more and post the final cover image in the near future as well!