Discipleship Story: Greg Crosthwait
I met Greg when he was a college student in the Dallas area. I was serving as youth intern and later as Minister of Young Adults in Garland, Texas at the time. Greg and his family were members. He and I connected quickly, and his inquisitive and eager desire to grow in his relationship with Jesus was a significant encouragement to me as well. He rose in leadership and began leading a college Bible study in the church and consistently demonstrated a teachable heart. Many years later (we hadn't kept in touch well), I was ecstatic to discover he was a minister in the Anglican Church and is the current planting priest at Church of the Incarnation in College Station, Texas. He graciously agreed to share an entry about discipleship:
Who is your teacher?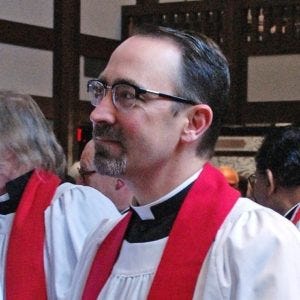 That's probably the best discipleship question that I've heard. Who is your teacher? And it's not necessarily a question about Christian discipleship. Christian or not, everybody has a teacher.
"Well, I don't have a teacher," some may say. A good, exploratory response to that claim would be, "Who told you that?"
That's a question that may be familiar to you if you've read or remember God's conversation with Adam in Genesis chapter 3. "Who told you that you were naked?" That's the second question the Lord God asked the man and the woman after they had eaten of the fruit they were supposed to leave alone. The first question was, "Where are you?"
Who told Adam and Eve to hide in the first place? Perhaps they were following the impulses of their new teacher, "sin," having become captive to it by following the teaching of the tempter.
Everybody has a teacher. And we belong to the teacher that we obey. The teaching we consistently practice is the teaching that runs our life. Paul writes about this in his letter to the Romans. He says, "The question before you is, What will be your master? Will it be sin–which will lead to certain death–or obedience–which will lead to a right and reconciled life? (Rom. 6:16, The Voice)"
The questions we ask
This can be a helpful exercise in discovering who our teacher really is. We can ask ourselves questions like these. What are my habits and patterns? Do I habitually worry? If so, why? Am I fearful? Again, why?
These aren't questions intended to make us feel guilty or shameful. In fact, if we feel guilt or shame we can ask ourselves this question. Why do I feel guilt, or shame?
If Jesus is our teacher, we receive his forgiveness and grace, and learn to practice things like , "Don't judge others." We learn this applies to ourselves, too. Jesus is judge. And he laid down his life for our forgiveness. So my life change process under his direction does not have to be driven by shame or guilt. So that grinding weight falls away. And holiness becomes more beautiful and alluring.
Jesus also teaches us that we don't have to worry. We don't have to be afraid all of the time. Why? "The Lord is my light and my salvation; whom shall I fear? The Lord is the stronghold of my life; of whom shall I be afraid?"
That's from Psalm 27, a poem that King David wrote thousands of years ago. In the book of 1 Samuel we can read about all the ways David learned this about God. In the process, we can learn from the lessons he learned. Then we can apply them to our lives. This is the ministry of Scripture in the life of the Christian disciple who trains under the teaching of Jesus.
Scripture, rightly received and understood, leads us to Christ. Jesus saves us both eternally and in real time, in our daily lives. He saves by being the good shepherd who lays down his life for the sheep. He is also the good teacher who not only teaches the way but is, himself, "the way, the truth, and the life" (John 14:6).