Evangelism Conference 09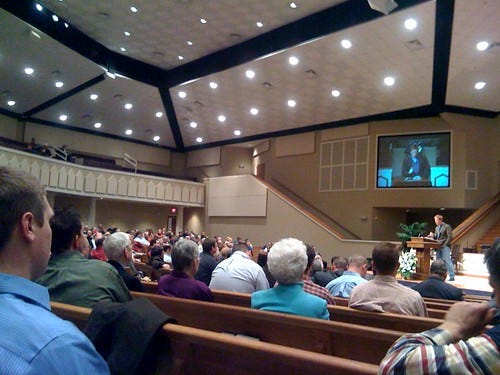 I attended the Arkansas Baptist Evangelism Conference today at First Baptist Sherwood. I came with the great expectation of visiting with and listening to an old friend from OBU days. Wes Hamilton, now the teaching pastor at Lake Pointe Church in Rockwall, Texas, did a fantastic job of communicating the desperate need to destroy the sacred-secular barrier by seeing all of life as sacred.
However, I also heard two other dynamic teachers in Dr. Roy Fish and Dr. Robert Smith. Dr. Fish retired from Southwestern Baptist Theological Seminary (my alma mater) as one of its most beloved and respected professors of evangelism. He has never failed to have a fresh word, and this afternoon was no different as he urged the gathered leaders to rely solely upon the power of the Holy Spirit in the work of evangelism. Dr. Smith is the professor of Christian Preaching at Beeson Divinity School. He too spoke with authority and passion as he communicated our great need to reach our children and young adults for Christ. I'll try to blog my notes later this week.
Another powerful thing about gatherings such as these is the fellowship and renewed friendship that minister encounter together. I've blogged recently about the sweet spirit of camaraderie that pervades the hallways and restaurants around meetings such as these. Successes are recounted as well as failures, heartaches and praises shared. It's hard to imagine a more misunderstood and underappreciated group of men and women than ministers. Listening to someone else's problems does wonders for putting your own - and your peoples' - into perspective.
The theme for this year in Arkansas Baptist life is "Reaching Generation Next Now," and the Evangelism Conference sought to focus churches on the urgency of reaching their own children and youth. With study after study showing that 80% or more of churched youth drop out of church sometime around the age of 16, it becomes more imperative than ever not just to reach young people in their formative years but to impact homes holistically as never before.
I'm more convinced than ever that churches will not be able to effect and aid a spiritual transformation of the homes that compose their memberships by doing business as usual. Too many folks see the church as a drop-off center for ministry and even as a religious club with membership rights and privileges for us to effectively evangelize and disciple future generations. We must do more than reach youth. We must penetrate faulty and fatal worldly thinking in the homes of these same youth.
It will not be done by planning or strategy. I deeply respected all the guest speakers today for emphasizing our complete dependence on the Lord for the renovation of our hearts and our churches. The radical movement we seek must be engineered by God through His Spirit. As leaders who deeply desire to see people brought into our churches through regeneration and salvation, we must lead the church to a wholehearted, desperate dependence and reliance on God to do spiritual surgery on the church and our lost world.
As I continue to mull over the messages from today, I'd be interested in knowing what you think is required of God's people to begin to authentically present the Gospel of Christ to our communities...