'Nuff said: Fake friends, wrecking friends, loss of interaction, Hello-my name is Church
We're not friends and that's ok
Kyle Stiemsma nails it when talking about the tendency we sometimes have in an awkward encounter to make small talk when both people know that we're just making small talk. He exposes it and then asks if we'd treat Jesus that way.
Some Christians have this idea that they have to be all smiles and faux-caring, treating everyone like they just might be Jesus.

But the thing is, they're not treating me like Jesus, they're treating me like a puppy.

And it comes off very condescending, making me and everyone else feel small.

If that's how you would treat Jesus, I think He'd get a bit upset. Jesus didn't die for your phony shadow and oversized forced smile. He died for the real you – the one He created – the one who is broken and tired and not happy every waking moment of everyday.
One choice of words he used struck me..
"He died for the real you - the one He created.."
That's profound, and here's why. We're still trying to offer Jesus the person we created. We're hiding behind images of ourselves that have been Instagrammed and Photoshopped so much that we've come to believe that we're that person.
But Jesus didn't die for our false images of ourselves. He created us. He knows the real us intimately. The amazing thing is that He loves us as we are. He knows that the best thing for us is to renounce our carefully crafted profile pages and step into the light of refreshing humility, contrition and transparency.
"He died for the real you - the one He created" - not the one you created.
HT: Ar Moerhle
Wrecking friends
And we thought our holiday journeys were bad.. Check out Sarah Beyer's post about their trip to Oklahoma and Tahoe-tip that landed them in a ditch, on the passenger side. We're so grateful that they're all ok. I'm humbled by the reliance and depth of insight Sarah has in her post:
God had us right where He wanted us–even though that somewhere was a ditch.
Loss of interaction
In this beautiful visual commentary from 50 years ago, one can see how modern devices like iPhones and tablets are ruining our interactions with others when we're in public..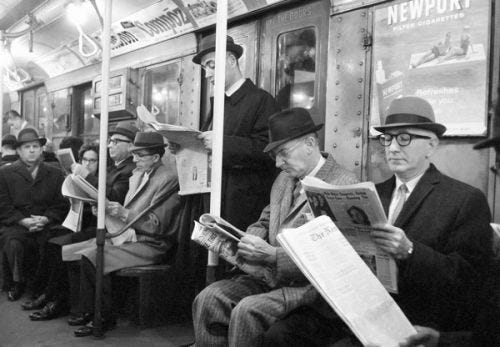 See more images from The Atlantic article about 1963. I've seen another image on Twitter with the caption "Tablets are killing social interactions."
No phone zone in meetings
I appreciated this article by Kevin Kruse in Forbes. He points out that using your phone in a meeting is a big no-no for many. It's unfortunate that today's milennials don't even think twice about it. What unspoken assumptions do you have about answering/texting/posting on your phone during a business meeting?
Kruse offers four reasons why people don't use them and why those who don't are more successful:
Lack of respect

Lack of attention

Lack of listening (I think attention/listening belong together, but I understand his point.)

Lack of power
In a survey among executives, they consistently said (about their staff) that
'smartphone/tablet use in meetings' is one of the most frequent comments for the 'behaviors to stop doing' category.
Hello, my name is Church ... are you ready?
The Unappreciated Pastor - a self-described anonyous moniker for a pastor of a small church in the Bible Belt, writes in The Huffington Post a powerfully creative poem in which the Church seeks to introduce itself to a newcomer.
In this new year of fresh resolutions, many will be considering getting their life back on track. They'll be considering another visit (or their first) to your church. Are you ready?
This is a question that I spent an entire chapter covering in Super Center Savior. One stunning reality is that most churches - and Christians - aren't ready, at all, for guests to their worship services on any given Sunday. I compared and contrasted the lengths that Wal-Mart goes to make sure its ready for customers and challenged us as leaders and members to get ready. I'm convinced - since God is in charge - that He will send seekers to congregations that are ready, not those who aren't.