Famous people
I saw this entry over at Michael Kelly's blog and wanted to ask you what your experiences with famous people are as well.
Who's the most famous person you've almost met?
Or...
Who's the most famous person you've met that you didn't know was famous?
I have a famous person fetish. I don't know why. Carolyn thinks I'm insane, but in my heart of hearts, I fear that there's a paparazzi just dying to break out. My iPhone camera hasn't helped things. I take shots of people who look like famous people secretly. Just last week, in Lefty's in Blacksburg, there was a dead ringer for Mac Powell of Third Day.
I wrote a letter to Mel Gibson a few years ago asking him for an opportunity for a visit. I just wanted to pick his brain and find out what makes him tick. I just felt like I would really connect with him for some reason - in spite of the fact I've never produced a movie about Jesus, gotten a DWI or shown my butt in a film. It's weird, I know. Maybe through the Twitterverse - which seems to connect random folks with each other - I'll get that opportunity.
Just last year, I had Ryan Seacrest mention me in a tweet. Oh yes. And last week, Kurt Warner (who I hope wins the Superbowl this year if Brett Favre doesn't) responded to one of my friends.
In a weird "six degrees of separation" experiment, Carolyn sat next to a man on the plane yesterday who noticed she was reading Mike Huckabee's book A Simple Christmas. He told Carolyn he knew him, was friends with him, and promptly texted him that he was sitting next to a lady on a plane who was reading his book. His name for my former governor in his cell phone? President. Last night, a friend who had seen her tweet about the experience tweeted us that he and his wife had seen Janet Huckabee at the trade show they were attending in Dallas.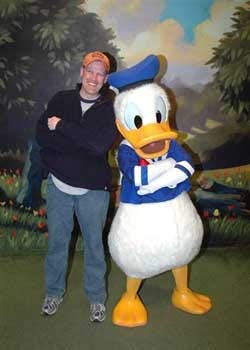 Other than that, Carolyn and I both went to school with the gals from Point of Grace. I bumped into Bill Clinton (literally) on the streets in NYC when I was in college with a group from the journalism department. And Sam and I failed to get Dominic Rhodes and Tony Dungy's autograph when we saw them at Disney World two years ago. But our DR football card has pen impressions from where our pen failed to write on the card.
I did get my picture taken with Donald Duck.
Soooo.... leave a comment her with your experiences. And if you know Mel Gibson...