Fret not
This post begins with politics and ends with matters of faith. So read at your own risk.
It may be time to hit the "impeach button."
A steady stream of scandals has rocked but not tipped the Obama boat. Will the latest Taliban prison exchange for apparent deserter Bergdahl finally sink the most transparent administration ever?
The latest move againcalls into question not only the wisdom of the current administration, but also its competence. Like Benghazi, Americans have died (according to news reports, six soldiers from Bergdahl's platoon died in attempts to recover him when he first walked off). Unlike Benghazi, the Bergdahl bargain was not in the midst of an urgent crisis. The administration made a calculated decision to avoid informing Congress of its imminence and released a Taliban "dream team" back into the hands of an organization determined to threaten our country's security.
Calling it "a great week for the Taliban," South Carolina Sen. Lindsey Graham on Monday sharply criticized the Obama administration for its high-profile prisoner swap of "five high-ranking Taliban leaders" in exchange for American prisoner of war Sgt. Bowe Bergdahl.

"In effect, we released the 'Taliban Dream Team,'" Graham wrote in a letter to the chairman and ranking member of the Senate Committee on Armed Services. "The United States is less safe because of these actions." (Source)
Distract them before D-Day
This was a spuriousdecision that may have been mediated by the need to distract the public from the horrific VA scandal days before the 70th anniversary of D-Day. It's almost as if an administration rocked by uncomfortable scandal needed a military "homerun" before a national time of remembrance for the sacrifice of so many for freedom.
A Rose Garden ceremony seemed to be just right. It was obviously intended to evoke patriotism and to shine the light of freedom and Obama as savior of a soldier. However, it backfired when Bergdahl's father prayedin Arabic and thanked Allah just before the President hugged him and immediately soldiers from Bergdahl's former platoon began to speak out that he walked off base (more than once).
What's even moredisconcerting is a tweet that surfaced (since deleted) that seems to highlight Bergdahl senior's affinity for the Taliban.
Defiant demagogue
Obama, of course, remained defiant. (Has he ever apologized for anything?) Reports have surfaced (by Time magazine) that in spite of senior military's concern for this prisoner exchange, the administration had communicated that they needed to "shut up and salute." Days after the truth about Bergdahl's "capture" was brought to light, Obama said, "I make absolutely no apologies for making sure that we get back a young man to his parents." (Source) What he fails to consider is that if reports of Bergdahl being a deserter are true and if U.S. soldiers did indeed die trying to recover him, then the parents Obama should answer to are the ones whom were killed and may be killed by these Taliban leaders who have been put back into circulation.
Illegal?
On top of this, a bipartisan groundswell is pointing out that this exchange was not even legal.
Obama's decision to release the Taliban leaders appears to run counter to U.S. law, which includes stringent requirements that must be met before a Guantanamo Bay inmate is released.

The secretary of defense is required to determine "the risk posed by the detainee" and certify that release or transfer "is in the national security interests of the United States," according to U.S. law as written in the 2014 National Defense Authorization Act (NDAA).

Congressional committees also must be notified by the administration at least 30 days before the release of any Gitmo inmate, the law states. (Source)
Yuch.
It's hard not to get angry and frustrated about an administration thatpromised to be transparent. It's still on the White House website, for Pete's sake:
My Administration is committed to creating an unprecedented level of openness in Government. We will work together to ensure the public trust and establish a system of transparency, public participation, and collaboration. Openness will strengthen our democracy and promote efficiency and effectiveness in Government.
I recognize that not everyone feels the way I do, but can we agree to acknowledge some deep level concern about the administration's conduct? You would be in the majority of American at this point, with polls showing about 53% disapproving of the President's leadership.
Fret Not
It was into this climate that the Bible spoke softly but with a big stick this morning. I read Psalm 37. It had me at "hello." Look at verse 1:
Fret not yourself because of evildoers; be not envious of wrongdoers! For they will soon fade like the grass and wither like the green herb. (Psalm 37:1-2 ESV)
My takeaway? Don't fret. If evil is being done - either by a wayward administration rocked by scandal or by Taliban leaders intent on the destruction of western nations, they will soon fade like the grass. It won't be Wednesday, but it will be soon.
Rather, I'm encouraged to "trust in the LORD, and do good;dwell in the land and befriend faithfulness."(Psalm 37:3)
Two more times, the Psalmist instructs me to "fret not:"
Be still before the LORD and wait patiently for him; fret not yourself over the one who prospers in his way, over the man who carries out evil devices!(v7)

Refrain from anger, and forsake wrath! Fret not yourself; it tends only to evil. For the evildoers shall be cut off, but those who wait for the LORD shall inherit the land.(v8-9)
The overriding reminder and command is to wait instead of fret. Argh. That's so hard to do. When God's soon is not mysoon, I want to fret. Heck, I want to stew, spew and chew.
But these misplaced desires only result in ground teeth. What I need - what we all need - is grace to wait.
In just a little while, the wicked will be no more; though you look carefully at his place, he will not be there. But the meek shall inherit the land and delight themselves in abundant peace.(v10-11)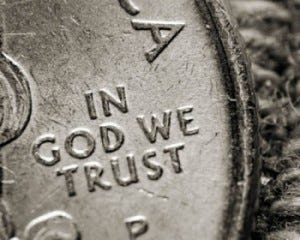 This latter promise was repeated by Jesus in His Sermon on the Mount:
"Blessed are the meek, for they shall inherit the earth."(Matthew 5:5)
For those who think Jesus was only a good teacher or a moralist, they haven't tried to obey Him. The amount of trust that Jesus demands is total. When our brains want to go berserk with world events or personal trials, we're commanded to trust Him. To release our anxiety and care into His hands. Why? Because ultimately, we can't do anything about it.
We're not in control. He is. And He loves.
".. casting all your anxieties on him, because he cares for you."(1 Peter 5:7)
Enemies of the heart and the state
The reality is that our frustration with political leaders is a greater enemy to our peace than an oath-breaking President or a terroristic Taliban. Our discontent and our intent to obsess over what is not or what should berobs us of trust and peace.
Our real enemy is within.
And if that's not hard enough to fathom, remember how Jesus spoke about external enemies?
"You have heard that it was said, 'You shall love your neighbor and hate your enemy.' But I say to you, Love your enemies and pray for those who persecute you, so that you may be sons of your Father who is in heaven. For he makes his sun rise on the evil and on the good, and sends rain on the just and on the unjust.(Matthew 5:43-45)
So what's the point?
You know I love politics. I've said it before:
I hate to confess that. I love the idea of working with a wide variety of people, opinions and worldviews to produce a beneficial outcome that blesses a wide range of people.
We can seek accountability for our elected officials and pray for them at the same time. We should demand truth, honesty and moralityfrom our leaders above political expediency. The time may well be here toprosecute in order to hold our elected leaders to the law rather than above it.
However, when we don't get what we want, Christians have a higher plane to dwell on. It's one of trust. The Psalm 37 life is one in which we remember that this too shall pass.
It's a both-and level of living. Do what we can in the political climate we've been blessed to live in AND trust God and depend upon Him for our contentment.