Friday and Saturday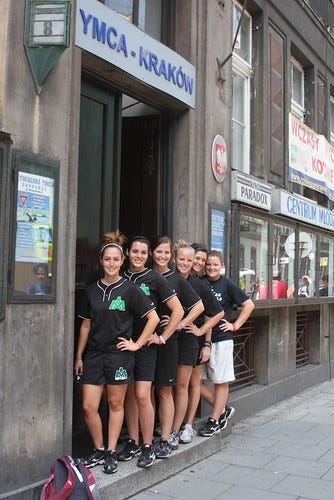 Friday
"If life gives you lemons, make lemonade." So goes the saying. The reality is that God often throws in cake as well. We awoke Friday to a steady rain. Our plans had been to go to the park for our last day with outreach and softball with kids. His plans were better.
During our week, our presence in the park drew the attention of the director of the YMCA here in Krakow. He brought dozens of their kids over to participate in our program. As a result, he urged the missionaries here to please contact them if we needed to because of inclement weather.
That's exactly what Shae did on Friday a.m.
The team was able to spend the entire morning with 50+ kids, working on softball basics and playing games with them. The real fruit however, is a valuable and blessed connection with the YMCA that the missionaries now have. The personnel there invited them back once or twice a month to do more work with the kids.
Also on Friday, we toured (quickly) Wawel Castle. You may recall my visit to it back in October. It's no less majestic on the second go-round.
After a looong walk, we met the guys baseball team for a scrimmage that evening. It was a great way to allow them to see what a game would feel like. It was their first opportunity to put into place what they'd been learning and practicing over the past weeks.
In a matchup of girls vs. guys, the UAM Cotton Blossoms won 6-5. They had a little help from McKenna Massengale, who belted several beyond reach of the guys, and yours truly... who was asked to play catcher.
From there, we went to Friday night coffee house. It's a weekly event that the missionaries host. This Friday was line dancing. We weren't quite sure how it would go over, but we discovered quickly when the place packed out just how excited the Polish people are about opportunities to fellowship and build relationships.
We had a great time... watching the team line dance.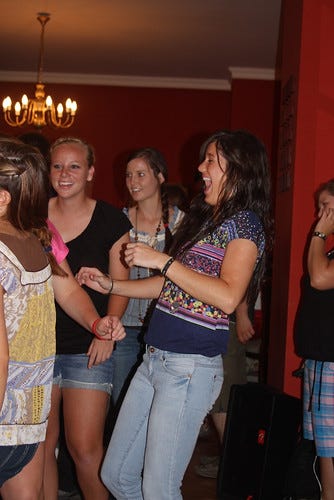 Saturday
We were thrilled to have the morning off on Saturday. After three consecutive days of nonstop action, walking, relationship-building and softball, it felt good to sleep in. Unfortunately for me and Tracy, we've had problems sleeping since the sun comes up at 4:30 a.m. So we find ourselves cruising the streets of Krakow on trams, waiting for coffee shops to open. (They do not open until 7 a.m.!) If you follow me on Facebook, you can catch some of our daily video updates that we've been making. Saturday's was our favorite so far.
After lunch, we went to Jordana Park for a cookout with all the new friends and contacts that we've met this week. The park itself is incredible. The equipment for kids, basketball and tennis courts, rock climbing wall, skateboard park, and pond and trails are really very impressive. I haven't seen anything like it in the States. And it's well-used by the folks here in Krakow. It's always full.
At the cookout, we played wiffle ball and treated everyone who came to grilled hamburgers and hot dogs. It was a big hit. The main thrust, however, was to allow the team to share a little about the "why's" of their visit to Poland. In interview style, one of the missionaries facilitated a Q&A time. The girls were able to share about their love and with relationship with Jesus Christ clearly and passionately in front of the group as they reclined on blankets in the grass. It was a beautiful scene.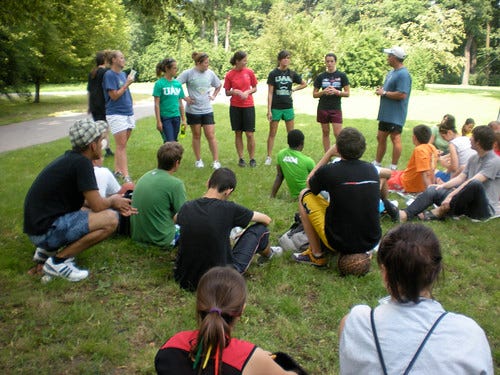 Afterwards, we trammed it to the mall where we ate and did some shopping. We retired back to the hostel for a devotional time and an exhausted lights out, or so we thought. After devotionals, it just seemed that it renews our strength and perspective. The laughter and general goofiness lasted well into the wee hours of the a.m.
We were quite sobered by the fact that we only have two more days in Krakow. Time has flown. God has been good.