Friday randomness: Spanish, stinging creatures, Blacksburg and videos
Fridays are normally my "day off." It rarely works out that way, and this morning was no different, as I played catch up on emails and weekly org stuff that I missed while our church staff was retreating together this week at Refuel in Lynchburg.
Prepare for some randomness.
Spanish
So, I saw Adelyn's Spanish homework beside the refrigerator and noticed that she wrote a little description about each member of the family. Here's mine: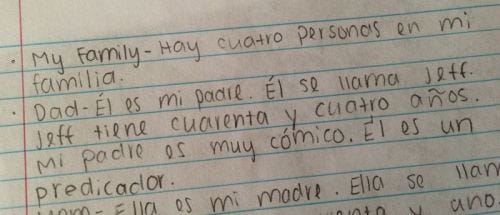 I could figure out most of it.. I'm her main llama - kind of The Emperor's New Groove thing. It means I'm the ruler in the house, the main cheese. She said that I'm 34 - close there. And that I'm very comico. She's so discerning. I was stumped, though, on predicador. So I texted her.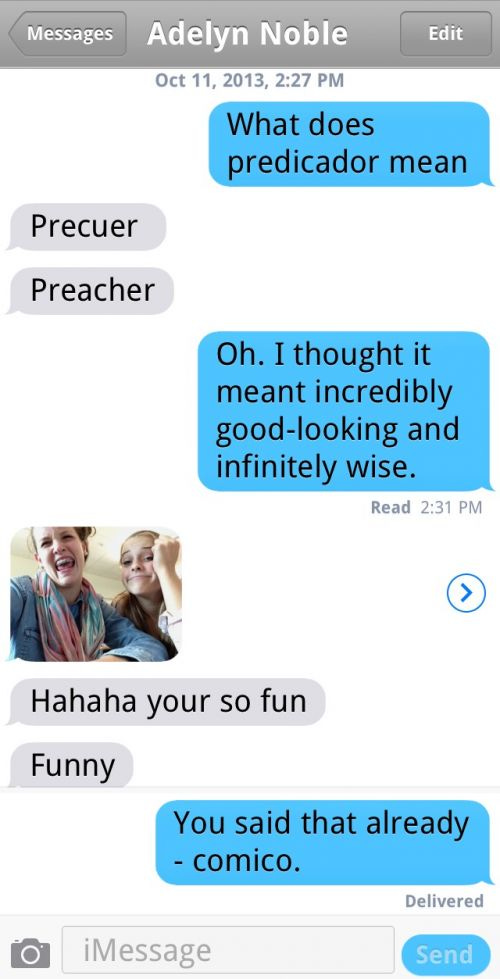 Glad we got that straightened out.
Yellow jackets
In other Noble happenings, we have a gigantor (big. I'm feeling the Spanish vibe right now) yellow jacket nest above our garage where the bricks meet the siding. I've emptied dos (two) cans of wasp and hornet spray - the projectile spraying kind into the crevices, to no avail.
I did some research on the web, and people there recommended drione dust and to apply it with a crusader duster (shown below).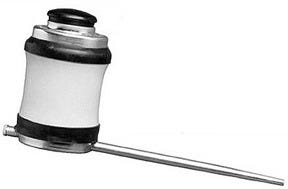 Well, Lowe's didn't have the dust, but they did have a foaming spray for yellow jackets that I'm going to try next. For those of you know how much I hate wasps, bees and stinging things, I know you're giddy with glee with the mental picture of me being chased across the neighborhood with a cloud of yellow jackets (diablos) hot on my tail.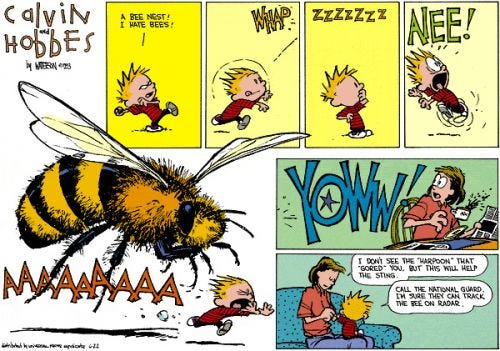 I'm planning the assault at dusk tonight. If you'd like to come watch the event, tickets are $5.
My fall favorite food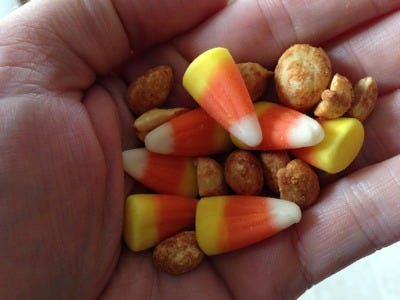 There's nothing greater that makes my taste buds happy to be a part of me than candy corns and peanuts. I guarantee addiction.
I love Blacksburg
And others do too.
A Businessweek.com article earlier this year ranked Blacksburg as the "Best Place in the U.S. to Raise Kids."
Excellent schools, combined with an affordable cost of living, relatively low crime, and plentiful amenities lifted Blacksburg to first place in Businessweek.com's sixth nationwide ranking of best places in each state in the U.S. to raise kids.
As fall paints the trees stunning colors and a chill creeps into the regular breezes, Blacksburg offers so much to be thankful for. Our family is starting our fifth fall here, and our prayers are often laced with gratitude for the Father's calling and guidance to this place and its people.
A couple of videos
Recently, I was attempting to take a power nap on the metal granny rocker-couch outside the Lancaster House. Certain members of the staff who will go unidentified (although I can distinctly pick out Maggie's chuckle in the video) decided to bless me with a cold cup of water in Jesus' name.
Northstar celebrated its tenth anniversary this past Sunday, and our worship leader Cody Davenport put together this amazing video that celebrates God's greatness and gracious activity in our people over the past ten years.
Nuff said for now. Or, as those of us fluent in Spanish like to say it, Adios.