Grace Point Church
I haven't made an entry in this series in some time now, and after stumbling on Grace Point's website a few days ago, I was prompted to give them a quick shout out for their site.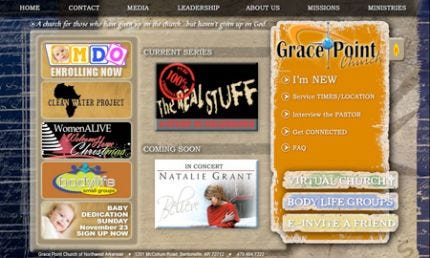 First of all, I like that GP's site is not too 2.0. These days, Flash sites with bells and whistles almost bore me. I'll probably oooh and aaaah over one tomorrow, but I like the first impression of this site. While it first struck me as too busy, and all the rollover graphics were a little distracting, I immediately realized, "Hey, there's a lot of stuff here to look at."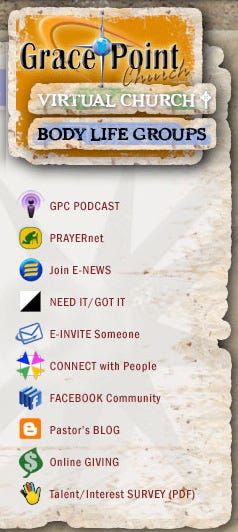 Clicking on Virtual Church takes you to a site within a site that has the sidebar shown to the right. It offers all kinds of connections for those who may just want to check out Grace Point from a distance for a while. This is where you find the podcast, prayer requests, Facebook group, etc.
So much of GP's site requires you to take that initial step of interest. From the main page (on the day I visited), I saw a Mother's Day Out program, an upcoming concert with Natalie Grant, a missions endeavor and a baby dedication scheduled. Clearly, there's a lot of fellowship and activity going on.
The only caveat to the site was the font and text style of many of the links. While many of the graphics were clearly Photoshopped and animated, the list of links on the front page that begins "I'm New" and continues through "FAQ" was just a little 1.0 for me.I noticed this same graphic disconnect on the sidebar on the Virtual Church page.
I think the text of the links across the top of the page just don't match the feel that the site intends to communicate.
I was intrigued by the Need It/Got It page. It's essentially a classified section for use by the church and its members and guests. Great idea!
I was impressed, however with the Global Missions link page. Seeing where this church is currently impacting and serving was a great encouragement.
Overall, it's a very useful site that communicates and invites. One suggestion would be that the pastor needs to update his blog. It was over a month behind when I stopped by. For the time and effort this church has put into its site, he may be missing a great opportunity to connect with those who, like me, just stop by.