Happy birthday, Darrell Cook!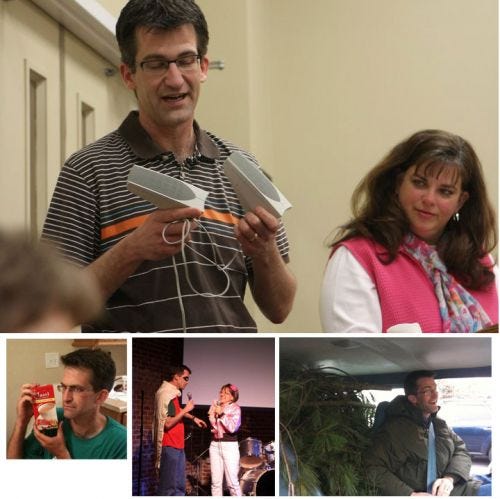 What a fun friendship story.
Cliff Notes: guy from Little Rock meets guy from Roanoke at a BCM building in Monticello, Arkansas. Little Rock guy follows Roanoke guy as the campus minister there. Roanoke guy eventually becomes BCM director at his alma mater, Virginia Tech and his family joins Northstar Church soon after it starts in 2003. When founding pastor retires, Roanoke guy submits Little Rock guy's name to the search team. Little Rock guy and family move to Blacksburg where the friendship adventure continues.
I first met Darrell in 1995 when Carolyn and I traveled to Monticello to interview for the position he was preparing to vacate as he had been called to serve as the BCM Associate Director at Arkansas State University. His students at the time related to me how fun he'd been and proceeded to tell me "NAB" stories galore. We were able to connect on many occasions as campus ministers in Arkansas together and though our ministry styles were different, I quickly grew to respect him and love his growing family.
When he moved back to Virginia, it was a loss for Arkansas campus ministry, but it was Darrell's dream to serve as the BCM Director at VT when his own campus minister, Roland Byrd, retired. He's served creatively and faithfully there for the past 11 years.
Today is Darrell's 44th birthday. He's much older than I, and I guess that's why I respect him so much. His mobility is relatively unaffected by his age, and he is much as I remember him in Arkansas. It is inspirational.
I wrote on his Facebook wall early today to wish him happy birthday since his birthday falls on Sunday, and with pastoral stuff happening tomorrow, I didn't want to forget. If my birthday wish isn't on Facebook, then any verbal wish would be insincere. Facebook makes it real.
I found myself stalking perusing the photos that he'd been tagged in, and the chuckling just didn't stop. If you want to know what I'm talking about, check some of them out yourself.
What those pictures reveal is what anyone close to Darrell already loves and enjoys. Darrell seizes life and drains it of every possible, wonderful morsel of love, laughter and enjoyment. He is the kind of guy you want beside you in life's highest and darkest moments.
Recently, Darrell sat with me and a few others from our church in the surgery waiting room at Roanoke Memorial Hospital as Carolyn was having cancer-related surgery. His company and presence is dependably affirming and assuring.
The thing about being Darrell's friend is that you're certain of three things:
Honesty. He will never pull punches with you. He tries, but he's too transparent and easily readable. His sincerity is guided by his love for you and for truth. And he has a wonderful manner of "speaking the truth in love." (Ephesians 4.15)

Humility. You will never hear Darrell brag about anything. Even as the leader of a large campus ministry, Darrell remains completely grounded and focused on what really counts. He is refreshingly easy to hang out with.

Humor. Early in 2010, Darrell showed me this video, and I went around singing it to myself and others for weeks. I couldn't get the tune out of my head. Even though his sense of humor is much cornier and less refined than mine, it's fun laughing at with him because he simply enjoys life so much.
I know Darrell occasionally reads my blog (I think he's searching for the latest great jokes to steal.), and so I wanted to wish him a happy birthday here. He and his amazing bride and their family have been friends for a long time, but since being here in Blacksburg with them, they've become even more appreciated.
Happy birthday, DC!