Happy New Year 2013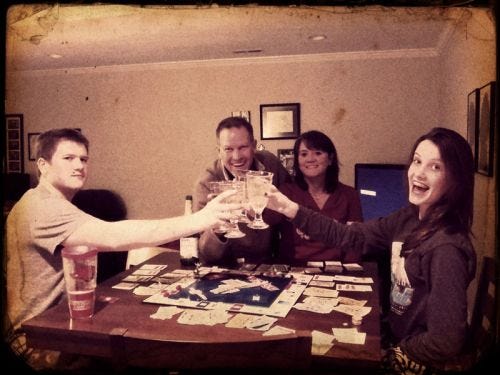 2012 was the year that both our kids surpassed us in height - Sam towers over me now, and Adelyn is taller than Carolyn. Sam actually passed me by a 1/2 inch last Novemberish, but I stood on my tip toes in our family pictures then, so there's no visual proof.
2012 was a year of humbling and overwhelming growth for our church family. Beginning last January, we were simply not prepared for the amount of people the Lord brought into our fellowship and sphere of influence. Our leadership and structure has been joyfully strained as we've been working hard behind the scenes not just to accommodate those who are attending but to truly help each person know the joy of surrendering all of their life to Jesus Christ.
2012 was a year in which we bought a stinky car and had to return it but took a loss on the trade-in. More on that in another blog entry. The plan was to sell the '97 VW Jetta (184K miles) and get a largerish vehicle, but in the month of odoriferous-ness, Carolyn's beloved Prius died (209K miles) - the inverter went out. We eventually wound up with a 2008 Ford Escape, but the experience... stank.
In 2012, Adelyn made cheerleader and captain for the middle school. In just a few short weeks, she also decided that cheerleading was not what she wanted. It was too much of a spectator thing for here, because she'd rather be playing basketball than cheering for it, and she also committed to being on the year-round swim team. She fell in love with Captain America, and has devoured every superhero movie she can find.
Sam in 2012 continued his baseball activities, making the JV team last spring for the second time and played fall ball. His biggest social outlet is Xbox Live where he can be heard throughout the house laughing and shouting in surprise with friends from Virginia and Arkansas on his headset. He is not allowed to play on school nights, so after sporting, hunting, or activities around town with friends on the weekend, you can find him in his mancave of a bedroom. He also started umping baseball as a part-time job this fall, which he wants to continue.
Carolyn joined the Northstar staff as Administrative Assistant, and she quickly endeared herself to the interns by providing them with more structure and discipline than they were receiving. She keeps taking family pictures and portraits without getting arrested for stealing... She puts them back after she takes them. Ba-dam-dum. (Just seeing if you were still reading.) 2012 for Carolyn could also be summarized in one word: taxi.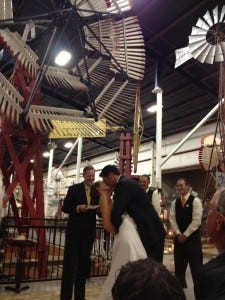 The more active the kids have gotten, the more she stays in the car. Which was another reason we mourned when the gas-defiant Prius passed away.
We welcomed a friend into the family in October. Carolyn's brother Jeff married Emily Harrison. We met Emily when she came to serve at the VT BCM after being a journeyman in Macedonia for two years. Jeff met Emily when he came to visit last year. In January, we went to Hobbs for Christmas, and Emily (then in her hometown of Lubbock, TX) drove over to visit. Jeff's eyes sparkled, and Emily's interest piqued. The rest is history. We loved the time we had in Lubbock in October at their wedding.
We had lots of visitors to Blacksburg in 2012 - my folks in April and for Thanksgiving, Michael McDaniel in April, Kristy Hales and kids in June, Carolyn's mom and sister with nephews and niece in June and then her mom and our new sis-in-law came in December, Jackie and Cedra Flake in September, and the Files family in November.
The conclusion of 2012 also saw a four-year, on-and-off project of mine conclude with the publication of Super Center Savior. It's short because I didn't want people to have an excuse not to read it. In fact, most Christians don't read Christian books, including the Bible. I also didn't want another guilt-induced, you-can-do-better message. I wanted people to laugh and nod their hands at the Wal-Mart – church analogy. The book came from an overflowing heart of gratitude, joy and passion. I have no idea how God will use this small contribution, but I'm grateful that it's complete. Book website is here.
Other happenings in 2012:
A contentious election

The Mayans dislike of the musical Annie's signature song, Tomorrow

The dismal football season for the Razorbacks and Hokies

Weddings galore of both family (Carolyn's brother Jeff and our great friend Emily and several couples in our church)

iPhone 5

Family vacation to Great Wolf Lodge and Williamsburg, summer lakehouse trip to San Angelo, TX for Caro and kids, Little Rock trip for us all
Thanks for blessing us and bearing with us when needed in 2012! May you drink deeply of God's love and grace today.