Review: House of Dark Shadows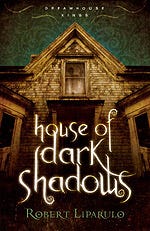 House of Dark Shadows: Dreamhouse Kings, Book #1
by Robert Liparulo
I was pretty excited when approved by Thomas Nelson Publishers to be one of their book reviewers. I recently wrote about Holding Fast as part of that program.
When I went to select my next book for review, "pickins" were slim, and I selected House of Dark Shadows. It's targeted toward young adult readers, but the first chapter both horrified and captivated me. An unknown and unspeakable creature was carting off the mother of a family on his shoulders into the dark recesses of a mysterious house and the battered, onlooking family was powerless to stop it.
I was hooked. I continued to pore through the pages of Liparulo's first book in the Dream King series quickly. At times, I felt he was borrowing too much from a certain tale involving a lion, a witch and a wardrobe. At others, the dialogue was a little too trite.
Add to that the almost obsessive use of current pop culture (mentioning Xbox 360 games like Halo 3, movies like Aliens and Then There Were None, etc.), and I got the impression the author was trying too hard to connect with a younger audience. Just tell the story, I kept thinking. Don't try to show us that you know what's "hip" today. After all, these references will date this series quickly.
However, as I continued to read, the story line finally began to stand on its own. Indeed, in the closing chapters, my thought of not progressing on to the next novel changed to wanting to order it immediately. He does a wonderful job leaving you hanging, wanting more at the end of the book.
I'd not recommend the Dream King series for those wanting more substance. As I mentioned, it does seem a little trivial at times, and some of the plot unfolds a little too quickly. If, however, you're looking for an easy-to-read, fun, and absorbing tale, you can't go wrong picking it up. It has some dark overtones that I'm curious to see how they resolve in future books, especially considering it's a Christian author.
Even more curious, there's a Reading Group Guide at the end of the book in which you can ask questions for a group. The questions seem more directed, however, to simply eliciting opinion than leading the group to any overall observations or conclusions of substance.