iPad update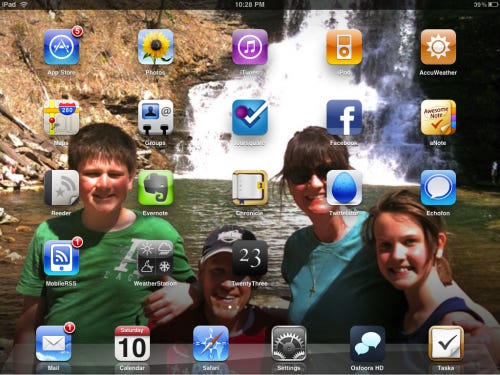 It's been about three weeks since we got our iPad, and I thought I'd share what we're continuing to learn from it and our use of it. It really is in the process of revolutionizing how/when/where I digest information and media.
It's all about the apps. Even more so than the iPhone. Yes, one can argue all you want that "it's just a big iPhone/iPod Touch," but that's not a valid argument. For starters, there are apps for the iPad that are not available for those devices. Second, many apps that are available for both have been rewritten and redesigned for the iPad. And yes, they are ultimately better.

The screen is gorgeous. Yes, I know my Macbook Pro screen is similar or better. But I don't hold my Macbook Pro screen at the same viewing distance as my iPad. Watching movies via Netflix or iTunes with an iPad is stunning. You feel immersed in the story. The screen also makes working on the iPad completely enjoyable.

Reading books on the iPad is truly doable. I've been a skeptic of eBooks for a long time. I don't know that I'll ever get over my love affair with a bound volume. Plus, I doubt I'll take my iPad into the bath tub with me. (sorry for the mental picture) There are several eBook apps that are simply brilliant, and many give you the option of adjusting the screen tint so that you feel like you're actually viewing a printed page.

The iOS is pretty stinking amazing. I wrote in my journal the other day that it's actually liberating for me. I'm a huge multitasker, and too often I'm guilty of bouncing through screen real estate from one program to another, one project to another and losing myself in the day. The way the iOS is structured has compelled me to think linearly, and it has been refreshing. I don't have dozens of windows open in the background. I can't see what's going on behind the scenes while I'm in an app without exiting. No Growl notices. Etc. I hope that the upcoming iOS 4 update for the iPad doesn't ruin that wonderful simplicity of focus for me.

Perfect for communication. Skype works flawlessly, and thus far, we haven't used the 3G capabilities of the iPad. From email to Twitter, the iPad is wonderful for connecting.

MobileMe. It just keeps getting better. But with Apple's cloud service, our phones, our computers and the iPad are all simultaneously synced with our contacts, calendars, web bookmarks, etc. Sigh.
A complaint about apps
One complaint I have is that apps that are available on both iPhone and iPad platforms generally require two different purchases. I can't gripe too much because the iPad apps are better (see #1 above). However, with the App Stores not allowing you to preview software, it's like shooting in the dark as to whether an app will be good or not. Since apps are more expensive for the iPad in general than the iPhone, that's not a risk I take. Rather, I opted to immediately jailbreak our iPad, and I use Installous to preview apps before I buy them. Those apps that are good, I buy; those that aren't, I delete. There needs to be an app store process like renting movies from iTunes which gives you 1-3 days with an app before it "times out."
Apps to "check out"
The eBook apps continue to turn heads (and pages). In addition to Apple's own iBooks, there are stellar apps from Barnes & Noble, Amazon Kindle, and Borders. My favorite (and the one that is consistently cheaper) is the Kindle app. It's truly a work of art, and it makes buying an actual Kindle moot. Why buy a Kindle which only does eBooks when you can buy an iPad with a wonderful Kindle app? (or the Nook for that matter)
Twapps
The following apps are ones that I'm currently comparing for the ultimate honor of being my official Twitter app on the iPad:
Echofon Pro

Osfooro

Twittelator
Each have pros and cons, but I like how Echofon syncs my read/unread tweets with Echofon for the iPhone and for the desktop. Osfoora is probably the most well-designed and graphically appealing, but I wish it had another theme option besides the dark one.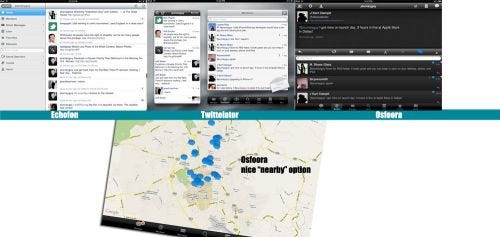 Big Facebook Fail
I could not believe Facebook didn't have an iPad app. I guess they're trying to push you to simply using the Facebook site in Safari? However, I've loved the simplicity and distractionlessness of the iPhone Facebook app. It's a definite niche and a plus. At this point, there's an absolutely gorgeous app called Sobees Lite that renders Facebook like a magazine. I heartily recommend it, but it lacks many of the iPhone apps functionality. The Facebook hole on the iPad at present is just begging to be filled by someone.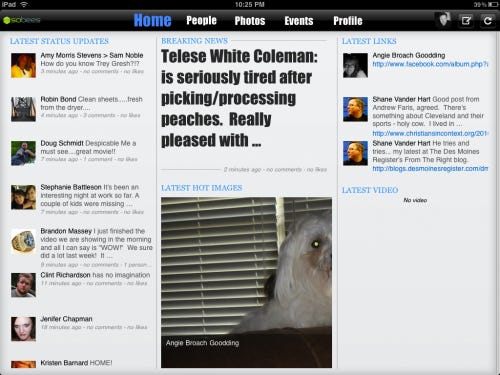 Another iPhone-iPad transition fail is Fox News' app. Cmon, guys!
It's Raining, It's Pouring
I prefer Accuweather over the Weather Channel Max. Accuweather may look too simple, but everything is clickable, and it has a nice graphic interface to get to maps, video reports, etc. The free WC app is that way because it supports annoying popup ads.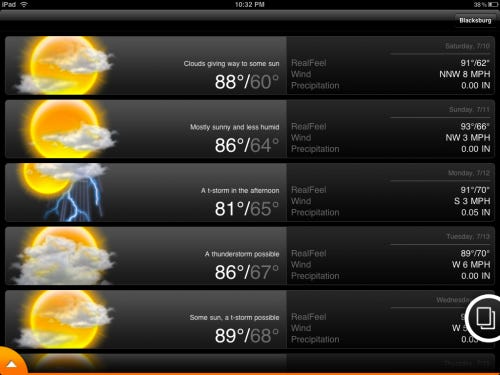 Feed Me
If you're still surfing to your favorite blogs one at a time, you are so... late 90s. Get a feed reader and use it today. I've chosen Google Reader simply because Google owns our birthright, and I wanted to be sure I was in their will. It also syncs with everything but your kitchen, uh, nevermind. You get the picture.
I've used Reeder on my iPhone for quite a while, and its iPad app has the best rating. However, I hate - with a passion - its start screen. It's essentially little stacks of paper representing the different folders that I've sorted my blog reads into. I much prefer how the iPhone app lists them in the left column. I was pleased to discover that MobileRSS Feed Reader has a much better layout initially.
However... Reeder just seems to have a smoother feel to it functionally and aesthetics-wise than does MobileRSS. I'm torn between the two. Everytime I fire up Reeder and get those obnoxious and unhelpful little stacks, I get fired up. But when I attempt to use the other exclusively I feel like I'm missing a long lost friend.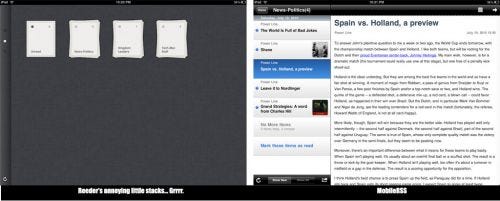 Other Apps I Like & Use
Words with Friends HD (was there really a need to say this?)

Taska - the best productivity app I've found on the iPad. Beats Things, ToDo and others. Like that it syncs with ToodleDo. I wish 2Do had an iPad app because that's what I was using on the iPhone.

Chronicle - for journaling, notetaking

News apps: Fox News (iPhone version), NYT Editor's Choice (I can't help it for now; it's beautiful), Early Edition, USA Today

Camerabag - wonderful photo editor

Bible apps: ESV Bible (great!), YouVersion Bible (super!), OliveTree Bible Reader (it has some great free resources, among which are a downloadable, searchable and indexed archive of all of John Piper's sermons)

ContactsJournal - a pretty cool way of keeping notes for those who have a large contact list; great for organizational leaders who need to remember conversations and news about members or volunteers

Netflix and ABC Player

DC Comics and Marvel Comics - I was a comic book collector nerd forever. In reading a few stunningly gorgeous issues on these apps, the inner nerd is clawing to get back out.

Calendar - yes, the stock iCal app for the iPad is just, well, perfect. Thank you, Apple.

TwentyThree - a way cool geo social network consolidator. Great for digital stalking. And beautiful. Check out the pic below.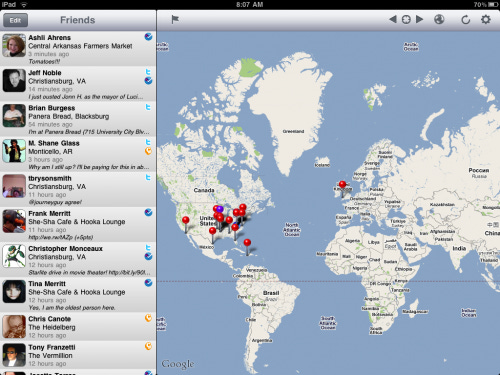 Recommendations to Steve
Here's what I would do to improve upon the iPad:
Multiple users. With OS X, the ability to create user accounts is wonderful and allows families to share one computer without messing up the settings, emails, and creative personalizations. Currently, the iPad is a little hard to use between multiple folks. It's not like an iPhone that is mine. The iPad, I would imagine in many settings and households, is shared.

A camera. Yes, I'm an early adopter, and no, I don't mind that the first iPad didn't have one. But bring it on!

Sortable options in the App Store. When I do a search for "Twitter" to check out Twitter apps, I want to be able to sort the results by price, by rating and by release date. Having to scroll through windows by clicking on arrows seems very Windowish. Give us a list view or something.

Quit fighting jailbreakers. They improve your product significantly. Or if you just fight with them for the free media attention, then you're still a genius.

Put a little gap in the case somewhere so that if you cover it with your finger, the person to the right of you will lose all cellphone signal.
Apps We Need
A texting app that allows you to receive texts sent to your cell phone and then allows you to send through that account... over WIFI. There are numerous texting apps that require you to create a new virtual number, and those are nice, but I'd really like to get my texts on my iPad - without 3G.

eBook Low Price. An app that consolidates the prices among all the big eBook apps and shows you which app/vendor has the cheapest price for that eBook. I would imagine that clicking on that low price automagically launches the corresponding eBook app and brings you to the purchase page for that book.
What about you? What's been your iPad experience? How has it changed or is it changing how you relate with news, media and communication? Apps you like or want to see?