Is Facebook listening to your phone calls?
I recently listened to the Reply All podcast which asked this very question. Not only are Matt Lieber and Alex Blumberg very funny together, the conclusion of their 33 minute podcast will make you ask yourself one question: Should I delete my Facebook account?
Their research attempted to get to the bottom of whether Facebook listens in on your phone calls. Anecdotal evidence provided by interviews and podcast listeners who called in for the episode will make you think twice.
Give the podcast a listen here.
After listening, you'll be deeply disturbed by how much Facebook already knows about you. If you would like a quick peek, click this link, which will take you to your Settings in Facebook and from there to Ads, which will show you how they have you described and what information they provide to their advertisers about you.
Here's a quick look at what they knew about me: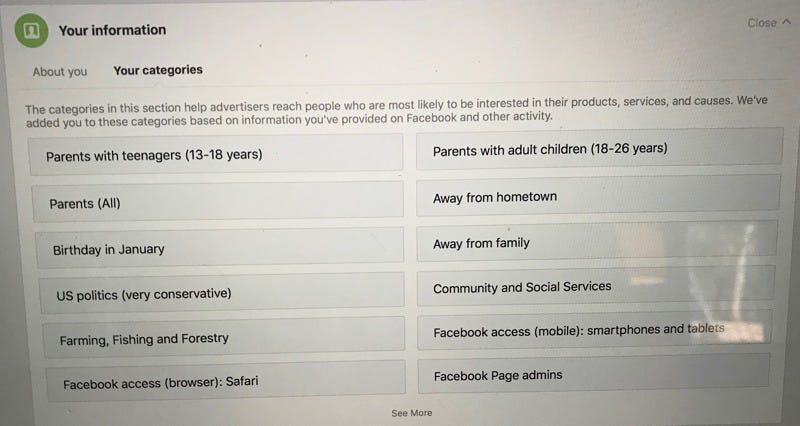 Got the heebie-jeebies yet? To ensure more privacy (if you even trust them to abide by it), here's some things you can do:
To get more privacy on Facebook:
On each of the categories (shown above - yours will be different from mine), click on the bar, and then click on the "x" that will appear on the right. It will turn off that category.

Click on "Your Interests" and a bunch of stuff will pop up. Notice that there are tabs at the top of this as well. You will need to click on the "x" next to each tile to remove it. Facebook uses your interests to market you to its advertisers.

Finally, click on "Advertisers You've Interacted with" and click the "x" on each tile there as well.
What else can you do?
For starters, you can visit the Webchoices site and check your browser so that you can opt-out of advertisers using your information when you visit certain sites.

If you use Safari, make sure the options in Preferences to "Prevent cross-site tracking" and "Prevent sites from tracking me" are checked.

If you are now uber concerned about how search engines sell what you've searched for to others, try using the Duck Duck Go search engine as your default. It will not track you.

Finally, Gimlet Media (the host of the Reply All podcast) has a great source here on How to Avoid Being Tracked by Facebook that has other tips for internet privacy.
Remember all that talk about the NSA listening in on us? It turns out that it may be our devices. Do you own an Amazon Echo or Dot? If you want a really official freak-out moment, check out this YouTube video. I did it with my Dot a few months back, and it did the same thing. Nowadays, it responds to you rather than just shutting off. (They're on to us!)
https://www.youtube.com/watch?v=GLbETIeOoDI