Krakow Day 1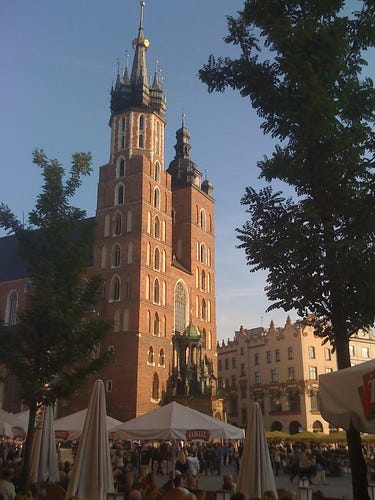 After a 9 hour flight from Atlanta to Prague, Czech Republic and another hour from there, we arrived in Krakow, Poland at 12:30 p.m. local time. It's 7 hours ahead of CST in the States. We've been orientated tonight, and it's amazing to see the network of sharp folks that God has led to Poland to minister.
Poland is 90% Catholic, but conservative estimates say that less than 5% of the population are devoted followers of Jesus Christ. Of the SBC leader-visionaries here, there is a strategy leader of Central and Eastern Europe, a Regional Leader that travels between Prague and Krakow, a journeyman (recent college graduate who is on a two-year mission here) and several families who are either career missionaires or ISC (International Service Corps).
They are actively engaged in several ministries seeking to impact the local culture and minister to Poles. Those ministries include childrens ministry, coffee houses, work with orphanages (the interim regional leader has adopted two Polish children), sports ministry (the IRL also helps coach the professional football team - the Krakow Tigers), and church planting.
There are two members of an International Mission Board media team here with our team this week to film, interview and follow us around to hopefully produce a resource that is going to help connect other church planters and innovative churches to the ongoing work here. That is also our team's mission - to find ways to connect our churches and our people to the work that Christ is doing in Poland.
One stunning fact I learned in researching the country: Poland lost 6 million of its citizens - the most of any country - during World War II. It also had the fourth largest fighting force against Nazi Germany - behind Russia, the U.S., and Britain.