Krakow Day 2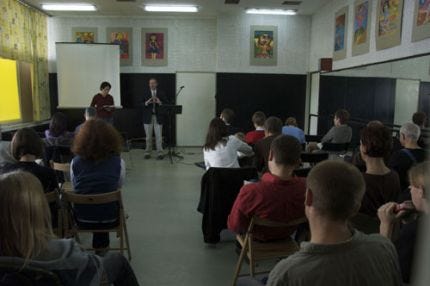 Another beautiful day in Krakow! I preached at Second Baptist Church - a contemporary body - this a.m. about the joy of knowing Christ from Matthew 13.44 and the magnificence of being a kingdom citizen. At least, I tried to. It's a little difficult and distracting at times to preach with an interpreter, especially one that is a literalist. I'm pretty animated when I preach, so I had to tone it down a lot and watch my idioms. Another of the church planters on the trip with me - Rick White from City View Church in Keller- preached at First Baptist.
However, it was a incredible day worshiping with Polish believers. Several of the choruses we sang this morning were ones that we sing at Journey (Mighty to Save, Open the Eyes of My Heart), so it was a powerful experience to sing them in English while the rest of the church sang them in Polish.
We ate lunch with members from the Krakow team and had a great visit learning about strategy and mission. I am really excited about the opportunities for short term mission encounters with them in the future. There are two couples here in the ISC program which is a 2-year commitment. The media team that is here filming and taking pictures has a 25 year-old who is finishing up her second year in the Journeyman program, and the rest of career missionaries.
A great lunch of Polish cuisine - one plate was said to have tasted just like a "sloppy Joe" without the bun. I had a kind of chicken fried steak with rich red sauce all over it. Very good.
After lunch, we visited the Wawel Castle (pronounced Vavel) which is almost 1000 years old. That's right! 1000. There are several good reference sites, but we were completely stunned by its stately beauty and magnificence. One of the missionary couple's parents visited it with us, and they are on a month-long tour of Europe. Having just come from St. Petersburg, the father said that Wawel couldn't compare to some of the architecture he'd seen there. I was a little shocked by that, considering how open-mouthed I was over Wawel. It ain't like nothing back home, ya'll. More info about Wawel here, here, and here.
Tonight, we attended Compass International Christian Fellowship - an English-speaking service designed to reach out to internationals located here in Krakow. Ed Stetzer preached on the kingdom of God being expressed in the creation of the church in Matthew 16. They had several first-time guests this evening, including several college students with Asian backgrounds. It was exciting to hear their vision for this church plant and ministry. One couple who came this evening are from Texas and are nominal Roman Catholics, but they wanted desperately to find an English-speaking fellowship in the city. They have been coming faithfully after discovering Compass and are growing quickly in their interest in a personal relationship with Christ.
Observations:
It's been more than six years since I was on an international mission experience. I cannot help but offer myself and my family anew to whatever the Lord has in store - whether going overseas or helping mobilize others to go.

The quality, devotion and humility of the strategic workers here in Poland is deeply encouraging. They have welcomed us with open arms and are earnestly seeking to help communicate practical ways for churches in the states that are creative and missional to be involved.

Short-term teams and missionaries are an extremely practical way to help them build new relationships with Poles. This past year, a team of 20 students from Louisiana Tech's BCM stayed for three weeks, and the amount of people they met and helped discover has enabled Team Krakow to have many long-lasting relationships that will produce spiritual fruit.

Anyone can be a part of the harvest process. From photographers to writers to athletes to coaches to students to couples with many kids to couples with no kids to... well, you get the picture. In a city of a million, the evangelical witness is astonishingly low. 250,000 of those (by some estimates) are college students. It is a huge encouragement to realize that God can and will use anyone who surrenders their life to making Him known around the world.
Afew of us are talking about going to see the Schindler's factory tomorrow. If you've seen Schindler's List, it was filmed here in Krakow, and the factory that he owned is still here. 90 years ago, Krakow was the first city in Poland to regain its independence. Because it was used by the Germans as a base, it was largely preserved from the massive destruction that similar sized cities (Warsaw was 90% destroyed) faced. However, its citizens paid a heavy toll.
It's humbling to be walking streets and viewing scenes that have played such a major role in world history of the past 100 - no, 1000! - years.