Krakow Day 3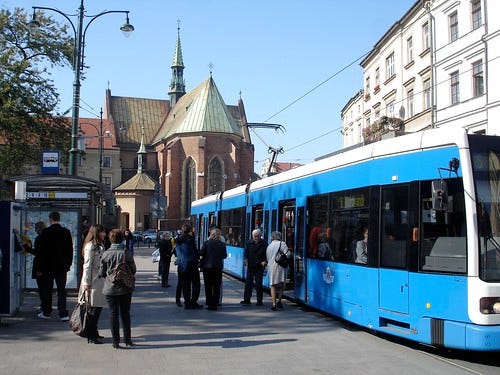 It's a visual paradox to step off an electric tram onto a cobblestone street in the shadow of a 1000 year-old castle. It's even a great historic transport to speak with college students in one of the oldest universities in Europe who carry cell phones and ask about the U.S. bank bailout. Across the street is St. Peter's and St. Paul's churches - the former was begun in 1597.
The day in Krakow registered a cool 41 degrees when Scott Wood and I woke. He's on the media team from the IMB here in Krakow to put together video to help encourage other churches and pastors to get involved in the mission of God in Poland. We were under the impression - falsely - that the other members of our team were going to rise early and go visit the Jewish section of Krakow, including Schindler's factory. Didn't happen.
We ate a breakfast of corn flakes (very small and flakey) and had milk out of a box, and into my second cup of instant coffee, I remarked, "I don't think they're getting up." Sure enough, the Stetzers and the guys from City View slept in. Dangit. But that gave us a restful morning - our first moments of non-scheduled activity since we arrived.
Just before lunch, we took the tram to Jagiellonski University - the second oldest university in Europe. It was established in 1364. Krakow was the capital of Poland then. The four of us - Rick, Jeremy, Ed, and myself were crammed into a smallish room with the media team (Scott and Natalie) and a member of the Krakow team - Sarah.
For the next four hours, we engaged first year college English students (most had 8 years of English) in conversational English about cultural topics. They were initially bashful but warmed up quickly. It was a powerful example of how someone who is willing can be used by the Lord to build relationships that will be able to followed up by Team Krakow.
Several asked me about the current election in the U.S. Every student I talked to said they wanted John McCain to win. One referred to Barack Obama as a "popstar" and referenced an election in Poland in which a younger politician promised much but delivered little.
Upon exiting, the media team set up cameras to do a quick interview in the street outside the university. Ed led the interview and asked about how a church formerly "disconnected" has been able to discover ways of embracing international mission strategy.
We stepped inside both churches across from the university. They were majestic, ornate, shrouded in mystery. Like many European churches, it had a crypt below the nave that was open to view. The mausoleums of former bishops with simple framed papers - in English and Polish - listed their impact on the community.
With Poland being 90% Catholic, it doesn't mean that only 10% of the population needs to be reached. Far from it. The deadness of Catholicism can be compared to the deadness of religion in the American South. Imagine a people who embrace religion and its trappings, programs and attendance at religious events. It has nothing to do with an intimate love relationship with Jesus Christ that seeks the purposes of the Father in the world.
The evening culminated in a feast of roast, potatoes, green beans, coffee and pound cake at Mark and Suzie Edworthy's apartment. They were gracious hosts, and we laughed and carried on for several hours as Ed and I sought to create Twitter converts. Of course, most of the more talented and good looking ministers and missionaries in the room were also Mac users.
One of the most humbling moments of the day was the blessing and privilege of welcoming a new family to Poland. Their plane had just arrived this evening, and they will be spending the next two years here in Krakow learning the language before they're assigned to another city in Poland. Team Krakow was all there to welcome them to their new apartment.
Bleary-eyed and looking a little stunned, they were prayed over by the missions team and proudly welcomed to the beginning of a new faith journey. It was a high and holy moment for me to witness those who have laid down their lives to leave home, family and country welcome others into a fellowship of disciplemakers. As we bowed to pray, I wondered how many families and friends in my life would be experiencing similar moments in the years to come.