Krakow Day 4 - the meeting, Hungary vision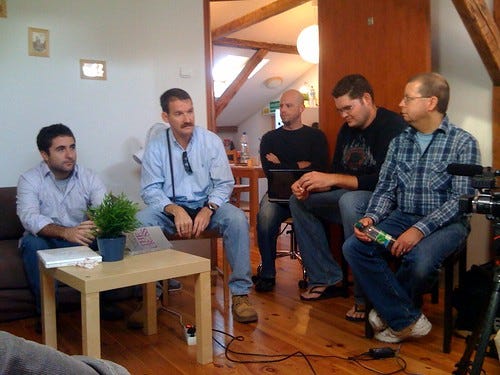 It's 9:00 a.m., and we're off and running - or up and sitting. Packed into a 3-room hostel are six different strategy and mission leaders for Eastern Europe. They've converged him this morning from the Czech Republic, Hungary, and Poland to share with our team about their hope and heart for the people of Eastern Europe to enter into a lifelong relationship with the Messiah.
It's also an opportunity for these mission leaders to connect one-on-one with church leaders from the States who "get it" and are eager to mobilize a new generation of go-ers. Our team comprises churches and is connected to others who recognize that its not just up to "missionaries" to extend the glory of God in the nations but that every member, every church has been commissioned by Christ to bring people into the presence of God through a relationship with Christ.
The retiree, the college student, the career worker, the young family, the stay-at-home mom... there's a place for every one of us in this glorious adventure of making the Lord of Creation known to His world.
Hungary
Trey Shaw is in Budapest, Hungary, a city of about 2 million people which represents about 20% of the rest of the country. What goes on in Budapest dramatically affects the rest of the country. He and his family have been there for almost three years. He was an English teacher with another organization before he embraced the call of God to live overseas.
Their team in Budapest consists of a journeygirl, a career missionary and his family. Thirty years ago, the Communist Party built the largest single area of single bloc housing - high rises, cinderblock - in Hungary. In a mile and a half, there are 65,000 people that range from blue-collar to middle class and a few upper-middle class.
There are only two evangelical churches in the area of Budapest he serves where there are approximately 65,000 people. Trey comments that the Protestant Reformation never really made it across the Danube River. In the past few years, he says, there were churches that had unbelieving pastors who have vigorously opposed the movement of revival and renewal. Some of those who left these churches turned to churches in the States for direction and leadership as they sought to create a church that would be faithful to Christ and His Word. There is a "megachurch" now in Budapest that is associated with Calvary Chapel.
"It's not that Christians are ridiculed, but it's almost... what's the point?" Trey said. Hungarians are very intelligent people. They are thinkers and a 17 year-old recently told Trey, "You are a Christian?! I thought you were smarter than that."
Trey shared that Hungarians need a "place of balance" - somewhere to go back to in which they can process. Inviting Hungarians to a new small group or a church service has not connected with them. Trey is now working with an existing church, because it is so crucial to work out of a point of connection. Simply being an isolated missionary will not leave a lasting legacy or healthy believers should the missionary leave.
"Living a life of sacrifice" is necessary to connect to and establish a relationship with these "walking dead people." He described that underneath the intellectualism is a hopelessness - an attitude of "you only go around once." The preponderance of litter and graffiti on ageless buildings is a sign that Hungarians simply view life as disposable. So his team has done service projects, beautification projects to communicate lives of service and sacrifice. As he communicates his passion to penetrate and connect with the hearts of Hungarians, he breaks up. As the tears rolls, he says that what he needs are "coworkers" - folks who "get it."
There are three people groups - the arts community. He thinks a photographer, a painter, a designer would be able to be a candle in this people group in Budapest. Media relates well with this artistic community. A church could sponsor the worker, or they could apply through the IMB. By the time a person applies to the time they make it on the field is three years. He says they need people yesterday. While he understands the length of the process, it may be a prohibitive barrier.
The business community is another people group. Trey described that a strategic worker that has a business background, a couple that knows how to run a business and can help consult with others in Budapest who have their own businesses could make a huge impact. In Budapest, business and success is idolized.
Rick White chimed in and shared about a book called The World Is Curved in which the premise is that when the entrepreneurial spirit and business know-how is uplifted and encouraged, it does more to help a culture, a society than does charitable giving. This concept also undergirds the importance of marketplace missions.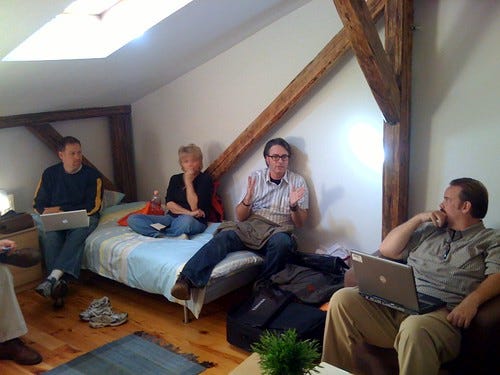 Another great people group need in Hungary is college students. There are more than 100,000 collegians who desperately need a Christian witness. The right guy/girl or couple could be used by God to reach untold students and help create a movement in Budapest.
Trey described the importance of digging deep, embracing the culture and laying down your life. After three years in Budapest, he took a three month leave to visit the States. When he returned, folks said in surprise, "You're back." There is a perception that missionaries only live in Hungary to have the lifestyle that they couldn't have in the States.
Observations: Churches are going to be the future of missions, not the IMB. However, most churches don't have the connectional resources to be able to support a missionary or many on the field. The need to rethink and create new strategies with visionary churches is extremely crucial.
Again, anyone can be used by God to brings others closer to Jesus Christ. We need groundbreakers and groundskeepers. We need college students and business people. Every single person can be used by God to communicate and incarnate the Gospel to a people apart from Him. Yes, that can be done where you already live; however, where is the greatest need? Are there other Gospel-preaching, Christ-exalting churches in your area which you can entrust the people of your community to? Perhaps God is calling you to be involved in His world.
Another thought is just the little-mindedness that American believers have. They are more consumed with the NEXT event, pouring money into promotional boxes for events, t-shirts, CDs, etc. Yet, God created the world for our enjoyment and His praise. In Matthew 28.18, Jesus said He has been given all authority in heaven and earth. It is all HIS. You can be just "at home" in Budapest as (in my case) Monticello. You can worship, exalt, serve, discover the beauty and all-sufficiency of God in Poland because Jesus is here. Wherever you go, there He is. He is Lord.
It is an exciting day for the missional person, family and church. A revolution is afoot, and it's more than tea being thrown in a harbor. For the U.S., the rally cry was "no taxation without representation." For the Christ follower, we must see that the peoples of the world are crying "no salvation without representation." We must re-present for them the life of Christ. We must live it in front of them. God has given us the ministry of reconciliation!