Krakow-Day 4, the meeting, Czech Republic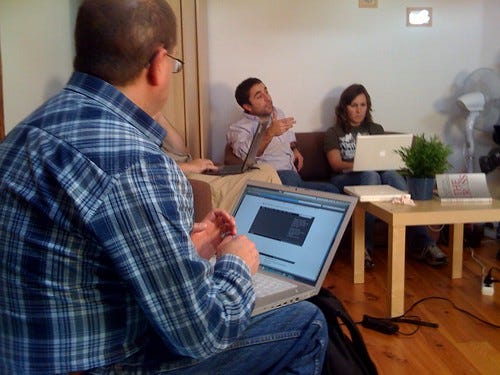 Steve Brown stepped up to the plate (or leaned forward on the couch) and shared his heart and vision. He and his family have been living in the Czech Republic for the past four years. As he shared, he commented that what they need from churches in the U.S. is a long-term commitment. He said that those coming should not expect to see people led to Christ during their visit. Rather, they need to understand that they are supporting and undergirding the long-term ministry of the missionaries and workers already living there.
The biggest help is for those who will see themselves as contributing to the harvest process. He described numerous ways for people to be involved and underlined that the Czech people are hard to relate with for those who simply come for a one-hit wonder or for a "mission story" to tell in their church on a Sunday night.
Steve reiterated the great need for church's who are willing to think outside the box. Strategist leaders need resources, workers and supporters who are willing to sink deep and commit long-term.
Steve related that his team's websitegomoravia.orgwill be up soon.
Observations:
Listening today in this sharing of hearts and meetings of minds, I just kept sensing there's a great disconnect between willingness in newer, missional churches and the workers on the mission field. At the same time, churches likemineandCity Viewand a host of other missional fellowships need help and direction and resources to connect more directly with missionaries overseas. For a church of limited financial resources to go and be bodily present to assist - both short-term and long-term, there is currently no way to get Joe Willing or Suzy Able to Poland because of flight costs and financial limitations. The spirit is willing, but the wallet is weak.
I'd like to see a renewed vision and effort by the IMB and other mission agencies to set aside mission funds for short-term teams that will directly meet some of the requests that its own workers are submitting and needing.
From a country in whichJohn Husslived, preached and died for the Gospel to today where his church is simply a museum rather than a vibrant center of Christ-centered faith and practice. He was burned at the stake in 1415. The darkness needs to be lit up again by the light of the Gospel. While we hope earnestly it will not be the light of a martyr's flame, it is urgently necessary for those to understand that Christ calls us to lay down our lives.