Living Open Source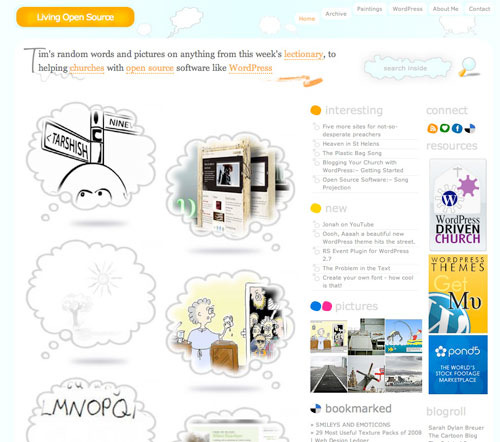 Occasionally I highlight a ministry-related website that either has caught my eye graphically or because of usefulness. The Living Open Source blog is run by Tim from the UK and attracted me for both of the above reasons.
I first found LOS when I was searching for a great Wordpress theme for our church. He offers several church-related Wordpress themes for free download on his site. However, it was his consistent helpful content that led me to subscribe to his feed and become a fan.
His current theme is the ETA Wordpress theme, and the clouds you see in the above image reveal an entry summary when you hover over them with your mouse. Very nice. While everything is well organized, the nice features of the cloud interaction do not carry over throughout the rest of the site. The rest of the site is a great source for learning about how to maximize a Wordpress site for your church or ministry and the promotion of OpenSource software.
OpenSource software is defined as free software made available to users in which the actual source code is open to all, and is generally available for tweaking, improving and open collaborating. I, for one, am a huge proponent of OpenSource software (it's free, hello!). Tim on LOS says, "There is something very gospel about the whole concept of open source, so it seemed like a good name for my site."
In addition, the overall purpose of the site is stated as:
The aim of this blog?? - well an opportunity to share thoughts, things, ideas and skills with anybody who might be interested. You'll find stuff on blogging your church with WordPress, which OpenSource applications allow you to ditch Microsoft as well as the odd visual for Sunday's sermon.
Some of the must-read articles on LOS include:
Another fantastic thing about LOS is the interactivity. Tim has been more than helpful on a number of occasions responding to comments and emails about themes, plugins and general Wordpress help. And if you look closely at his rapidly expanding Churches-on-Wordpress list, you'll see Journey currently at #127.