The glorious power of looking back
In the pace of modern life, we are conditioned to like "new." Everything is "improved."Upgradedsoftware or firmware versions, "the latest"models - from cars to computers, and even our clothes (the fall fashion line) compete for our affections and dollars. In such a world, it's difficult to cope when you... simply. have. a. bad. day.
Whether an argument with your friend or spouse, a bill that was much larger than you expected, sickness, a car wreck or issues much larger, it's unfortunately easy to find yourself in the doldrums. Perhaps for you, it's just one thing on top of another for too long, and you are finally at the point of tears and feeling helpless.
You see, we can buy, upgrade, and control our way to improvement with our possessions. We are not in control, however, of doing the same with our lives. It would be awesome if we could get two-day delivery from Amazon on a dose of Happy 2.0, but it's not reality.
I'm feeling so frustrated and out of control," you say to the Self Help Store.

"Oh, well, you need this book. It's guaranteed to replace your current frustration with peace and contentment," says the overdosed Happy 2.0 Self Help Store Genius Clerk Dude.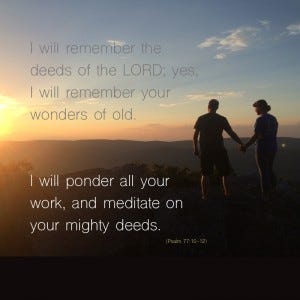 Everyone offers solutionsto get to a "new and improved you." Even preachers write books with pathways to success and butterflies.
God offers another way and perspective. What if it's not about improving ourselves but about surrendering ourselves? What if we're not really entitled to "happiness?" What if personal peace is not a commodity to be acquired thorough a book, practice or vacationbut a posture of a surrendered heart?
In Psalm 77, the writer offers us a way to cope when you have a bad day. Or year. Or decade. The Israelites were struggling. God seemed absent, and life was hard. They knew God was around, but He just didn't seem involved. In their bleakness, they cried out:
"Will the Lord spurn forever,and never again be favorable? Has his steadfast love forever ceased? Are his promises at an end for all time? Has God forgotten to be gracious? Has he in anger shut up his compassion?"(Psalm 77:7-9)
Then they made a decision. It was a mental adjustment. Rather than focus on their current situation, they did something counterintuitive. They looked back. Oftentimes, we'll encourage one another that tomorrow will be better - that we may need to simply sleep on it. Yet, we wake on a new day with the same old problems. Fresh minds; stale issues. It's true that God gives grace for each new day, but we need the added grace of looking back.
Then I said, "I will appeal to this,to the years of the right hand of the Most High." I will remember the deeds of the LORD;yes, I will remember your wonders of old. I will ponder all your work,and meditate on your mighty deeds.(Psalm 77:10-12)
The Israelites made their minds recall what had happened in the past. Though the present had not changed, they fortified themselves with looking back, with recollection.
"I will remember... I will ponder... I will meditate..."
When you can't look forward because it is all overwhelming and is bleak and hard, look back. Recall to your mind all God has done and soak in His gracious, glorious work of the past. It is counterintuitive, but it is the counsel of scripture, over and over.
It is tempting in hard times to say, "Has God forgotten to be gracious?" Yet, to crawl out of negativity takes resolve. A determined resolve to look back.
"I will appeal to this, to the year of the right hand of the Most High."
The ESV Study Bible notes that "God's right hand is the expression of His power for the sake of His people." Appealing to the years of the right hand of God is a determined recollection of how God has acted in your past to comfort, aid, provide, encourage, strengthen or deliver you.
For now, don't buy that dose of Happy 2.0. Shift into reverse and look back.