Memorable December moments
On Christmas Eve, I usually write a reflective blog post. December 24 is also Carolyn's birthday, and so we put Christmas on hold for a day and properly celebrate her birthday, making sure it's not merged with Jesus'. ;)
This December has been a bit.. crazy. It began on December 1 with a Santa sighting in Barnes & Noble. Then we experienced a snowmaggedon on December 9. In the middle of December's march toward Christmas, cancer reemerged as a reality in our lives. And yet, the days to Christmas have passed one hour at a time, one day at a time, just like all other Decembers 1-24. Here's a few of my recollections:
December Nights and Children's Christmas Video
Our church celebrated its 10th year of December Nights this season. Since 2009, our tradition has been to move our morning services to evenings and celebrate the coming of Christ together in warmth, fellowship, worship and intimate reflection on the meaning of Christmas. This year, Carolyn worked with our children's ministry to produce a video of the kids acting out the story of Jesus' birth from Luke 2.
https://youtu.be/lQgFMNIgEkw
Pancakes & Snowmageddon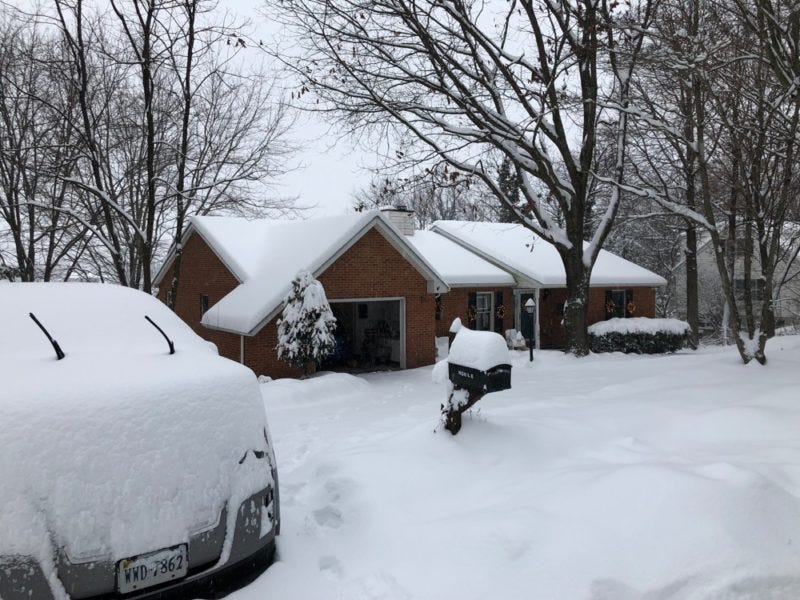 December brings exams for Virginia Tech students. One way the men of our church serve students is providing a free pancake supper at the beginning of exam week. It's a fun opportunity to bless them at time of high stress.
That weekend, on December 9, it began snowing in the early a.m. hours, and it snowed - hard - all day! 18" later, we were buried, church was canceled, and it was seemed to be a holy day of rest, coffee, reading and simple enjoyment. Snow has a way of making everything look wondrous and mysterious.
Things missed
Due to Carolyn's surgery and recovery, we didn't go to the Blacksburg Christmas Parade this year. It's one of my favorite Christmas "kick-offs," but it just wasn't possible. Other things that were missed due to the craziness of the season - the live nativity extravaganza at Gateway Baptist Church and the annual "Tacky Christmas Lights Tour" that takes you all the way out to Shawsville to see some of the most beautiful/atrocious displays (and obvious hard work) you'll ever see.
Thoughtfulness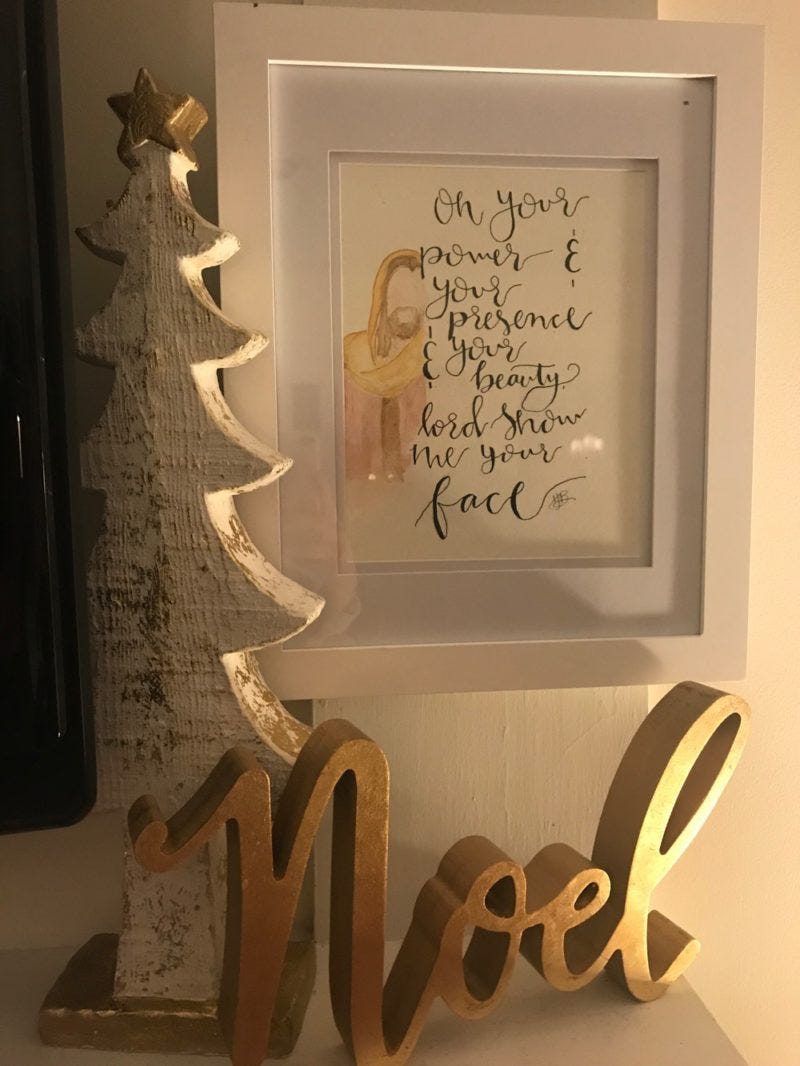 I mentioned cancer (which you can read about here and here). This December we've experienced an outpouring of prayer and thoughtfulness from our church family, local friends, and from far and wide. It's been deeply humbling to be on the receiving end of such incredible thoughtfulness.
One evening, Adelyn was inspired to write a song that has helped us reflect that in the middle of the unknown, God is simply "too good to not be praised."
Meals, gifts, unexpected financial blessing, practical presence and innumerable texts, emails, and phone calls have convinced us once again of the importance of spiritual community.
I recently told a visiting couple at our church that if I wasn't the pastor, I would still join our church. Seeing our church mobilize to pray, help, love and support us in times of trial demonstrates their real faith and practical love.
Corn hole
I don't know if I've confessed my addiction to corn hole. Just about every day after lunch, our staff drags out corn hole boards and plays a few rounds. This month our friendly competition jumped up a notch as a friend helped me develop a spread sheet that automagically creates a pie chart reflected each of our wins and losses. I'm going to have to get him to work on the formulas though, because for some reason, my pie slice keeps getting smaller on the wins chart.
Another fantasy football Super Bowl
Last year, my team - the Thunder Ducks - made it into the fantasy Super Bowl, having had a stellar season with only one loss all year. I was defeated and denied the trophy. Actually, there's no trophy, only bragging rights. The funny thing about fantasy football is that as soon as you win, every other person in the league who played wants to pretend that it never happened.. as if it was all a... fantasy.
This year, my team was fit and ready. I felt it was one of the best teams in our keeper league. Cam Newton, Alvin Kamara, Michael Thomas, Kareem Hunt, and others were ready to lead me back to the Super Bowl, this time to win it. Then came a 1-4 start. My team consistently scored more points than other teams in the league - except for the team I was playing that weekend!I managed to claw my way into contention for a playoff spot, finishing 7-6. The rest is history, as I played our youth minister this weekend in the Super Bowl and.. victory!!
Gratitude on Christmas Eve
And so here I sit, reflecting and seeking gratitude on Christmas Eve. It's been a month. Tomorrow, gifts will be unwrapped, food devoured and hopefully naps seized. But for now, I'm nursing a cup of coffee and thinking deeply. So many paradoxes on this Christmas Eve. There are struggles in my soul and people to be thanked. There are silent cells in Carolyn's body raging in rebellion and a fire crackling happily in the fireplace. The Christmas tree glows in the corner even as darkness has descended outside.
One thing I've learned (and applied a lot recently) is that gratitude fuels intimacy with God. And so, I desire to increase in gratitude. There are moments that I ache with a sober realization that I am living "in the meantime." I'm not yet where I want to be. In deeply reflective moments, I can almost hear my heart's yearning cry. I like how C.S. Lewis put it:
"If I find in myself a desire which no experience in this world can satisfy, the most probable explanation is that I was made for another world."
Indeed.
And truly, Christmas time for me awakens that spiritual sensitivity like no other time of year. I am thankful that God loved so much.. that He sent His Son.
On this quiet night... remember with all your might, that there is stunning news of great joy for all people. Jesus has come.