Merry Christmas 2015 from the Nobles
The kids awoke. The cat pestered. The presents were opened. Pictures were taken. Oohs and aaahs were heard. Gratitude soared. After the dust settled the wrapping wreckage was thrown away, we listened as Sam read from Luke 2.
We hope that you too had a settled and joyful Christmas morning. It's not just about presents - but about presence. I'm learning that all over again this year. The beautiful quality of being there. Of sitting back and watching my ginormous kids (who used to be so small) enjoy family time and gifts and games.
It's not all been perfect. It never is. Our Christmas tree wouldn't stay up earlier this month. This morning, ourhitches included being on chat with Comcast because we couldn't get ABC to work after just switching from DirecTV. #FirstWorldProblems
It's so small and insignificant compared to what someare experiencing this morning. There are always those who sit in empty living rooms, alone. Others sit in full rooms feeling empty due to inner turmoil. Still others notice empty chairs - chairs that had loved ones in them last Christmas who have now passed on. Then, add in illness, cancer, loss, hurt, divorce, unwanted change... And Christmas feels "off."
It's a wonderful truth that our experiences of Christmas - whether Norman Rockwell-ish or Tim Burton-ish - are not what define Christmas. All of life is colored by nuances - how we feel in any given moment impacts our enjoyment or lack of it. Our emotions can mislead us. What matters is reality. What is the truth anchor behind it all?
Jesus defines Christmas. The divine gift to man in a baby-become-Savior sets the tone. When we anchor our feelings and confidence in God's love for us in Christ, we can face minor hitches or significant losses with proper perspective and actually encounter hope. In 1977, the first Star Wars cinema release was titled A New Hope. The epic provided hope only for fictional characters living inside a make-believe universe. However, 2000 years ago, with the advent of the Christ-child, a new hope was given to us all. It's real. Genuine. Lasting.
and in His name [all nations] will hope."(Matthew 12:21)
That's what Christmas is all about, Charlie Brown.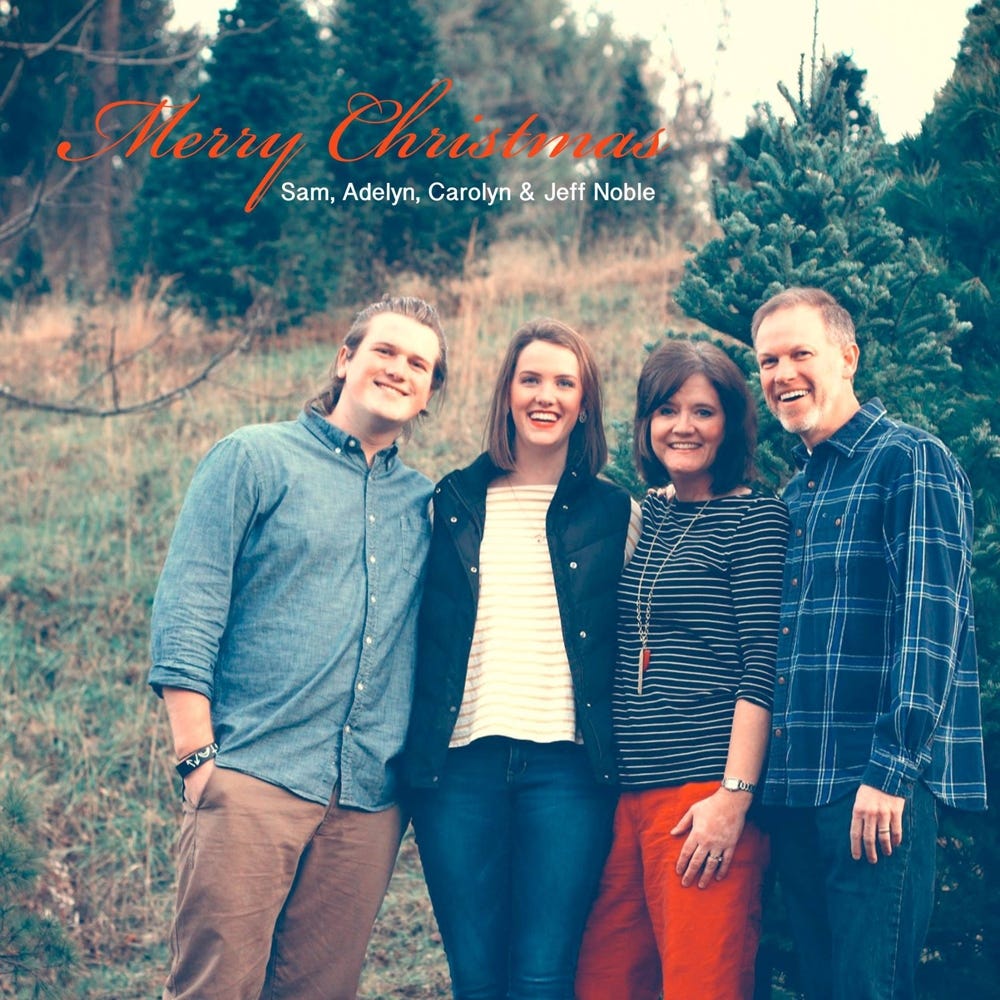 The Noble Family 2015 Christmas letter
Here's our annual Christmas letter:
Dear Family & Friends,
Provision. Emergency Room. Aliens. Gold. Rainbows.
It's Christmas time, and we're eager to share with you how we navigated this past year and encountered each of the above surprises. It's been a wild, blessed ride.
The year had hardly begun when we encountered PROVISION of astonishing magnitude. You can read more about it on Jeff's blog, but before January concluded, a GiveForward campaign enabled us to pay off all our medical debt - over $30,000! We were and are stunned by the generosity of so many family, friends, and even strangers. Our verse for those incredible days was:
"Whatever is good and perfect is a gift coming down to us from God our Father" (James 1:17 NLT)
Our spring was busy, but one evening in late spring, Adelyn was sick. Really sick. Before the week was out, she'd spent time in ER and nights in ICU as she was diagnosed with Type 1 Diabetes. She's no longer our sweetie. However, she is our hero because of her attitude and maturity. It was only a minor speed bump to her year as she got her drivers license, a new-to-her 2000 Jeep Cherokee and continued her swimming on the BHS team. She's also become one of Northstar's primary worship leaders and enjoys the privilege. She worked all summer at a Lebanese restaurant and learned that she loves falafel and was a lifeguard at the country club.
Jeff's been busier this year than ever. Northstar entered a building campaign, and he helped build the campaign website (www.northstarfamily.org/more), designed the promotional materials and wrote the content for the sermons and small group material. Maybe the demand of his church responsibilities is why his fantasy football teams have been so bad. On top of that, one of his beloved television shows, "Falling Skies," about ALIENS ended this summer.
Sam graduated from BHS in the spring and moved to Charlotte this fall to be a 49er at the University of North Carolina at Charlotte. As a 49er, we keep hoping he'll get lucky and find GOLD. So far, the only metal in the picture is the bent stuff from his truck wreck in September. We were grateful no one was hurt! He's loved his college experience so far, and the Christian community he's found in his involvement in Young Life there has been worth its weight in gold.
Carolyn was promoted at BHS this year, as her job became a full-time, 10 month position. She loves working in the guidance office, literally in the center of the school. She's also learned more about carbohydrates than she ever wanted to know as she's helped ensure friendly foods for Adelyn. She was actively involved in Northstar's building campaign, serving on the team that planned all the events. She also took an incredible picture one Sunday as she captured a RAINBOW literally ending on the church's new land! (www.bit.ly/nstarrainbow)
We've been trying to sell our house for several months as well. We're ready for a transition. You can be praying that our home sells and that we find one that meets our budget and enables greater hospitality. Jeff has a desire to write another book, so prayer for creativity and time. Also pray for his leadership of Northstar during this season of the building campaign. Sam will begin serving a a Young Life leader early next year, so pray for his intentional spiritual leadership as he works with youth. Pray for Adelyn as she continues to disciple a group of three girls and is active both at school and at church. Pray for Carolyn as she adjusts to our new stage of life with drivers' licenses and a college student.