Merry Christmas 2016
Each year, I post our Christmas card and its text to share our joy in Christmas wishes with the blogosphere. Here's our 2016 card.
This morning as I post it, I've eaten breakfast, had a shower and the kids are still not up. You know your children have grown up when they no longer beat you to the living room on Christmas morning. So here we sit, waiting on our kids for the first time in our lives for Christmas. Carolyn wrote this year's card, so enjoy and...
Merry Christmas!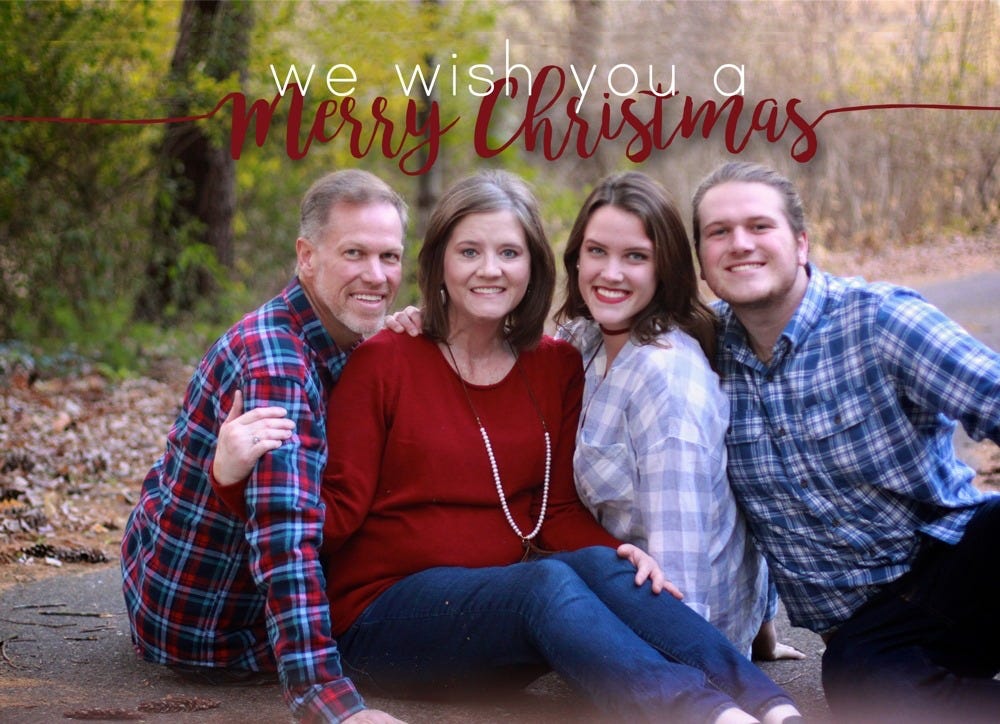 Jeff is officially a runner.Although he says he is nota runner, he runs every otherday, rain or shine. The fallcolors held on longer thanusual this year. So running onhis favorite Huckleberry Trailwas the place to be. You canalso find him at the movie theateron Sunday or Tuesday eveningswith his promotional popcornbucket he can fill up for $5.00.He still enjoys reading, videogames, Settlers of Catan,ping pong and corn hole. Heand the church staff take breaks often to challenge each otherin corn hole. This is all a greatdiversion for the responsibilities of leading Northstar Church.Northstar is such a blessing toJeff and our family. The staffis incredible and have becomeclose friends. We still meet atBlacksburg Middle School withtwo morning services wherecollege students, families, graduateand professionals come to worship. It is an honor to be part of sucha group. Northstar plans to buildon our purchased land soon. Theprojected date to be in the newbuilding is December 2018.Send prayers and money this way!
Carolyn is still working in theGuidance Department at BHS.She is trying not to focus onthis being her last year ofhaving a kid there. She keepsbusy with projects she findsat the new house. We wereable to buy a different housein Blacksburg in April. It was awhirlwind of events. We soldand bought a house in lessthan 48 hours. God once againshowed us how He loves usand is in control. Carolyn saysshe would hug her house ifshe could. It has been such ablessing, fun to decorate,great for entertaining and hosting friends and family fromafar. Come see us! It sits outon the edge of Blacksburgon the side of a hill. So the viewis incredible. In the summer,the fireflies were amazing.This fall the colors on the viewof the Appalachian Mountainswere breathtaking. We arelooking forward to our firstsnow knowing that the view willbe beautiful as well. Shecontinues to have good checkups and feels great, exceptfor the aches, wrinkles andgray hairs of getting older.
Sam is a sophomore in Charlotte, NC.Hetook classes at the communitycollege in Charlotte this fallin orderto begin gaining residency in North Carolina.He works part time at Sun and Ski.He lives in an apartment on the edgeof UNC Charlotte with his friends.He has proudly named his place"Brotel". Not to be mistaken asbrothel. He and his roommateshave a ping pong table as theirdining room table. Which is goodbecause Sam can practice for whenhe comes home to play Jeff andAdelyn. The competition is fierce.He is now a leader in Young Life.He has dreamed of this for a longtime. He leads at Butler High Schoolin Charlotte and loves everyminute of it! He worked atCamp Ridgecrest for Boys inAsheville, NC, this summer.His nickname Bear, and his manbun fit in nicely. He spent thesummer with a cabin of 10th gradeboys. He had a new crew every twoweeks. He also was a lifeguard thereand taught different classes likeguitar and hiking. The focus wasdiscipleship and growing yourrelationship with Christ. His devotionand service to the Lord is infectious.We are proud of his commitment toJesus and sharing His love with others.
Adelyn is a senior at BHS. Shehas evolved into quite the leaderthis year. She is president of National Honor Society andFellowship of Christian Athletes.So that keeps her busy withservice activities and meetings.She also has the privilege ofleading worship at Northstarseveral times a month. We areso proud of her dedication toall she has committed to.Speaking of committed, she has applied Early Decision toChristopher Newport Universityin their Leadership and HonorsPrograms. She is patiently (sort of)waiting for December 15 whenshe will hear from CNU. Shecontinues to maintain her diabetes.She handles it like a pro andher A1C continues to be greatbecause of her determinationand lifestyle. She worked as alifeguard again this summer. Shealso helped with an elderly downsyndrome lady a couple times ofweek this fall. She loves spending time with the girls in the Northstaryouth group. Our new house is agreat spot for sleep overs. Wenow have a ping pong table. Every night you can find her there beating Jeff in a match.