Merry Christmas 2017
After a morning of coffee, breakfast casserole, and opening presents from one another, I'm simply grateful. This is not just another Christmas. Since December 1, I've been able to focus each day on advent readings and have worked hard mentally to slow down Christmas (something I try every year). I hate when I get caught up in the cultural tidal wave of holiday and fail to savor the sweetness of what Christmas means to humanity. Christ has come. Truly... let us rejoice.
It's a tradition on Christmas to post the Noble family Christmas card. So here goes: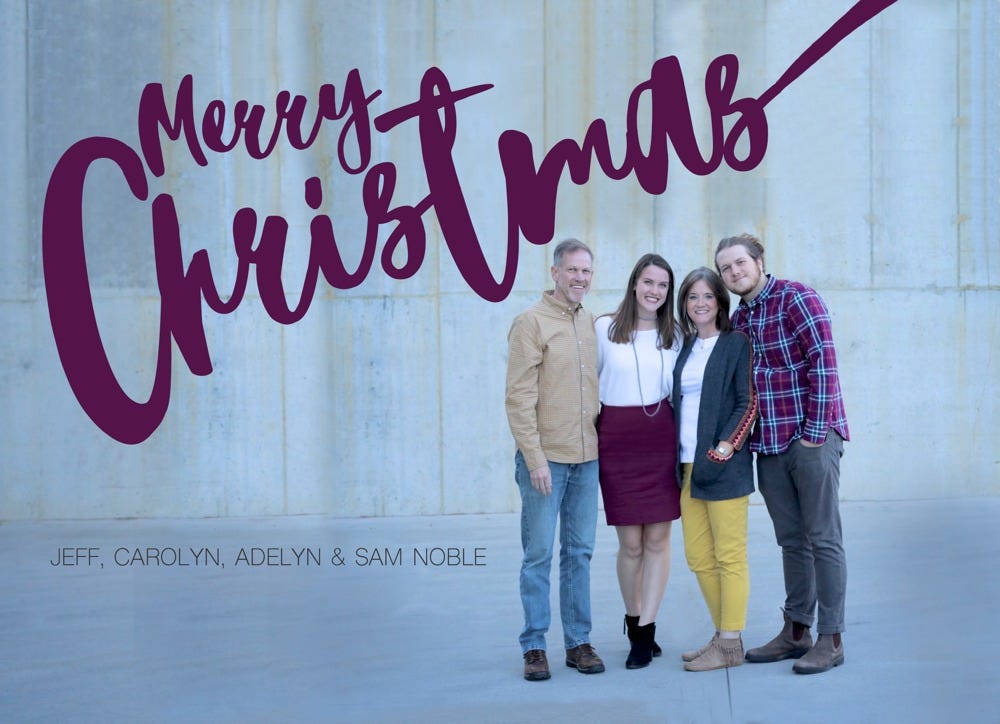 From the Nobles
The Christmas season looks a little different for the Noble family this year. With both kids at college, the house is quieter and the cat is pestier. Jeff and Carolyn started hosting a Northstar college small group. Having students in the house weekly helps with the adjustment to the empty nest. Jeff's idea for this new life stage is to rent out the kids' rooms for VT game day weekends. Carolyn, not so much. In the meantime, we all enjoy our house and find it a great place to entertain, especially during the winter months, in front of the fireplace.
Sam is a Junior at UNC Charlotte where he lives with several of his Young Life friends. He loves leading YL at Butler High in Matthews, NC. He spends most of his free time in Matthews either working at Brakeman's Coffee Shop or investing in the lives of high school students. Recently he was in need of a different car. Through many prayers, one of his YL kid's parent directed him to a family who wanted to give away a car. He is now driving a 1998 Acura that is a great reminder of God's provision and a tangible blessing for Sam's faithfulness and service.
Adelyn is a Freshman at Christopher Newport University. She is loving making new friends and getting involved in all CNU has to offer. She works at the coffee shop on campus. (Jeff has successfully passed on his love for coffee to both kids.) She keeps herself busy with the Honors and Leadership programs. She has also enjoyed being involved in the campus ministry, CRU, and volunteering with a youth group at a local church leading worship and meeting with high school girls. Having the beach a few miles away is a nice perk too.
Carolyn was able to travel to Texas this summer with the kids. Gathering at her family's lake house is always a highlight and great time to catch up with her family. Being at BHS without one of her kids at the school has been an adjustment but working with the students keeps her on her toes and a source of enjoyment. She keeps herself busy with weekly discipleship meetings with several ladies, entertaining friends and family who come for a visit, and any and every arts and craft project she can tackle.
Jeff was able to go to Istanbul for a trip this summer. He took a group with him where they were able to encourage and help the workers there. They were able to spend a day in Ephesus which brought the Bible to life. He hopes Northstar can continue to partner with Istanbul and take others there in the future. Northstar Church continues the building campaign in hopes to begin construction soon. The church staff and people of Northstar are a bright spot in our life here in Blacksburg. It is an honor to minister along side them and something that is not taken for granted.
What has your year been like?
Our Christmas card is really abbreviated, as you can imagine. You can only fit so much text on a postcard. Life has been.. full. Very. I have thoroughly enjoyed 2017 and the relationships and connections I've made once again. I'm deeply grateful and truly humbled this Christmas season to have experienced another year to magnify Jesus and see Him being reflected in the lives of those around me.
I'd love to hear from you in the comments! If nothing else, just post a link to your blog with a similar year-end wrap-up or even a link to the standard Insta post of you and your clan this Christmas.
Merry, Merry Christmas!