Merry Christmas from the Nobles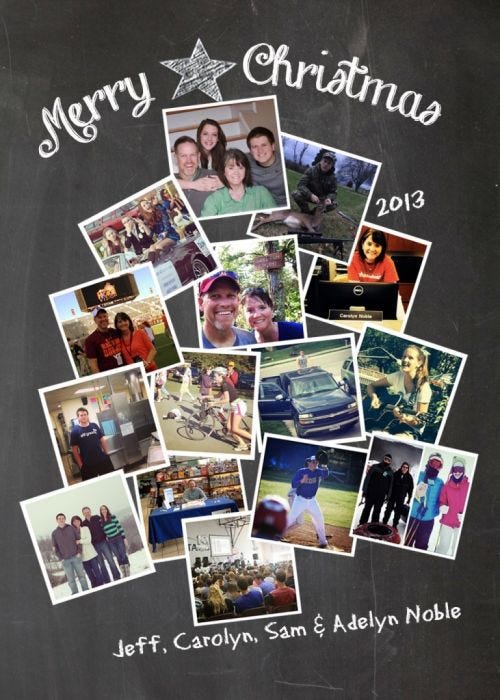 Here's our Christmas letter and card from 2013:
Sam
Two things that would best describe Sam's year- Young Life and Truck. Sam spent 5 weeks of his summer at Rockbridge YL Camp volunteering on work crew. He was a dish washer and washed dishes from sun up to sun down. In his off times he did Bible studies with his leaders, played Frisbee golf and enjoyed the fun and beauty at Rockbridge. It was life changing for him in that he learned what it means to work hard and it stretched him in to truly living for Jesus. When Sam came home from Rockbridge we had a 2000 Chevy Silverado pickup waiting for him. He loves his truck. It is amazing how he takes care of that truck and keeps it much cleaner than his room. Sam also got his first job this year at Frosty Parrot frozen yogurt in downtown Blacksburg. He is in 11th grade, on the BHS baseball team, he is a leader in his school's Young Life group and still enjoys to hunt and fish.
Adelyn
Adelyn is in 9th grade and rides to school with her brother. I'm not sure how Sam feels about her honing in on his friends. She loves it and loves BHS. She was elected a 9th grade representative for the homecoming court and she made the basketball team. This summer she and some of her friends participated in the Claytor Lake Sprint Triathon. She enjoyed the training and the race. It was a great experience for her. She competed on a summer swim team that was great training for the triathlon. In the spring she made the Junior Varsity softball team which only helped her in her transition to the high school in the fall. She is still singing and playing the guitar and was able to perform at the Blacksburg Farmer's Market this summer. She stays busy but still loves to cacoon at home watching movies or read a book.
Carolyn
For the first time since 1995 Carolyn has a 'real' job. She is now the Guidance Aide at Blacksburg High School. She volunteered at BHS once a week in the office and heard about the job. She interviewed and even had to dust off the OBU diploma. The job is a perfect fit for her. She only works when kids are in session. The Guidance Department at BHS is professional, personable and fun. She sees Sam and Adelyn out her window throughout the day. However, their friends come visit with her more than they do. She still leads a care giving ministry at Northstar and has a community Bible study for ladies in the ministry.
Jeff
This year was Northstar's 10th anniversary. The anniversary service in October was full of former members, founding members and present members It was a celebration service of all that God has done at Northstar the last 10 years. We had one service at the BMS gym where we had over 600 chairs on the floor and more seats in the stands. The gym was packed. There was a choir of former and present worship band members, founding members spoke, current members shared and there was also a baptism. It was the highlight of the year for our church. Jeff also published and promoted his new book, Super Center Savior, this year. He was able to have book signings in Little Rock, Roanoke and Christianburg. It was a great first-time experience for him especially because he was able to meet new people and reconnect with many friends and family. Lately, he has been busy trying to find an Associate Pastor and land in Blacksburg for our church to build. It's never a dull moment for him keeping up with his family and church.